The AfterCare Program at McDonogh School
Kate Hailstone and George Webb, Co-Directors
410-998-3525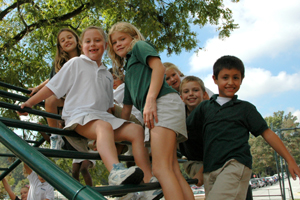 The AfterCare Program is offered for children in the Lower School at an additional cost. It operates on regularly scheduled school days, Monday through Thursday, 3:45–5:45pm, and on Friday, 2:45–5:00pm. AfterCare begins Tuesday, September 7, 2010 and ends Thursday, May 26, 2011.
It is our goal that a child's AfterCare experience provide a time for friendship and fun in a nurturing, well-supervised atmosphere. Each day there will be an art table with varying media, a board game table, and a quiet reading area. Outdoor play is also a favorite activity for the children; therefore, except for rainy or icy days, we will go outside. Kindness, sharing, and consideration are encouraged in all activities.
AfterCare Fees
All children should be registered at least 48 hours prior to joining the AfterCare Program. There are three schedules available. Full-time attendees will join us Monday through Friday each week. Part-time attendees come four or fewer specified days each week. Drop-in attendees may come occasionally; 24 hours' notice is requested. In order to receive full-time rates your child must attend 5 days per week. Fees are billed monthly by the Business Office.
Registration Fee:
$40. Checks should be made payable to McDonogh School and sent with the completed enrollment form to George Webb or Kate Hailstone in the Lower School.
Full-time (Monday-Friday)
: $70/week
Part-time (four or fewer days each week)
: $18/day M-Th; $20/day Fri.
Drop-in (occasional)
: $25/day M-Th; $30/day Fri.
Late pick-up fee
: $25 for each quarter hour or any part thereof after 5:45pm (5:00pm on Friday). This fee will be charged directly to your account by the Business Office.