Henry A. Rosenberg, Jr. '48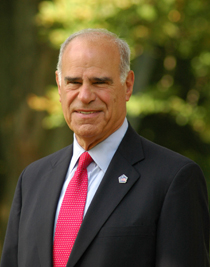 "You have to step up to the plate when you're called upon," Henry Rosenberg '48 has said. "I learned that lesson during a McDonogh lacrosse game. The regular goalie got hurt, and Coach Smink looked up and down the bench and told me to get in the goal!" Despite feeling unsure about the new assignment, Rosenberg donned the pads, took his place, and played many more games in goal for McDonogh as well as for Hobart College, where he was an All-American.
"McDonogh taught me a lot about people and life, and I have a fond spot in my heart for the school," says Rosenberg, a Baltimore business leader, a 20-year member of McDonogh's board of trustees, and chair of the school's last capital campaign, Becoming Our Best. "If you're successful, you're obligated to give back ... I feel I owe McDonogh at least that much."
Henry Rosenberg has given back again and again. He recently made his largest gift to the school, $3.5 million, to name the campus green. Handing the signed gift agreement to Headmaster Charlie Britton was a proud moment for Rosenberg. And more good news, he has agreed to chair the $75 million McDonogh Forever campaign.
"McDonogh Forever is about leaving McDonogh better than we found it. As I have said repeatedly, I look upon the campaign as a crucial step forward for an increasingly complex, but consistently well-guided institution."