A Message from the Campaign Chairs
McDonogh School began 138 years ago with a gift. Since Baltimore-born businessman John McDonogh's bequest led to the establishment of our school, McDonogh has survived and thrived in the same way it began. Through philanthropy.
Tagart. Elderkin. Keelty. Rollins. Luetkemeyer. Burck. These are a few of the benefactors whose major contributions have improved the educational experience here.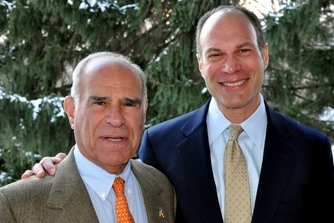 Today, while tuition covers roughly three-quarters of the cost of a McDonogh education, the school must rely on annual giving and other revenues to make up the difference. And if the school is to move forward with facilities for a leading 21st century education, it must rely entirely on our philanthropy.
McDonogh School is at a crossroads.
Students, teachers, and program have outgrown the old structures built 50, 60 and even 80 years ago to serve us. A dynamic plan, more than four years in the making, has been readied to advance the founder's vision, our students' achievements and our teachers' innovation.
Our collective gifts are needed to make this plan a reality. To allow McDonogh to progress as an institution. To educate young people as compassionate, ethical, competent, and creative problem-solvers for our global society.
We are chairing The McDonogh Forever Campaign because we believe in the power of a McDonogh education. The facilities we live in today are simply not worthy of this extraordinary community. We also believe it is our responsibility, as beneficiaries of the McDonogh experience, to advance and sustain this school for future generations.
We understand that we live in challenging times, not only for McDonogh but for many of our potential benefactors. However, as others have stepped forward in their own time to make McDonogh what it is today, we step forward in our time to make McDonogh what it can be.
We urge you to support The McDonogh Forever Campaign when you are called upon. In the spirit of philanthropy set forth by our founder, John McDonogh, thank you.
Henry A. Rosenberg, Jr. '48
Chair
Howard S. Klein '76, P '04, '07, '09
Vice-Chair