2012-2013 Photo Essays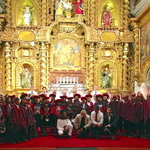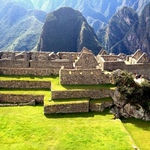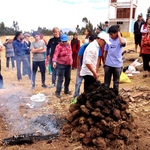 Concert Choir Travels to Peru (Students)
For ten days in June, McDonogh's Concert Choir traveled throughout Peru performing and sightseeing.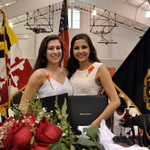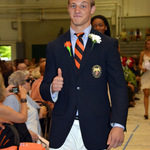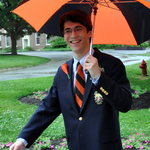 Commencement (Students)
Brightly colored umbrellas shielded graduates from the drizzle on Friday, June 7 as the Class of 2013 made their way to the R-L Center for Commencement.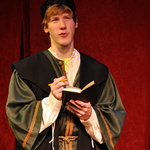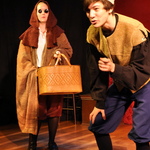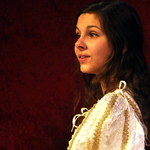 The Merchant of Venice (Students)
On June 1 & 2, the inaugural class of the Institute for Shakespeare and Renaissance Studies presented four performances of Shakespeare's controversial play, The Merchant of Venice. The Institute is designed to have students study Shakespeare's artistry in order to blend scholarly and practical work so that one enhances the other, and this production was the culmination of two years with the text. The students knew the play so well that they performed the play in two separate casts, each actor taking on a different role in the afternoon and in the evening. By all accounts, the performances early this month proved worthy of the students' efforts.
To see a performance of the 3 p.m. cast, visit this site.
To see a performance of the 7:30 p.m. cast, visit this site.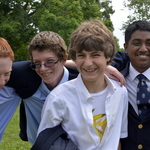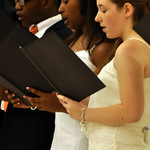 Eighth Grade Closing Ceremony (Students)
The rain did nothing to dampen the spirits of the rising freshmen, their families, and their teachers as they gathered in the R-L Center on Monday, June 3 for the Eighth Grade Closing Ceremony. Student speaker Nishad N. '17 chronicled the growth of his class up to this exciting moment, and student speaker Anne C. '17 celebrated her class's potential for even deeper involvement in the McDonogh community. By the time the last student had received her certificate, the sun broke through the clouds for a bright, happy reception on the quad.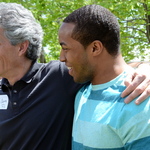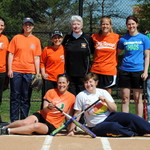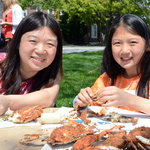 Reunion Weekend Saturday & Sunday (Alumni)
Saturday's Reunion Weekend festivities included classroom visits, campus tours, and alumni softball and football games. The crab feast and picnic drew hundreds of alumni and their families to the heart of campus for a chance to catch up with old friends and faculty. On Sunday, Gospel Choir alumni joined current students for a spectacular performance in Tagart Memorial Chapel.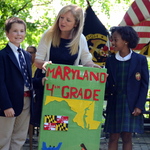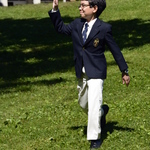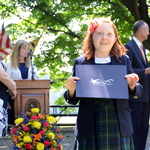 Sunny Day for LS Closing (Students)
The Lower School Closing Ceremony was filled with sunshine and smiles as family and friends celebrated the end of the year. After receiving their certificates and hugging their teachers, the fourth graders tossed their blazers into the air in celebration.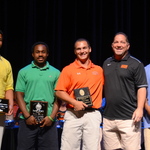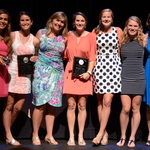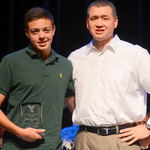 Athletic Awards Evening (Students)
During the 2012-2013 Upper School Athletic Awards Evening on June 3 in the Ceres M. Horn Theatre, student-athletes were recognized for sportsmanship, involvement, leadership, and achievement in interscholastic sports. Senior Elizabeth P. sang The National Anthem to open the program. This year, 33 seniors received Golden Eagle Awards for participating in sports every season of their Upper School careers. Track Coach Alrick Munroe, who is moving away from the Baltimore area, and Athletics Department Administrative Assistant Sharon Bradford, who is retiring after 21 years of service, were honored for their dedication. Also, the first annual Alec Cosgarea Memorial Award was presented. As senior swimmer Hunter G. made his way to the stage as the first recipient, everyone in the theatre stood for an emotional round of applause.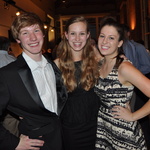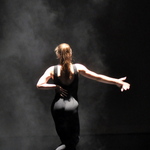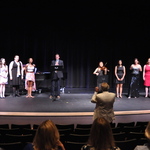 20th Anniversary Stewart Recital (Students)
This year marked the twentieth anniversary of the Stewart Recital, and there could not have been more talented, enthralling performers to celebrate it than actor Tommy Chabbott, actress Dana Dreyfuss, and dancer Megan Margraff. The recital was preceded by a special alumni reunion concert comprising past recitalists including Adam Green '10, Jamie Levine '11, Amy Rifkin '11, Kate Forton '10, Nancy Holt '12, Dave Newcomer '05, Robert Hellauer '04, Lee Jeon '12, Roopa Nimmagadda '00, Caroline Stewart '93, Taryn Holback '08, Josh Waller '02, and Jon Waller '00. The evening also featured a retrospective video courtesy of special projects technologist Cindy Green.
To see a video of the Stewart Recital, visit this site.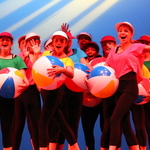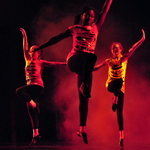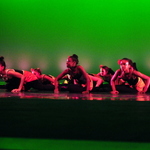 Middle School Dance Concert (Students)
The Horn Theatre echoed with the sounds of music and tapping feet on Thursday May 23 during the Middle School Dance Concert. Students in grades five through eight performed a variety of dances spanning genres like tap, ballet, modern dance, and hip-hop. At the close of the performance, dance teacher Ms. Kessell sent the eighth graders dancers to the Upper School with bouquets and hugs.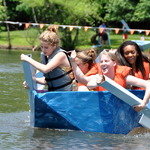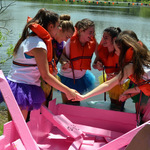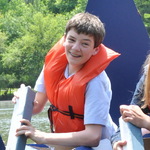 Cardboard Boat Race (Students)
The rain may have postponed it, but the annual Cardboard Boat Race drew students, faculty, alumni, and friends to the duck pond on Wednesday, May 29. Upper school students spent countless hours under the tent on the dorm quad preparing for race day with boats including: Princess Boat, Higgins Boat (World War II Landing Craft), Computer (Technology Device) Theme Boat, Police Box Boat, Mer-boat, Duck-billed Platypus Boat and Banana Boat. Competitors plunged into the pond after the race to cool off and celebrate the end of the school year.
To see a video of the race, click here.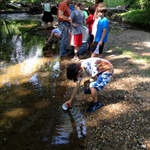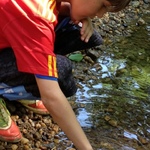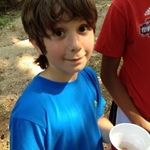 Fifth Grade Trout Release (Students)
On Wednesday, May 29, fifth grade students released 104 rainbow trout fingerling into Gwynns Falls stream as part of the Trout in the Classroom program, sponsored by TroutUnlimited and the Maryland Department of Natural Resources. Fifth grade scientists raised the trout while learning about water quality and environmental issues such as water pollution. The morning release ended with students skipping rocks and cleaning up trash along the stream.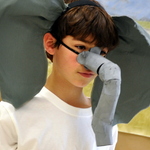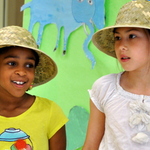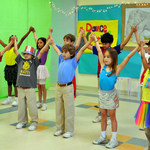 What If All the Elephants Die? (Students)
Second grade students explored the question "Where Will We Be If All the Elephants Die?" in a play about endangered elephants written by their teacher Mrs. Lewis. The performance on May 16 focused on people in the world who are working to save the elephants, "one elephant at a time." To learn more about endangered elephants watch the video.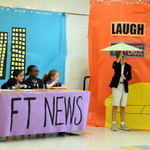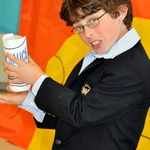 Second Graders Broadcast Fairy Tale News (Students)
On Tuesday May 21 through Thursday May 23, the Kelly Center became the newsroom for Mrs. Howell's and Miss Karwacki's second graders. They broadcasted the latest headlines of Fairy Tale News in a whimsical play. Did Prince Charming put in an appearance as anchorman? See the video to find out.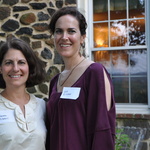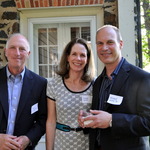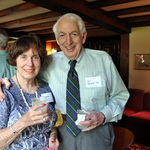 Thank You McDonogh Fund Supporters (Students)
On Wednesday May 22, volunteers for the McDonogh Fund celebrated a year of hard work at the home of Headmaster Charlie and Jen Britton. Throughout the year, 171 people, including parents from all three divisions, alumni, parents of alumni, and grandparents, labor tirelessly for the McDonogh community. Their dedication is deeply appreciated and directly impacts every facet of the school. Thank you to our loyal supporters!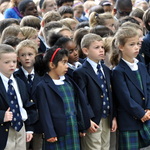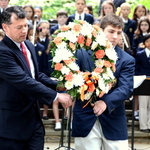 Memorial Day 2013 Observed (Students)
On Thursday, May 23, the school community gathered with reverence on Memorial Court to observe Memorial Day, and to remember and honor McDonogh alumni who gave their lives in service to our country.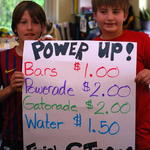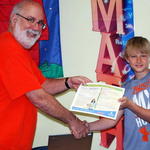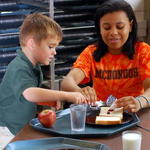 Kids Helping Kids (Students)
McDonogh's fifth graders know that giving back to other kids comes in all shapes and sizes. Sometimes giving back is raising money and sometimes it's lending a helping hand. Sometimes the kids you give back to are halfway across the world and sometimes they are in your own backyard. This year, the fifth grade students helped kindergartners get acclimated to the "BIG" dining hall, and they also raised money for an orphanage in Vietnam and the St Jude Children's Research Hospital.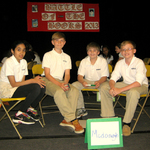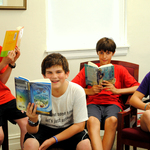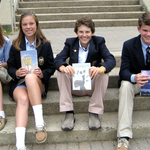 Battle of the Books (Students)
The annual Battle of the Books challenged middle schoolers from McDonogh and eight other independent schools in a Jeopardy-style competition at Roland Park Country School on May 13. Congratulations to all the students who participated with enthusiasm and represented McDonogh with good sportsmanship.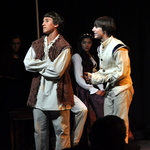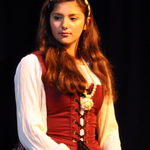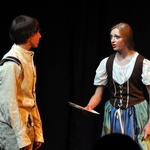 OnStage Class is Multitalented (Students)
On Friday, May 17, the eighth grade OnStage Class performed a condensed version of Hamlet and then wowed the audience in the Black Box Theatre with a Broadway Cabaret.
Photos courtesty of Legacy Yearbook Photographer Kyle L. '15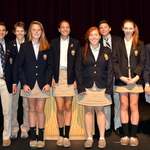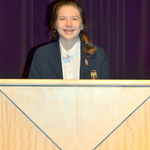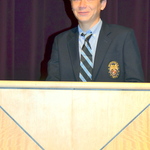 Seventh and Eighth Grade Oratory (Students)
The ten students chosen to deliver their speeches during the Seventh and Eighth Grade Oratory program had the audience alternately laughing and crying as they shared their personal narratives with an air of confidence and professionalism. The orators addressed a variety of topics ranging from chickens to concussions. The seventh grade speakers, introduced by emcee Dora G., were: Alexis H., Ryan G., Ellie S., Noah A., and Katie K. The eighth grade orators, introduced by Abby R., were: Chloe B., Ethan R., Isabella P., Greg F. and Claire N.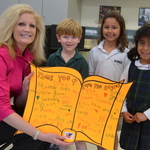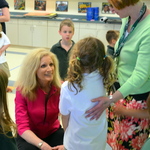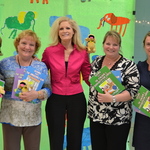 LS Receives Book Donation (Students)
Cindy Chambers, creator of the Beamer book series, met with the kindergartners and delivered copies of her books about Beamer, a gentle service dog. The books, donated by Lower School grandparents Virginia and Ard Geller, will be a useful tool for helping children deal with challenging life events, from going to the hospital to moving to a new home. The students presented Chambers with a handmade "thank you" card.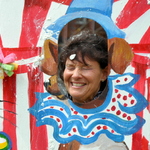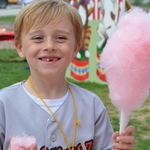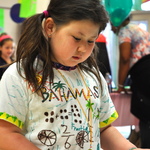 Carnival Proves Math is Fun (Students)
On May 15, the Kelly Center and turf playground were transformed into a carnival, complete with games, music, cotton candy, funnel cakes, balloons and prizes. But this wasn't just any carnival, it was the fifth annual Lower School Math Carnival. Wearing clothes that featured shapes and numbers (Ravens and Orioles jerseys were popular), children spent their time playing a variety of carnival games with an arithmetic twist. From kindergarten to fourth grade, students had as much fun doing calculations as playing the games and enjoying the carnival atmosphere. The daylong fest was coordinated by Math Specialist Regina Karwacki and staffed by more than 80 parent volunteers.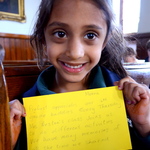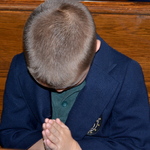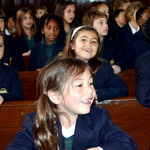 LS has "Attitude of Gratitude" (Students)
The final chapel service of the year for the kindergarten, prefirst, and first grade students on May 14 was planned with an "attitude of gratitude." The students sang along with a reading of "This Land is Your Land" and listened intently to a story told by Director of Religious Studies, Character, and Services John Grega about the importance of saying "thank you." When the story ended, the kindergartners turned to face the other students and recited a prayer, "I'm thankful for..." which they also shared in sign language. Then, students from the other classes expressed their thanks for their friends, the McDonogh community, teachers, bus drivers, classmates, and more. At the conclusion of the program, the children were presented with "Thank You" cards and encouraged to use them to thank someone on campus for a special boost this year.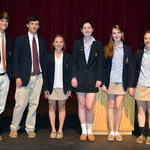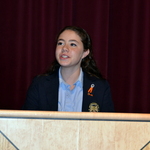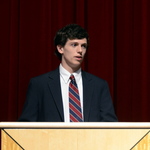 Sophomore Oratory Finals (Students)
The 33rd Annual Sophomore Oratory Contest, hosted by Master of Ceremonies Scott S. on May 14, featured speeches by five finalists. Sara S. spoke passionately about the importance of hunting. Andrea F. criticized the messages that Disney princesses send to young girls. Sophie R. voiced support for worldwide feminism. Sophia R. discussed how media customization feeds narrow-mindedness, and Nate R. addressed the role of affirmative action in education. The winner and runner-up will be announced during the Upper School Assembly on Friday, May 17.
The see a video of the finals, click here.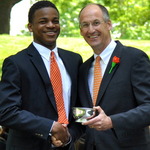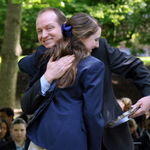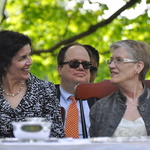 Headmaster's Day Ceremony (Students)
During the annual Headmaster's Day Ceremony on May 10, the entire school community gathered on Childs Memorial Terrace to recognize students for their academic and artistic achievement and to honor Elaine Bind, Don Clifford, Mickey Deegan, Jon Detwiler, Carl Haller, Oslo Johnson, Ed Musil, Fred Shamer, Eileen Toohey, Carole Truitt, Mary White and Ivory Wilson for their 25 years of service. The gathering was also an opportunity to say goodbye to Michael Robertson and Larry Zile who will retire at the end of the school year. Legacy editor Sloane K. '13 announced that the 2013 yearbook will be dedicated to Alec Cosgarea, a member of the Class of 2013, who died tragically in a car accident in July.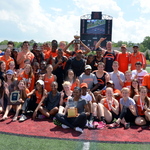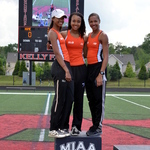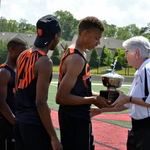 Track Teams Sweep Titles (Students)
For the first time in McDonogh's history, the boys and girls track teams swept the outdoor championship titles on May 11. It was the girls tenth straight crown, and the boys broke Gilman's four-year winning streak. Read more in the Baltimore Sun.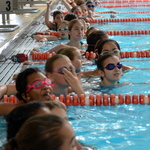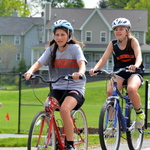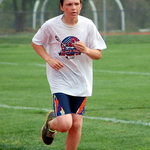 Sixth Grade Triathlon (Students)
The sixth graders put the "try" in triathlon as they swam, biked, and ran to cross the finish line in the annual event on May 9. The students trained for weeks in physical education classes for the triathlon and then chose to participate as a member of a team or to compete on their own as an Iron Man or Iron Woman. The athletes were invigorated by the support of their classmates as they met the challenges of the race. At the finish line, the happy students were not only proud of their own accomplishments, but also those of their classmates.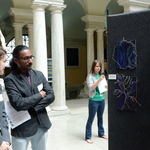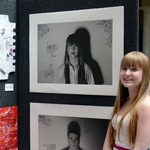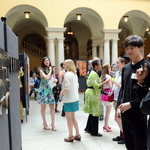 Seniors Exhibit at the Walters (Students)
The Senior Thesis Exhibition "McDonogh's Most Wanted," featuring the work of 21 talented students, was on display at the Walters Art Museum from May 1 - 4. The student artists, friends, faculty and families gathered at the museum for a closing reception celebrating the exhibit, which included paintings, drawings, mixed media, fibers, digital media, and photography.
Photos courtesy of Kyle L. '15.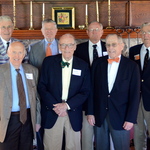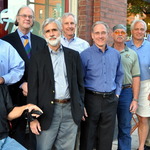 Reunion Weekend Class Parties (Alumni)
Saturday evening of Reunion Weekend was dedicated to off-campus gatherings specifically for the classes celebrating milestone reunions.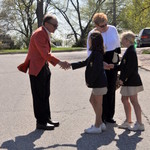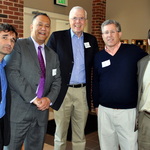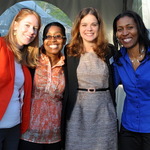 Reunion Weekend Friday Events (Alumni)
The smiles were as bright as the sunshine throughout Reunion Weekend on April 26-28. Festivities began on Friday morning with breakfast in Bowman House, followed by Upper School classroom visits and the always anticipated "Then and Now" session with third graders. The Class of 1943 enjoyed lunch at the Headmaster's House, while others gathered in the lobby of Horn Theatre for refreshments and a State of the School address by Arthur Adler '78, Vice-President of the Board of Trustees. Afternoon activities included campus tours, a variety of athletic events, and a Memorial Service. The festivities continued into the evening with a cocktail party under a tent on the Rollins Quadrangle.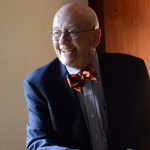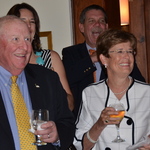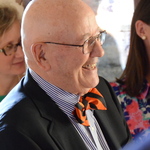 Mules Headmaster House Dedicated (Events)
An intimate group of family and friends gathered at the home of Headmaster Charlie Britton on the evening of April 24 for a ceremony to officially rename the house in honor of former Headmaster William C. Mules '59.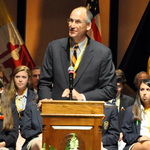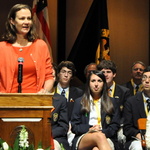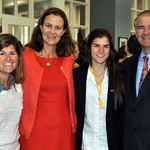 Cum Laude Scholars Inducted (Students)
McDonogh School's Cum Laude Society welcomed 30 new members from the Classes of 2013 and 2014 at an induction ceremony on April 29, featuring guest speaker Pam Shriver '79. The national honor society, which reciognizes academic achievement is modeled after the Phi Beta Kappa collegiate honor society.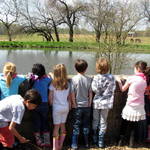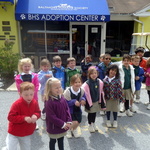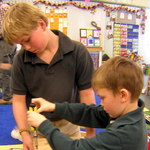 Kindergarten Classes Show Compassion (Students)
McDonogh's kindergarten Eagles have spent the year showing compassion toward all kinds of animals from bugs and birds to homeless cats and dogs, as well as horses neglected by their owners. The year-long project involved both in-class learning and field trips.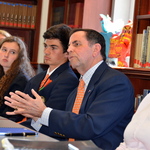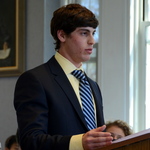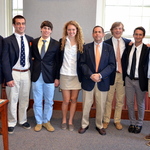 McDonogh Supreme Court in Session (Students)
The "McDonogh Supreme Court" was called to order on Friday, April 26 in the Upper School Library, and students in Jeff Sanborn's AP Government class presented two cases currently pending in the Supreme Court on Constitutional rights associated with non-traditional marriages. Student lawyers argued both sides of Hollingsworth versus Perry and United States versus Windsor before a panel of student and teacher judges headed by The Honorable Fred Smalkin '64. The justices fired back with intense questions, but the petitioners and respondents were well prepared and offered thoughtful responses.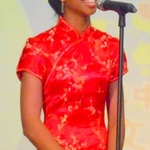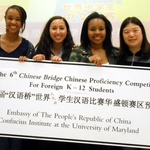 Chinese language students compete (Students)
A team of McDonogh Upper School students tied for first place in the 6th Annual Chinese Bridge Language Proficiency Competition hosted by the Confucius Institute at the University of Maryland on April 20.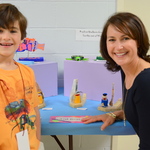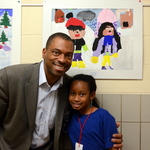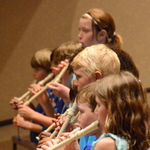 Adventure with the Arts (Students)
Family and friends joined Lower School students for Adventure with the Arts Day, a celebration of visual and performing arts, on Friday, April 19. Students and their guests toured "Imagination Celebration," a gallery of artwork displayed throughout the Lower School. The students also entertained their guests with musical programs.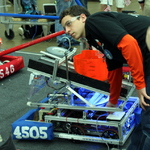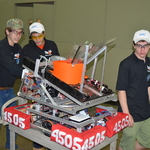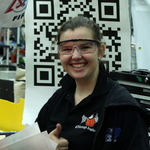 MechDonogh Eagles Compete at Chesapeake Regionals (Students)
The MechDonogh Eagles, the school's robotics team, competed in the FIRST (For Inspiration and Recognition of Science and Technology) Robotics Challenge event for the Chesapeake region held April 11-13 at the Baltimore Convention Center. The Eagles, who are coming off of their "Rookie of the Year" award win at the Rochester competition, took the opportunity to refine their robot, "Golden Goose," and prepare for the championship to be held later this month in St. Louis. McDonogh placed 24 out of 64 teams. The Golden Goose has been placed in its shipping crate and will soon be on its way to the Gateway to the West! Photos courtesy of Matthew D. '15 and Jack Hardcastle.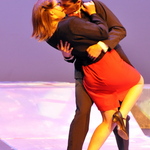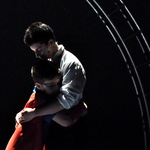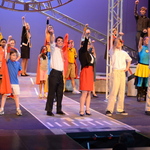 A Superhero Soars (Students)
A Superhero, an original musical written and composed by Jonathan Waller '00, was staged for the first time at McDonogh, April 12-14. Directed by Middle School English teacher Jon Aaron, the cast and crew of students from all three divisions impressed the crowds with their talent on stage and behind-the-scenes. The audiences were also wowed by a 20-piece orchestra that included 11 McDonogh musicians and nine professionals. A Superhero is a captivating story of the extraordinary power of love, family, and faith in things we cannot prove to be real.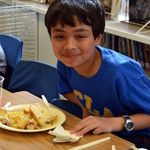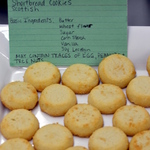 Fourth Grade Ethnic Feast (Students)
As part of their exploration of their ancestry, the fourth grade recently held an Ethnic Feast featuring foods from their family's country of origin. The tables were overflowing with delicious dishes and the adventurous students sampled the variety flavors from the familiar Scottish Shortbread Cookies to Norwegian Stuffed Eggs.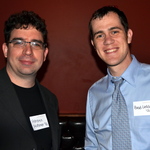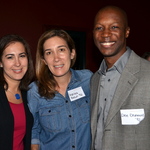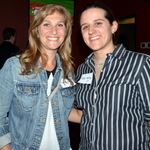 Baltimore Alumni Event (Alumni)
A record crowd "got social" at McDonogh's Baltimore alumni event at Bond Street Social on April 11, 2013. Alumni spanning five decades enjoyed cocktails, hors d'oeuvres, an incredible view, and great conversation.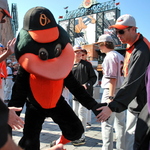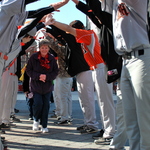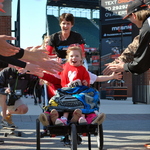 Baseball Teams Support Ronald McDonald House 5K (Students)
The Varsity and JV Baseball teams dropped their bats and gloves on Sunday to spread their McDonogh spirit and show their support for the "Red Shoe Shuffle" to benefit the Ronald McDonald House. Stationed at the Camden Yards Numbers Court, the McDonogh players and the Oriole Bird greeted hundreds of participants with high fives and cheers of encouragement as they ran and walked through the plaza, the midpoint of the 5K Race and Walk. The boys' enthusiasm and encouragement was truly appreciated by all who passed by; and the players agree--it was a great time for a great cause.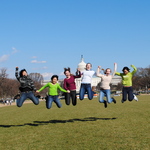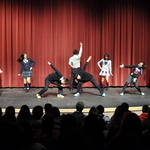 McDonogh Hosts Japanese Students (Students)
Nine Japanese students and two teachers from the Seijo Gakuen Senior High School in Tokyo recently spent two weeks at McDonogh as part of a cultural exchange. The McDonogh community welcomed the group who enjoyed learning the American way of life on campus as well as in New York and Washington, DC.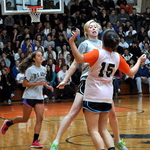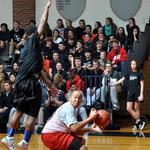 Faculty/Student Basketball Game (Students)
It was March; and at times it appeared like madness, as the faculty took on the Upper School students in the third Annual Faculty/Student Basketball Game. The faculty competed against one grade per quarter and gave the students a run for their money. The score was close for the entire game, with some amazing shots from players on both sides. In the end, the young athletes prevailed with their classmates cheering them on to victory.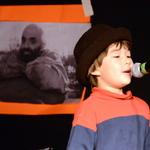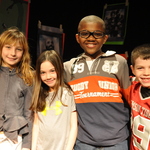 Shel Silverstein Retrospective (Students)
Ms. Hailstone's second graders charmed audiences with a retrospective of Shel Silverstein's work on Friday, March 8 in the Osborne Black Box Theatre.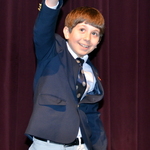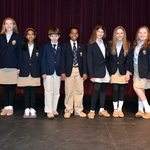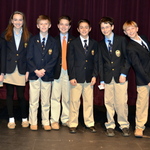 Fifth and Sixth Grade Orators (Students)
On March 8, the entire Middle School and current fourth graders gathered in the Ceres M. Horn Theatre to hear this year's fifth and sixth grade oratory finalist deliver a variety of presentations, some serious, some funny, and more than one about a mischievous kid who gets into trouble by talking too much! Some students even wrote their own pieces. During the past few months, every fifth and sixth grade student spent countless hours memorizing an oratory selection and presenting it in English class. At the end of the assembly, one inspired rising fifth grader announced to his friends, "Next year, I'm going to recite the Gettysburg Address or make up my own speech!"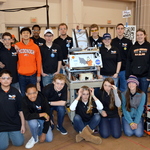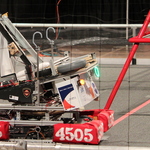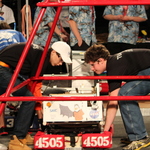 MECHDonogh Eagles Win Rookie Award (Students)
On March 1-2, the MechDonogh Eagles (Team 4505) traveled to the Rochester Institute of Technology in New York to compete in the Finger Lakes Regional for the FIRST (For Inspiration and Recognition of Science and Technology) Robotics Competition.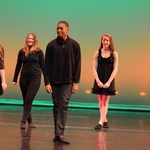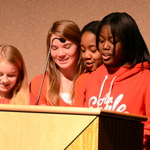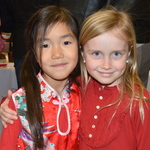 Multicultural Night Extravaganza (Students)
"Let's Come Together" was the theme of this year's Multicultural Night on Friday, March 1 in the Ceres M. Horn Theatre. Hosted by student emcees Rij P. '14, Josh W. '14, and Jackie W. '13, the event showcased a variety of acts, featuring musical numbers, cultural dances and skits, a fashion show, and a glowsticking presentation. Following the spectacular performances, students and guests enjoyed a reception in Lamborn Hall with entertainment and an assortment of ethnic dishes. View video of the program.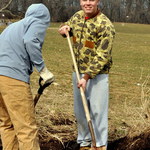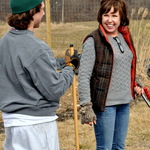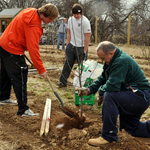 Spring Prep at Roots Farm (Students)
On Saturday, March 2 Coach Hilgartner and the boys varsity lacrosse team gave two hours of community service to prepare the Roots farm for spring. The team scored big by edging and mulching the flower beds, cleaning out the adopt-a-boxes, removing debris, hauling dirt, and prepping the plots for the spring planting. In addition, a group of seniors planted 25 trees to create an apple and pear orchard inside the farm. In five years when the Class of 2013 returns for their reunion, they will be reap the fruits of their labor.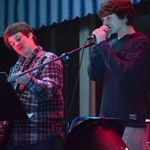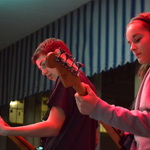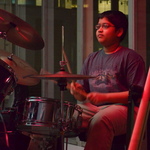 Well, Well, Well Rocks Lamborn Hall One Last Time (Events)
Lamborn Hall was rocking to '90s classics on Friday, February 22 as the Middle School Rock Shop and Eighth Grade Leadership Group presented their annual Well, Well, Well concert. The event raised over $2,700.00 for Syrian refugees and Kenya Connect, an organization that helps rural schools in East Africa. Photos courtesy of Claire N. '17.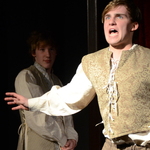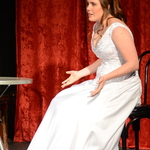 One Act Wonders (Students)
On February 22 and 23, The McDonogh Theatre Lab presented One Act Wonders, a set of short-subject plays with a little something for everyone. Photos and video stills courtesy of Kyle L. '15 and Cindy Green.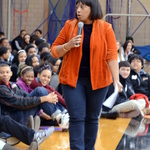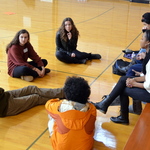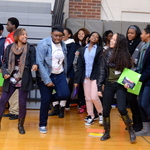 Student Diversity Conference (Students)
On Friday, February 22, approximately 260 Upper School students from area independent schools attended "DNA: Discovering New Aspects," a conference hosted by D4M (McDonogh for Diversity). The purpose of the full-day meeting was to expand knowledge of diversity and explore the notion of identity and how the media impacts the understanding of who we are. Nationally renowned performing artist Yavilah McCoy, a fourth generation Jewish African American was the keynote speaker.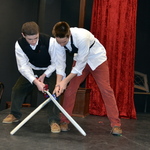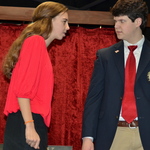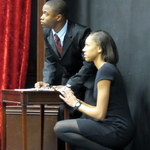 Sophomores Perform Macbeth (Students)
On February 21 and 22, students in several sophomore English classes demonstrated a deep understanding of Shakespeare's language and characters as they performed love scenes, murder scenes, and fight scenes from Macbeth for their classmates. They had loads of fun, too! In the weeks leading up to their performances, the sophomores worked with Jonas Grey and Molly Moores from the Chesapeake Shakespeare Company. The professional actors led energetic workshops on how to physicalize Shakespeare's language through gestures, blocking, and voice, turning the classroom into a vibrant and playful space.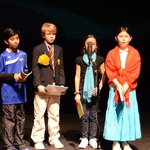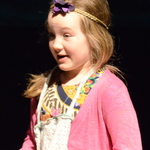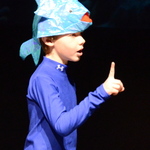 Journey Through Literature (Students)
Third Graders wrote plays in Writing Workshop based on books that they read in Reading Workshop. The students presented their creations in a production titled "Our Journey Through Literature" on Thursday, February 21 in the Ceres M. Horn Theatre. View a video of the performances.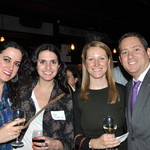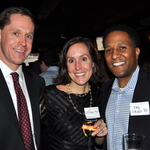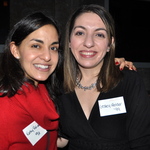 Alumni Gathering in NYC (Students)
McDonogh's New York contingent made a strong showing on Thursday, February 21 for happy hour at Amity Hall in the West Village. Guests swapped stories, shared laughs, and reminisced with veteran faculty members Laddie Levy '63, Merritt Waskey Livermore '91, and Andy Motsko. Alumni Association President Mike Warshaw '84 welcomed the crowd, and Headmaster Charlie Britton and Trustee Adam Brooks '89 briefed alumni on the healthy state of McDonogh.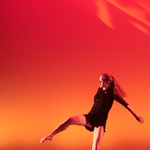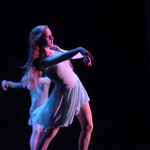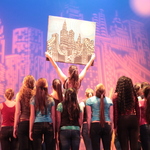 McDonogh Dances a Showstopper (Students)
Upper School dancers dazzled the audiences in the Ceres M. Horn Theatre on February 9 and 10 during their annual winter concert. The colorful show included an eclectic mix of ballet, tap, jazz, musical theatre dance, and hip hop. Many of the numbers were choreographed by students and alumni. Photos were taken by Irvin Simon Photographers.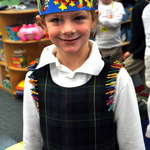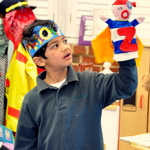 Zero the Hero Swoops in for the 100th Day (Students)
All three kindergarten classes celebrated the 100th day of school with a visit from Zero the Hero. Sporting a felt cape with a zero emblazoned on it, the masked star tried to stump the students with questions about what numbers become when they are suddenly paired with a following zero--all to no avail. Each class correctly answered each challenge and triumphantly shouted "100!" when they saw the final placard.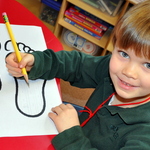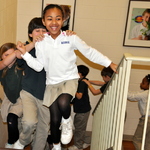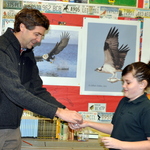 A Day of Foot Soldiers (Students)
Wednesday, February 13, was "A Day of Foot Soldiers" in the Lower School. Throughout the day, teachers inspired students in kindergarten through fourth grade to become foot soldiers—the engine of a movement, the people who make change possible—by participating in activities that demonstrated compassion, peace, and justice for all.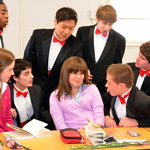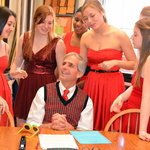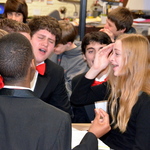 Singing Valentines (Students)
The Women of Note and Gentleman Songsters delivered singing telegrams to classmates and faculty for Valentine's Day. Take a look at some of the embarrassing moments caught on camera.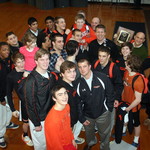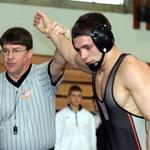 Wrestlers Win Championship (Students)
The #1 ranked Eagles clinched their sixth Maryland Interscholastic Athletic Association wrestling championship on February 9 at Mt. St. Joseph. It is the team's fifth title since 2006. Photos courtesy of Tammy Bode.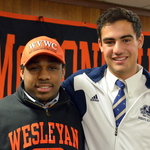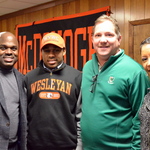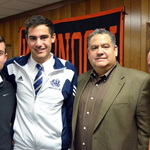 Winter Athletic Signings (Students)
On February 6, McDonogh seniors Matt S. and Jabari W. signed NCAA letters of intent to play sports in college. Matt will play Division I soccer at Old Dominion University, and Jabari will play Division II footall at West Virginia Wesleyan College.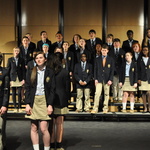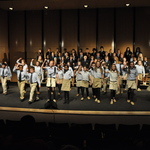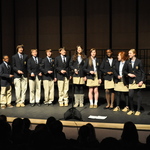 Middle School Benefit Concert (Students)
On Thursday, January 31, members of the Middle School Onstage classes and the Middle School Honors Choir delighted their audience with Broadway tunes as well as folk, jazz, classical, spiritual, and current pop hits.

The concert was a benefit for Public Schools 52 and 53 in Middle School Choral Director Suzi Eldridge's hometown on Staten Island, an area hit hard by Hurricane Sandy. The concert brought in monetary donations and Target gift cards totaling $2,260.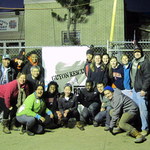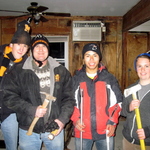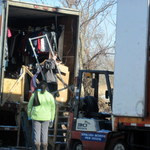 Helping Staten Island Community (Students)
On Saturday, January 26, Associate Head of Upper School Nancy Love, science teachers Rob Smoot and Lee Shang, Hunter Smoot '12, and a group of current students traveled to Guyon Rescue Center on Staten Island to lend a hand with much needed clean-up after Hurricane Sandy. The students spent the day organizing donations in temporary trailers and preparing two gutted houses for new drywall. Community members were grateful for the support. They shared that volunteer assistance in the area has dwindled, and there is still work to be done.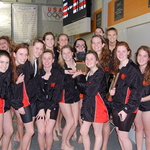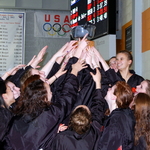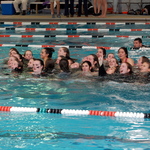 Girls Swimming Champions (Students)
The varsity girls' swim team won their ninth Independent Athletic Association of Maryland A Conference swimming championship meet at home on Saturday, February 2. The girls scored 425 points, 18 ahead of second-place Notre Dame Prep, to claim the IAAM crown for the first time since 2010.
Read more in The Baltimore Sun.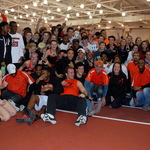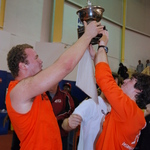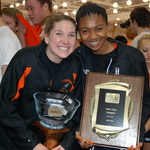 Track Teams Sweep Championships (Students)
The boys and girls varsity track teams came in first place at the 2013 Indoor Track Championships at the Prince George's Sports and Learning Complex on Friday, February 1. It was the girls' fifth straight IAAM title, and the first time since 2010 that both McDonogh teams swept the event.
Read more in The Baltimore Sun.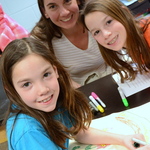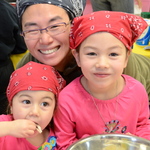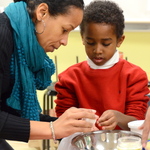 Reaching Out to the Community (Students)
On Martin Luther King, Jr. Day, many students in kindergarten through fifth grade came to school with their families and teachers to participate in the Second Annual Spirit of Giving Morning. Over 112 volunteers decorated and filled popcorn tins for Meals on Wheels, prepared lasagna for St. Mary's Roland View Towers and sandwiches for Corpus Christi's Soup Kitchen, created activity packages for the Brightwood Retirement Community, baked casseroles for Our Daily Bread, assembled craft kits for the Ronald McDonald House and birthday boxes for the St. Vincent's Center, and made blankets for animals at the ASPCA. The prior evening, some families also cooked a meal and served it to residents at the Westminster Rescue Mission. The service project was a complete success and a wonderful opportunity for teachers, parents, and students to work together to help people in need.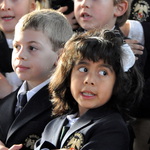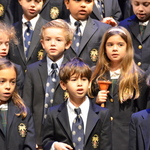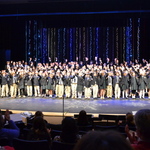 Celebrate! (Students)
During "Celebrate" on December 19, Lower School children sang about the holiday delights of December. Kindergartners and prefirsters entertained parents and friends in Tagart Chapel. First through fourth grade students enchanted guests in the Ceres M. Horn Theatre.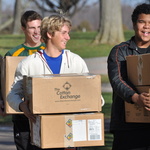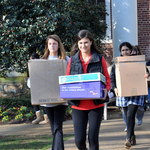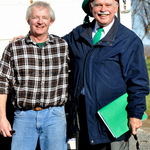 Holiday Project is a Wrap (Students)
Thanks to the generosity of the McDonogh family, 133 families will have something more to smile about this holiday season. On December 18, parent volunteers helped students and teachers load gifts into vehicles and then drive them down to St. Gregory the Great Church in Baltimore. In addition to cars and school vans, the Davis family donated a truck from their business to help transport the packages.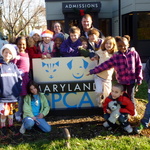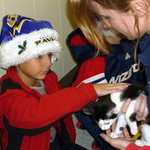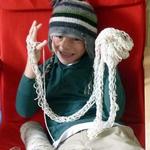 Helping Furry Friends (Students)
On December 13, second graders in Ms. Hailstone's class traveled to the Maryland SPCA to deliver money that they raised to help homeless cats and dogs by knitting and selling scarves. During the visit, students met some of the furry friends that will benefit from their generosity.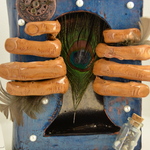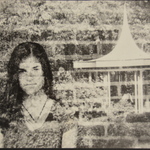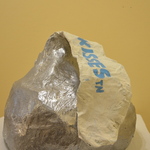 Upper School Exhibit in Tuttle Gallery (Students)
Upper School students taking Art One, Art Two, Clay, Painting, and Photography will be exhibiting their 2D and 3D creations in the Tuttle Gallery from December 10 through January 18. Students and art lovers enjoyed a gallery reception that took place on Thursday, December 13.
Since the beginning of the school year, teachers in the Art Department have been exploring mediums and ideas to ready students for this opportunity to show their personal expressions as they relate to contemporary art practices. The exhibit includes clay and pop art sculptures, still life paintings, drawings, black and white photography, and more.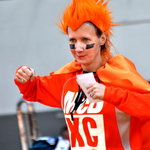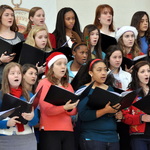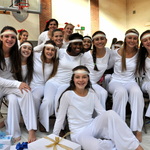 All-School Holiday Assembly (Students)
During the All-School Holiday Assembly on Friday, December 14, Loki, the god of evil and nefarious intent, enlisted the help of super-villains, Darth Kleim, the Red Witch, and the Jokerette to destroy the holidays for everyone in McDonoghville. Committed to resisting the arch-villains was a feisty band of super-heroes, led by Loki's righteous brother Thor, who was assisted by the Incredible Hulk, the Stinger, and Major McD (Captain America was away!). The super heroes used negotiation and humor to get the villains in the holiday spirit, but they had no luck until the final showdown. After a climatic duel of Rock, Paper, Scissors, goodness finally triumphed. In addition to the comical spoof, students, faculty, and staff enjoyed wonderful performances by student dancers, singers, and instrumentalists.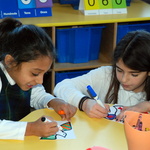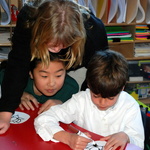 Students Unite to Make Symbolic Ornaments (Students)
Students representing all three divisions helped prefirsters make ornaments of world symbols to hang on the "Mitten Tree" at the All-School Holiday Assembly on Friday, December 14. During the assembly, students will further adorn the tree with mittens that will be donated to St. Gregory the Great Church in Baltimore as part of the Holiday Project.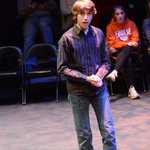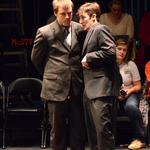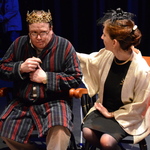 Richard III (Students)
The McDonogh Theatre Lab and the Chesapeake Shakespeare Company presented a roaming performance of Richard III on Friday and Saturday, December 7 and 8 that began in the Ceres M. Horn Theatre. At the end of Act I, the audience followed the dastardly king's assassins down to the Osborne Black Box Theatre and witnessed the murder of the Duke of Clarence. The beginning of Act II found both the players and the audience back in the round on the stage of the Horn Theatre.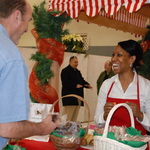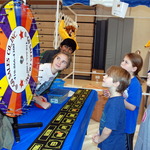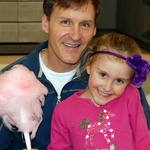 Holiday Bazaar Fun (Students)
The McDonogh Parents Association sponsored Holiday Bazaar drew a big crowd on Saturday, December 8. Shopping, games, and delicious treats were enjoyed by all.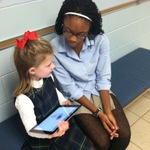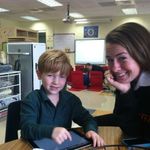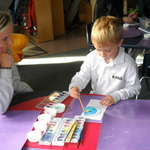 Thanks for Being a Friend (Students)
Juniors from the Upper School joined kindergarten, prefirst, and second grade students for a morning of learning on November 30. The older students helped their younger friends figure out some new ways to use technology, investigate the library, create artwork, and prepare decorations for the holiday assembly.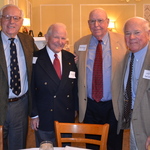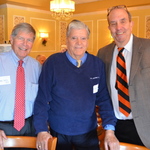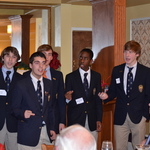 Orange and Black Holiday Luncheon (Alumni)
A joyful spirit was in the air on December 6 when Baltimore-area alumni gathered at Christopher Daniel Restaurant for the Orange and Black Holiday Luncheon. Guests were treated to remarks by Headmaster Charlie Britton and a memorable performance by McDonogh's student a capella groups, The Women of Note and The Gentlemen Songsters.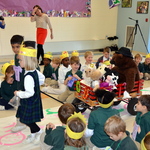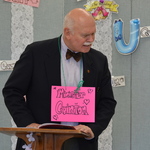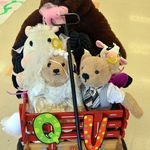 The Wedding of Q & U (Students)
On Monday, December 3, kindergartners gathered in a make-shift chapel in the Kelly Center for the wedding of the letters Q and U, officiated by Minister Quentin (A.K.A. Director of Religious Studies, Character, and Service John Grega). Teachers planned the wedding to teach students the sound of the letter Q and the fact that Q needs U to make words like quake, queen, quick, etc. The "Wedding March" played in the background and students (girls as queens and boys as quarterbacks) walked down the aisle dropping quarters instead of flowers. A festive reception followed the ceremony.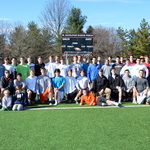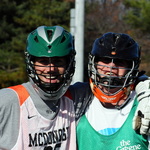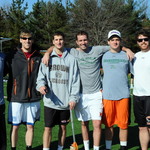 Alumni Lacrosse Game (Students)
The day after Thanksgiving, approximately thirty lacrosse alumni played alongside current varsity team members on the newly dedicated W. Boulton Dixon Turf Field. After the game, parents of current players hosted a lunch in Lamborn Hall.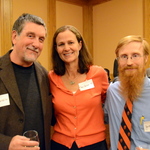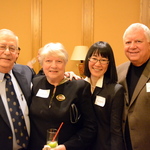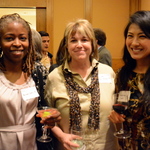 Alumni Gathering in LA (Students)
Alumni reconnected with each other and reminisced about McDonogh at Brentwood Country Club on November 14, 2012. Headmaster Charlie Britton quizzed the crowd, asking who could recite The McDonogh Uniform, and updated guests on the strength of McDonogh. Many thanks go to Pam Shriver '79 for hosting the event.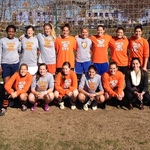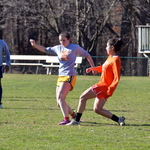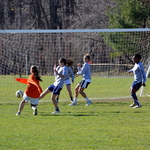 Alumnae Soccer Contest (Students)
Once again, the "odd" years battled the "even" years on Thanksgiving morning in another close contest. Under the direction of Bridget Collins '90, who coached and cheered as goalie for her team, the "evens" narrowly pulled out a victory.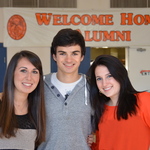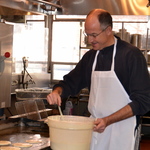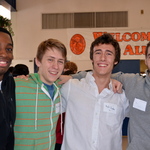 Thanksgiving Breakfast for Young Alumni (Students)
There were hugs galore as alumni from the classes of 2009-2012 joined the senior class in Lamborn Hall for breakfast on Thanksgiving morning. Headmaster Charlie Britton flipped hundreds of pancakes while students and graduates reminisced with each other and with faculty.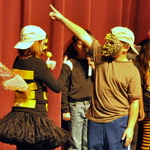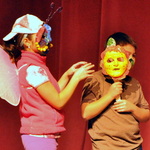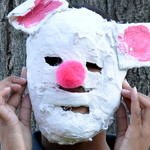 Pourquoi Tales Brought to Life (Students)
Wearing colorful masks made from plaster molds of their own faces, fourth graders performed original pourquoi tales for Lower School students, parents, and special guests the week before Thanksgiving. Questions answered included: why kangaroos hop, how bees got their stingers, why sloths are slow, why ladybugs are lucky, why giraffes have long necks, why porcupines have quills, why the earth spins, and why chameleons change colors.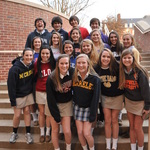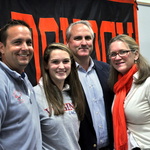 Athletes Sign Letters of Intent (Students)
On November 14, a record number of McDonogh scholar-athletes signed NCAA letters of intent to play Division I sports in college. The group included two swimmers, four boys lacrosse players, and 12 girls lacrosse players.
Swimming
Sydney K. (Niagara University)
Lauren E. (Vanderbilt University)
Boys Lacrosse
Hil B. (Furman University)
Nick D. (Ohio State)
Austin F. (Villanova)
Danny S. (Villanova)
Girls Lacrosse
Casey B. (Duke University)
Samantha B. (University of Florida)
Bella H. (University of California-Berkeley)
Annie C. (Campbell University)
Sloane K. (Elon University)
Grace M. (University of Notre Dame)
Maggie P. (University of Virginia)
Hannah R. (University of Notre Dame)
Allison S. (University of Michigan)
Jenna S. (Furman University)
Posey V. (University of Virginia)
Megan W. (Campbell University)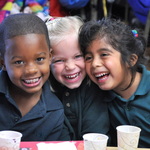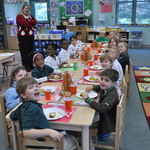 Kindergarten Gives Thanks (Students)
On Tuesday, November 20, Kindergarten students gathered to enjoy a Thanksgiving feast. To prepare, the children harvested vegetables from the Roots Garden, made bread and butter, learned the correct way to set a table, and then practiced their manners while eating.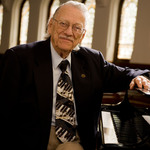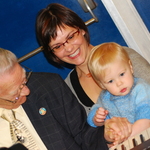 Farewell to Marsh Anders (Teachers)
One of McDonogh's most beloved music teachers, Marshall "Marsh" Anders, passed away November 15. His 47 years at McDonogh encompassed the direction of every music group on campus, countless private lessons, and playing the organ or piano for innumerable school events, as well as weddings and memorial services. He will be missed.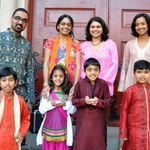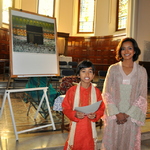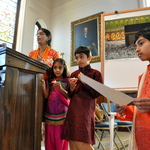 Celebration of Diwali and Muharram (Students)
Decorated with traditional holiday adornments, including diya (small clay lamps), a Koran and its hand-carved stand, and a picture of the Kaaba (Islam's holiest place), Tagart Memorial Chapel was filled with beautiful music and meaningful stories as students in first through fourth grade celebrated Diwali and Muharram on Tuesday, November 13. Parents Archana Rami and Umbreen Majeed, with valuable assistance from children, helped to clarify the meaning and importance of these feasts in the Hindu and Muslim traditions.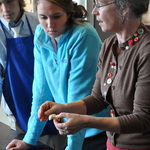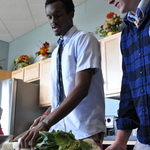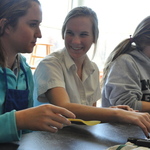 Delicious Language (Students)
Upper School students in Mrs. Cynthia Cox's "Literature of Food" class created a tasty (and nutritious) lunch of turkey dumplings, steamed rice, and stir-fried bok choy. The students learned about cooking Chinese cuisine after reading "The Joy Luck Club" by Amy Tan.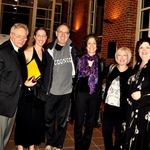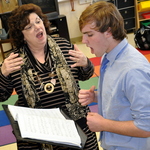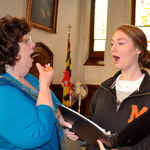 Vocal Arts Residency Hits a High Note (Students)
Upper School students had the privilege of working with master teacher Barbara Dever, a world-renowned mezzo-soprano, as part of the first annual McDonogh Vocal Arts Residency on November 5 through 9. Founded by the family of Jamie Balter Levine '11, the residency celebrates the arts program that allowed Jamie to cultivate a lifelong passion for vocal music. The week-long musical immersion program ended with a concert featuring Barbara, Jamie, and participating students on Friday evening.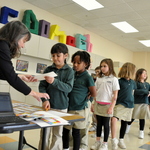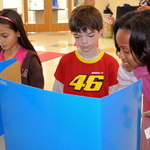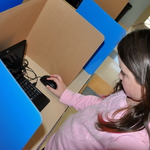 Voting in the Lower School (Students)
The polls were open in the Lower School on Election Day 2012, and students in prefirst through fourth grade lined-up to cast their votes. The process mirrored that of registered voters across the country, right down to the "I Voted" stickers distributed to each student as they exited the polling area.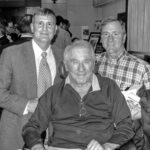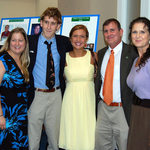 National Wrestling Honor for Coach Smoot (Students)
On Sunday, October 28, Coach Rob Smoot who was presented with the National Wrestling Hall of Fame Lifetime Service Award. He was among six distinguished recipients, including Baltimore Raven Ray Lewis, honored for their outstanding contributions to the sport of wrestling. Many of Rob's former and current wrestlers, college teammates, friends, and family were in attendance at the ceremony in Annapolis. Congratulations Coach Smoot!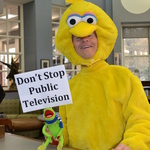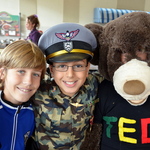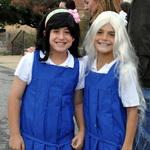 Halloween Fun on Campus (Students)
On October 31, the McDonogh community donned costumes and celebrated Halloween. As always, the Lower School parade around campus was a highlight of the day.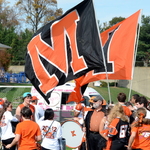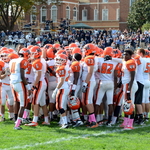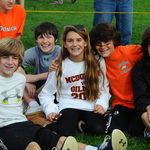 Eagle Spirit Prevails at Gilman (Students)
The 97th McDonogh vs. Gilman football game on Saturday, October 27, was a loss for the Eagles, but a win for McDonogh spirit. Led by history teacher Dave Harley and Headmaster Charlie Britton, orange and black clad fans marched over the bridge from Bryn Mawr School onto Gilman's field and cheered wildly throughout the game.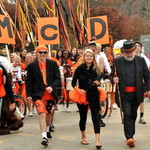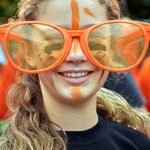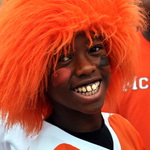 Spectacular Spirit Day (Students)
In anticipation of the 97th McDonogh vs. Gilman football game, the entire student body donned orange and black for the annual all-school Spirit Parade and Pep Rally on Friday, October 26. A video of the day's festivities will be posted on the front page of the website on Friday, November 2. Be sure to check back!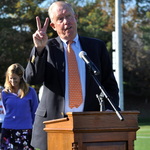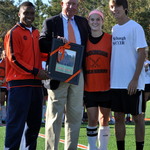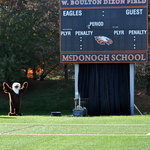 Turf Field Dedicated in Honor of Bo Dixon (Students)
On Monday, October 22, hundreds from the McDonogh community gathered to dedicate the turf field to Bo Dixon, Headmaster from 1992-2007. During the ceremony, current Headmaster Charlie Britton recognized Bo's many contributions to the school and his tremendous impact on students and teachers. After unveiling the scoreboard sign, student-athlete representatives presented Bo with a commemorative gift.
The newly named W. Boulton Dixon Field, complete with artificial turf and lights, will greatly enhance McDonogh's athletic programs, allowing greater flexibility for practices and games.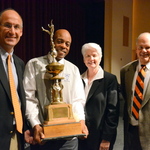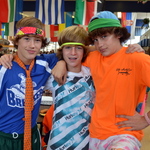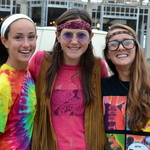 Neon and Decades Day (Students)
On Thursday, October 25, spirit continued to heat up on campus with Decades Day in the Upper School and Neon/Clash Day in the Middle School. As is tradition during Spirit Week, Gilman's headmaster, athletic director, football coaches, and senior captains attended a special Upper School assembly in the Ceres M. Horn Theatre.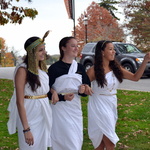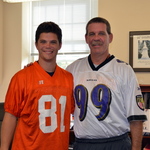 Salad Dressing and Team Jersey Day (Students)
For the second day of Spirit Week, Middle School students donned their favorite team jerseys, while upper schoolers celebrated "Salad Dressing Day" and wore Caesar, Thousand Island, French, and Ranch attire.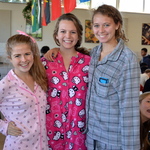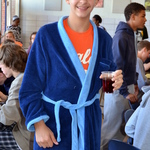 Pajama Day Begins Spirit Week (Students)
Upper School students wore slippers and pajamas to school on Monday, October 22, to kick off Spirit Week, which celebrates the end of the fall sports season and leads up to the big McDonogh vs. Gilman football game on Saturday. The game will take place at Gilman at 1 p.m.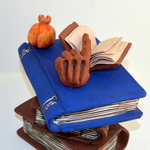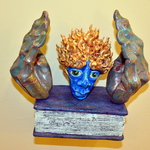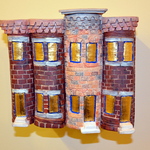 "Bibliophile (Students)
"Bibliophile," a book-themed exhibition of ceramic sculptures, will be on display in the Tuttle Gallery from October 22 through November 30. Curated by Mary Cloonan, Curator in Residence at Baltimore Clayworks, the show celebrates books of all kinds and the emotions triggered by their words and stories. In addition to Cloonan's work, the exhibit features the creations of four nationally and internationally recognized artists: Novie Trump, Laurel Lukaszewski, Liz Vorlicek, and Elizabeth Kendall. All are welcome to an opening reception Thursday, October 25, from 4 to 5:30 p.m. to meet the artists.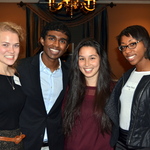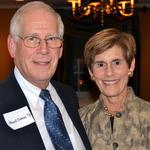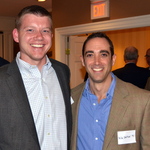 Boston Regional Reception (Students)
An impressive crowd of alumni and guests attended a reception at the Harvard Club of Boston on Wednesday, October 18. Headmaster Charlie Britton gave an update on McDonogh Today and McDonogh Forever, and faculty members Darren Ford and Jeff Sanborn reconnected with former students.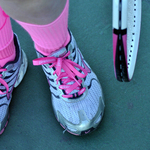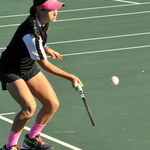 Pink Day (Students)
On October 11, the McDonogh Girls Tennis program sponsored a Pink Day to raise awareness for breast cancer and funds for The John Fetting Fund for Breast Cancer Research. During matches against St. Paul's School for Girls, the varsity and junior varsity teams wore pink socks, played with pink tennis balls, and earned dollars for the fund having garnered pledges from family and friends for each game and match won. Members of the intramural team played faculty and staff volunteers to promote spirit and excitement for the day. The event also featured a bake sale of pink goodies to add to the funds.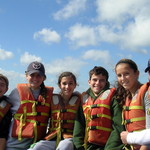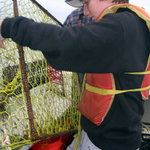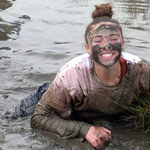 Eighth Grade Bay Trip (Students)
Eighth graders traveled to the shores of the Chesapeake for the three-day, annual Bay Trip. Featured activities included camping, canoeing, crabbing, scraping for oysters and sub-aquatic vegetation, night-hiking, and watching the sunrise, to name a few.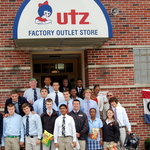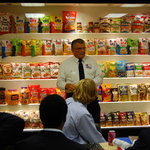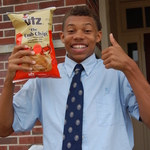 Potato Chips Inspire Writers (Students)
Students in Mr. Van Meter's and Dr. Dalili's "Exercises in Writing" and "Writing Process" classes honed their observation skills on a recent field trip to the Utz Quality Foods production facility in Hanover, PA. The annual "Chip Trip" is intended to help students learn to craft a narrative story, as well as process and organize notes. The adventure included a stop at the Utz Factory Outlet, where students hit the sample bins without hesitation and left with arms full of chips, chocolate-covered pretzels and caramel corn.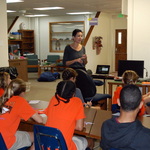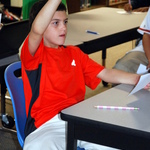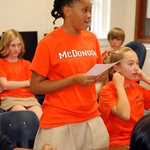 Students Meet Award-Winning Author (Students)
It is not every day that readers get to meet the author of the book they just finished. On October 4, sixth graders were fortunate to do just that. Nora Raleigh Baskin, author of Anything But Typical, spent the day at McDonogh and shared with students how she created the plot for this award-winning novel and found the voice of the main character, Jason, a twelve-year-old autistic boy. Baskin also conducted a creative writing workshop on the importance of first lines.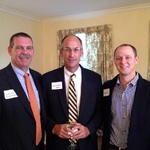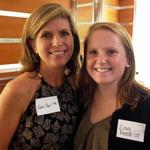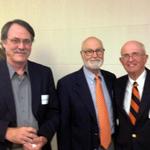 McDonogh Visits Scarsdale and D.C. (Alumni)
Headmaster Charlie Britton and several faculty members traveled to Scarsdale, New York on Sunday, September 30, and to Washington, D.C. on Thursday, October 4, for receptions with alumni. Graduates had an opportunity to reconnect with each other and hear about McDonogh Today and McDonogh Forever. Thank you to Scarsdale hosts, Mark '91 and Alison Litofsky, and to D.C. host, Joe Tydings '46.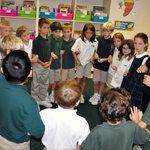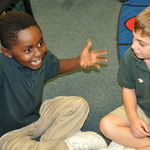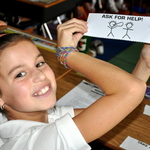 Zero Tolerance for Bullying (Students)
In conjunction with National Bullying Prevention Month, the Lower School held "Be The Change Day" on Thursday, October 4. Time was set aside for lessons and activities encouraging students to take an active role in preventing bullying. The Lower School has zero tolerance for bullying!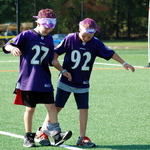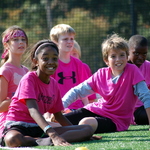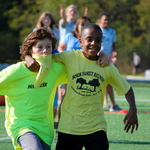 Sixth Grade McLympics (Students)
On Friday, October 5, sixth graders headed outdoors for the annual McLympics competition. As is tradition, the event ended with a friendly game of tug-of-war.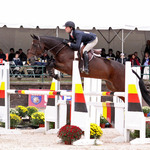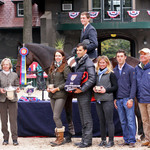 Huge Riding Victory for Jacob P. '13 (Students)
On October 7, senior Jacob P. did what no McDonogh student has done in 35 years; he won the 2012 Platinum Performance/USEF Show Jumping Talent Search Finals East in Gladstone, New Jersey. The prestigious weekend-long event featured 92 exceptional athletes from around the country. Way to go Jacob!"
Photos by Rebeccal Walton.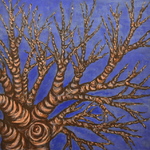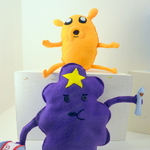 Our Creative Impulse (Teachers)
"Our Creative Impulse," featuring a wide range of works by faculty and staff, is on display in the Tuttle Gallery from September 20 to October 15.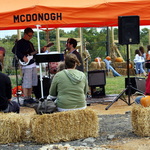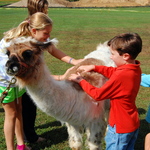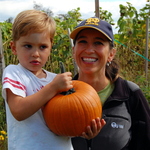 Fall Festival Fun (Students)
A good time was had by all at the McDonogh Parents Association's Fall Harvest Festival on campus Saturday, September 29. Live music by the Middle School Rock Shop and faculty bands filled the air as families picnicked and picked pumpkins from the Roots garden, visited a petting zoo and face painting booth, and harvested honey from McDonogh's beehives. Best of all, the McDonogh community filled two bins with over 1,200 pounds of canned goods and other items for the Maryland Food Bank.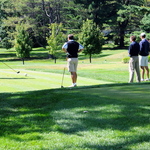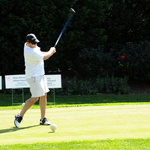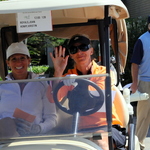 37th Annual Golf Classic (Students)
On a glorious fall day, 108 alumni, parents, grandparents, and friends participated in the 37th Annual McDonogh Golf Classic held September 24, 2012 at the Suburban Club in Baltimore. Golfers played a modified scramble, and then enjoyed happy hour, dinner, a silent auction, a live auction led by entertaining alumnus, Brad Dudley '79, and the awards ceremony. Congratulations to the winning foursome: Jackie & Steve '76 Breeden, Doug Silber '76, and Leslie Zuga. Hilarie Boltansky was the lucky winner of the Masters raffle tickets and will enjoy two passes to the 2013 event in Augusta. Many thanks to all sponsors and players for supporting the Alumni Association.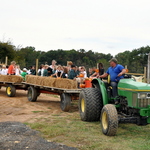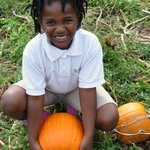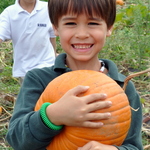 Kindergarten Pumpkin Harvest (Students)
Kindergartners hitched a hayride to the Roots Garden on Friday, September 28, to harvest this year's crop of pumpkins. The youngsters were delighted to see that more than 125 pumpkins grew from the seeds that they planted in June. Each child took one pumpkin home. The rest will be used to make homemade pumpkin recipes.
View a video of the fun!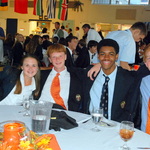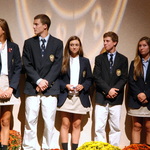 Junior Pin Ceremony (Students)
On Monday, September 24, the Class of 2014 officially became upperclassmen as they walked across the stage of the Ceres M. Horn Theatre to receive their McDonogh pins. In honor of the occasion, faculty and staff served the juniors a special dinner in Lamborn Hall prior to the ceremony.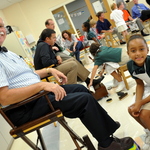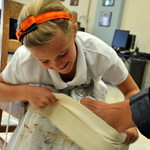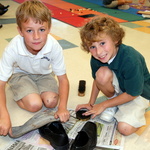 Shining Example of Caring (Students)
On September 20 and 21, parents, grandparents, siblings, teachers, and staff lined up at the Kelly Center to have their shoes shined by third graders. The students set up the temporary shoeshine stand to raise money for "Blankets of Hope," an annual third grade effort to help patients with cancer.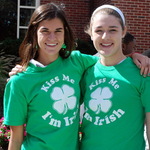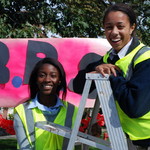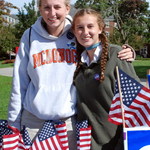 Activities Galore (Students)
Leaders from Upper School extracurricular clubs set up displays and recruited members during the Activities Fair on September 19. Students had many choices, ranging from language and cultural clubs to service and hobby clubs.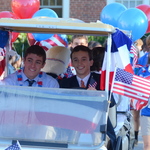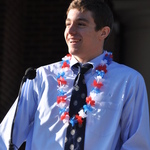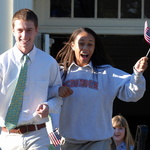 Ian S. '14 Honored for Paralympic Gold (Students)
On September 5, junior Ian S. won gold in the men's 400m freestyle event at the Paralympics in London, setting a new record in 4:01.91. When Ian returned to school on Wednesday, September 12, he was surprised to find the entire Upper School lined up along the center of campus waving American flags and cheering for him. A golf cart decorated in red, white, and blue by members of his advisory transported him to a podium where he was honored with great fanfare. The event was spearheaded by Ian's friend and junior class president Will C.
Read The Baltimore Sun article.
Read the Owings Mills-Reisterstown Patch article.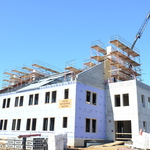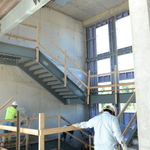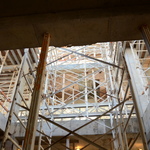 Inside McDonogh's Newest Buildings (Campaign)
Here are a collection of images from inside the construction sites of the new St. John Student Center and Naylor STEM Building.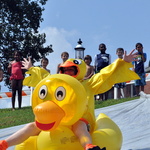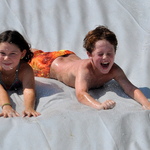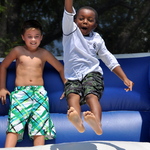 Aquapalooza (Students)
On Friday, September 7, Head of Lower School and proud mother duck Noreen Lidston waddled onto a large inflatable rubber duckie and led her divisonal ducklings down a "Slip 'n Slide" for meeting their summer reading challenge. The flock of lower school students read a combined total of 3,614 books to earn this summer fun on a school day. Their goal was 3,200. The lucky ducklings also ran through sprinklers, jumped around in a moon bounce, and traveled down a 22-foot inflatable slide.
Click here to watch short video about the day.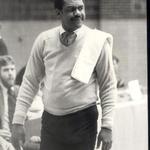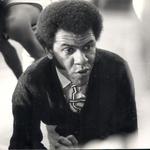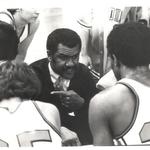 McDonogh Mourns Former PE Teacher Paul E. Smith (Students)
Paul Everett Smith, McDonogh School physical education teacher and coach from 1974 to 1990 and the first African American member of the school's faculty, passed away on September 3, 2012.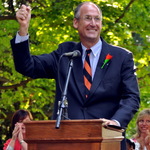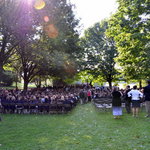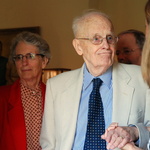 Convocation (Students)
On Thursday, August 30, McDonogh students and faculty gathered at Childs Memorial Terrace on a gorgeous morning for Convocation. This year, the ceremony included a dedication of the Louis E. Lamborn Alumni Memorial Field House, in honor of former headmaster Louis "Doc" Lamborn, and Lamborn Road, formerly known as Woods Road, named for former headmaster Dr. Robert "Bob" Lamborn '35.
View video highlights from Convocation.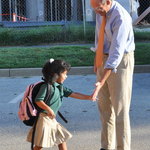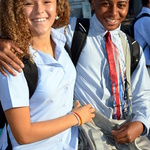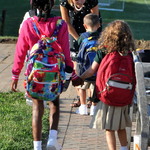 First Day of School (Students)
A bright, sunny morning provided the perfect atmopshere for the first day back to school on August 29.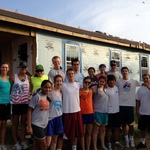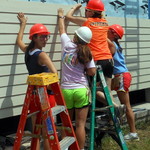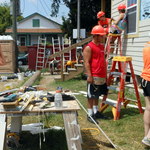 R-L New Orleans Trip (Students)
This July 30th through August 4th, the Rollins Luetkemeyer Leaders traveled to New Orleans to volunteer with Habitat for Humanity. This year, we had the opportunity to work on a new build. It was physically demanding work made more challenging by a heat index near 110 degrees each day. But it was also very satisfying to see the daily progress as we installed siding, shingled a roof, installed a fence and laid sod. The eighteen student leaders and five faculty chaperones demonstrated incredible teamwork and determination. They met homeowners working to fulfill their 300 hours of service so that they could buy their Habitat home. The students were touched by the homeowners' stories of resilience and their commitment to create a home for their families against staggering odds. In addition, our students met neighborhood children and began packing extra lunches for them.
Of course, we also found time for play! In the evenings, we traveled to the French Quarter, shopped at the French Market, ate Beignets at Café du Monde, and listened to live Jazz music at The Market Café. We learned a lot about the city of New Orleans, but more importantly, we learned about the power and importance of giving of ourselves to others. No community is more emblematic of this than the Faith Presbyterian Church community. McDonogh School groups having been staying at Faith Church in Harvey, Louisiana since Hurricane Katrina struck seven years ago. In the aftermath of Hurricane Katrina, many churches rallied to help the victims of the natural disaster. Faith Church only had 47 members and many were unable to help with the clean-up and rebuilding. So the church decided that they could give what they had…which was the space to house volunteers and their unconditional love and generosity to make those volunteers feel at home and appreciated. A sign hangs over the church door, "Nothing is Broken beyond repair." The quote has always made me think of the homes and neighborhoods we have helped to rebuild over the past seven years. But this visit it occurred to me that Faith Presbyterian Church has helped to rebuild our belief in the basic goodness of people. A wonderful group of people that taught our students that using their talents to serve others can make a positive difference in the world.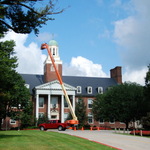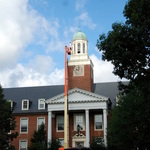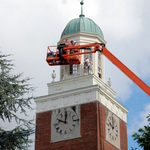 Painting the Cupola (Students)
A couple of workers made good use of a crane this morning to paint the cupola on the Allan clock tower.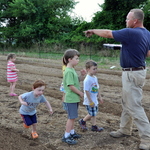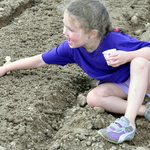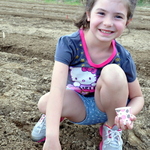 Roots Pumpkin Planting (Students)
Pumpkins have been planted! A group of volunteers came out to the Roots plot on Wednesday, June 27 to plant pumpkin seeds. The hard work was followed by the chance to paint bricks that will decorate the garden. The bricks are on display at the plot, alongside the newly filled adopt-a-boxes, which are overflowing with flowers and vegetable seeds.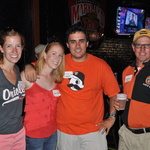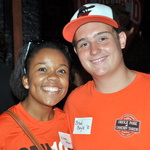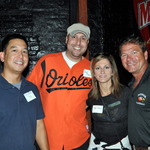 Alumni Night at Camden Yards (Students)
On June 23, Eagles alumni, faculty, and friends swooped in to Pickles Pub then headed across the street to Camden Yards to catch the O's take on the Washington Nationals. Headmaster Charlie Britton and faculty members Bridget Collins '90 and Al Poklemba joined the crowd to cheer on Baltimore's other orange and black team.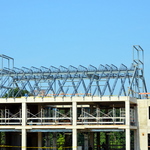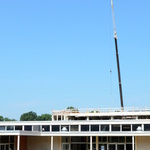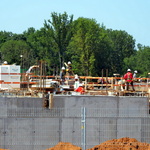 CMP Progress, July 18 (Students)
Despite record temperatures, crews have been making excellent progress on the campus master plan.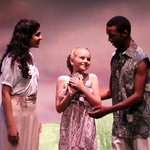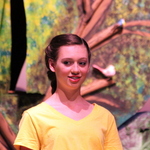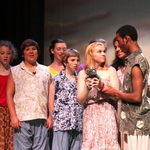 Once On This Island (Students)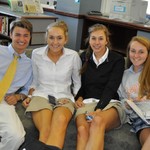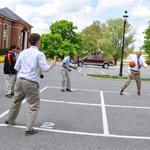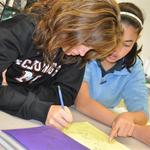 Featured Images (Students)
All the featured images for the 2012-2013 school year.