February 1, 2017
Dear McDonogh Community,
After a decade of exceptional leadership, Charlie Britton has informed the Board of Trustees that he will retire as Headmaster of McDonogh School at the end of the 2017-2018 academic year. While the Board would like nothing more than for Charlie to stay and lead the school for many years to come, we accept his decision with utmost respect and appreciation for all that he has done for McDonogh. Since arriving on campus in the summer of 2007, Charlie and his wife, Jen, have loved our school family as their own, and for that we are extremely grateful. The Britton family, including Trevor '12 and Annie '15, will always be part of the McDonogh family.
Charlie has led McDonogh with incredible wisdom and integrity, always with the best interest of students at the forefront of every decision and course of action. His commitment to ensuring that tradition, excellence, innovation, and joy are the hallmarks of the McDonogh experience has made the school stronger in every way. We have a robust curriculum, talented faculty and staff, impressive facilities, and most importantly, engaged students and alumni who make our community proud.
While there will be plenty of opportunities in the coming year to celebrate Charlie and Jen and all they have done for McDonogh, the Board and I would like to highlight a few of Charlie's most significant contributions. Under his leadership, The McDonogh Forever Campaign, the largest in the school's history, surpassed its $75 million goal. Furthermore, the school completed the first phase of the Campus Master Plan, including the addition of The Naylor STEM Building, The Edward St. John Student Center, The Rosenberg Campus Green, and other campus enhancements; created the McDonogh Character Compass; established Roots Farm; developed Folio, a faculty and staff evaluation program now used by schools across the country; launched LifeReady, our visionary academic strategic plan; started a prekindergarten program; expanded alumni programs and events nationwide; and announced plans for a McDonogh History House/Museum that will serve past, present, and future generations. Additionally, McDonogh has been named a Baltimore Sun Top Workplace in each of the past five years and received "top honors" for institutional direction and leadership.
As we move forward, the Board of Trustees is confident that the foundations set by Charlie will attract the best possible candidates, and we are grateful to him for giving us the gift of time to conduct a comprehensive search for McDonogh's 13th Head of School.
The national search will commence immediately. Board of Trustees Vice President Howard Klein has agreed to chair the search committee, and we have engaged The Finney Search Group to spearhead this most important effort. Trustees will make the final selection based upon the recommendation of the search committee, and after ample opportunity for input from faculty, staff, alumni, students, and parents. During the process, Charlie will continue to skillfully and thoughtfully lead the school, and he will play a vital role in the successful transition of leadership.
Please join me in thanking Charlie and Jen for their years of dedicated service to McDonogh. Embracing their legacy, we look to the future with great optimism.
Sincerely,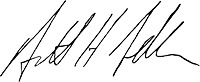 Arthur H. Adler '78
President of the Board of Trustees
Dear McDonogh Family,
It is with abundant love and respect for McDonogh and the McDonogh community that I share my decision to retire as Headmaster after the 2017-2018 academic year. Deciding to step away from a place I care for so deeply was not easy, but I'm confident that McDonogh will continue to thrive with new leadership and the contributions of so many who are committed to furthering our time-honored mission.
When I began teaching and coaching nearly 30 years ago, I never imagined that I would have the privilege of leading such an outstanding school and working with so many talented people who would help me grow personally and professionally. My journey here has been incredibly meaningful. McDonogh is a very special place—an unpretentious school that originated from humble beginnings in 1873 and has educated generations of students "to do the greatest possible amount of good." I am continually inspired by the respect and genuine compassion that exists within our community.
For the past decade, I have had the honor of working with an exceptional board of trustees, a superb administrative team, a gifted and caring faculty and staff, terrific students, active parents, and loyal alumni. I have never witnessed so much joy in a school that prides itself on providing extraordinary opportunities for young people.
As I look back over my career here, I am forever grateful for everyone in our community who has helped, in so many ways, to make the McDonogh experience what it is for our students. I am also indebted to Board Presidents Charlie Monk '67, Mike Falcone '79, and Arthur Adler '78 as well as incoming Board President Howard Klein '76 for their encouragement and thoughtful support.
On a more personal note, Jen and I are beyond grateful for the strong foundation and excellent education our children, Trevor '12 and Annie '15, received at McDonogh. All of us will treasure the memories and friendships from our time on campus. For the Britton family, McDonogh will always be home, and for that we feel very blessed.
Colonel William Allan, McDonogh's first Headmaster, wondered if the school would exist long after he died. He wondered if a school centered on the principles of goodness and opportunity would stand the test of time. How pleased he would be to see that McDonogh still values those same principles and is changing the lives of students each and every day.
As we like to say, "There is no place like McDonogh!"
With gratitude and all best wishes,

Charles W. Britton
Headmaster