2011-2012 Photo Essays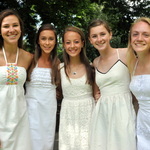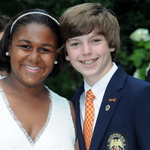 Eighth Grade Closing Ceremony (Students)
Friends, family, and teachers looked on with excitement on Monday, June 4 as the Class of 2016 processed down Chapel Hill to celebrate their final reunion as middle schoolers. Class speaker Harry VanGeison '16 chronicled the 12,242 hours that he and his classmates have spent in school since kindergarten, recounting their experiences and asking, "How many hours have we spent thanking everyone who helped us reach where we are now?...No matter how much time we spend thanking you, it will never be enough." Fellow Class Speaker Brianna Hunter '16 implored her peers to be like the McDonogh Oak: "we can reach amazing heights, yet remain grounded." With tips from his former student, Gianni Villasanta '13, Head of Middle School Darren Ford offered advice on how to make the most of freshman year. As the class rose to sing the Alma Mater, they joined the ranks of upper school students.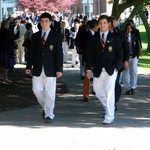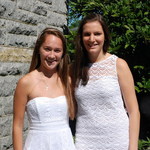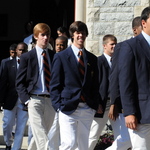 Commencement (Students)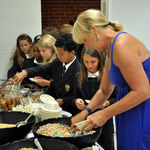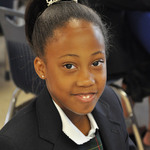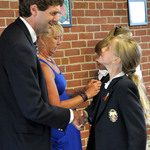 LS Closing Ceremony (Students)
Students, families, faculty, and staff gathered around Childs Memorial on Friday, June 1 to celebrate the Class of 2020's completion of Lower School.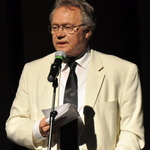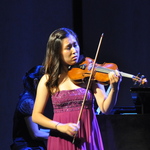 Stewart Senior Honors Recital (Students)
On Friday, June 1 downpours and a tornado warning that sent the audience to the Burck Center basement were no match for the storm of talent displayed by Nancy Holt, Lee Jeon, Vibav Mouli, and Rosalie Nathans during the Stewart Senior Honors Recital.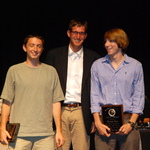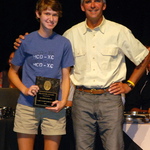 Athletic Awards Evening (Students)
During the 2011-2012 Athletic Awards Evening on June 4, over 100 student-athletes were recognized for involvement, leadership, and achievement in interscholastic sports. This year, 35 seniors received Golden Eagle awards for participating in sports every season of their upper school careers. Coach Rob Smoot, who is retiring from the wrestling program after 30 years of service, was honored for his dedication. For the second year in a row, a representative from ESPN Rise was on hand to present the varsity girls lacrosse team with the Powerade Fab 50 National Champions trophy.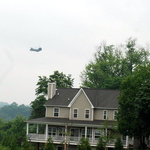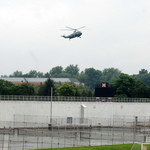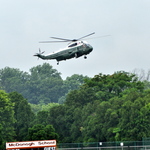 President Obama at McDonogh (Students)
Shortly after noon on Tuesday, June 12, a helicopter carrying President Barack Obama landed on the athletic fields behind the tennis courts. Two Marine Corps officers saluted the President as he strode across the field and entered the motorcade that was waiting to escort him to his next destination. As the President's vehicle exited campus, he rolled down the window and waved to a group of children gathered on the hill outside of the barn, giving them a memory they will never forget.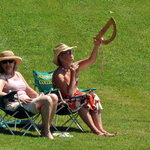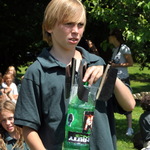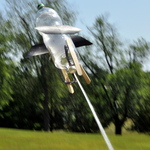 Fourth Grade Rocket Launch (Students)
There were a few technical malfunctions in the beginning, but fourth graders enjoyed launching their bottle rockets on Chapel Hill on their final day of classes.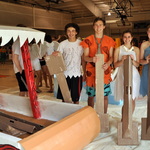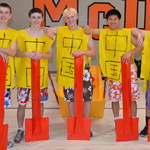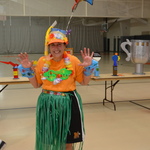 Cardboard Boat Race (Students)
Under warm, sunny skies, nine hand-crafted vessels took to the waters of McDonogh's Duck Pond on Friday, May 25, for the 23rd annual Cardboard Boat Race. The Red Baron emerged victorious, taking first place in the championship heat. Judges presented the "Best Overall Boat" (BOB) trophy to the Campus Master Plan, and the Justice League received the "Poseidon Adventure" award for sinking the quickest!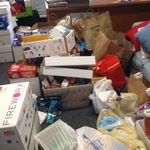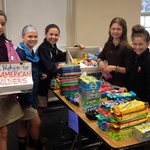 MS Supports U.S. Troops (Students)
Middle school students spent the month of May working on a community service project that honors veterans and active military service men and women.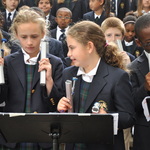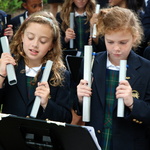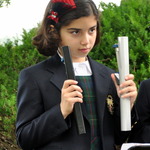 Memorial Day Service (Students)
The McDonogh community gathered on Thursday, May 24, to honor those who gave their lives for our country. Several alumni veterans were in attendance. After the ceremony, Butch Maisel '72 displayed equipment from the Spanish American War, Korean War, Vietnam War, and current-day conflicts.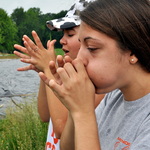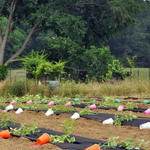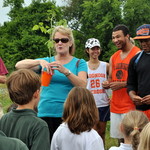 ROOTS Tomato Planting (Students)
On Wednesday, May 23, first graders, with the aid of some upper schoolers, teachers, and parents put their tomato seedlings in the ground.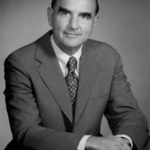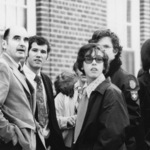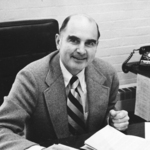 McDonogh Mourns Colonel A. Ludlam "Lud" Michaux, Jr. (Students)
Former McDonogh President A. Ludlam "Lud" Michaux, Jr. '40 passed away peacefully on Saturday, May 19, 2012.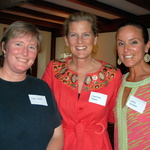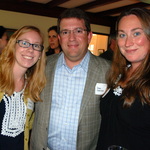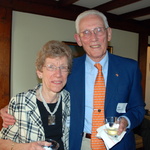 Thank You McDonogh Fund Supporters (Students)
The McDonogh Fund volunteers gathered at the home of Headmaster Charlie and Jen Britton on Tuesday, May 22, to celebrate their hard work and dedication. Throughout the year, more than 135 volunteers, including parents from all three divisions, alumni, parents of alumni, and grandparents diligently reach out to the community for support. Every gift made to The McDonogh Fund significantly impacts the school, and every minute of time our volunteers give to McDonogh has the same profound impact. Thank you to our loyal supporters!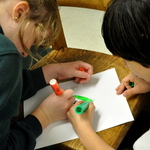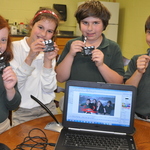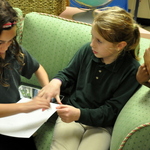 Lights! Camera! Action! (Students)
This year in Videoclass, third graders used animated characters to explore world landmarks. Acting as script writers, directors, animators, and movie editors, students creatively produced their own videos under the supervision of special projects teacher Cindy Green. Their accomplishments were highlighted at a wrap party where each student received a "McD Video Award," McDonogh's version of the Oscars. View the videos.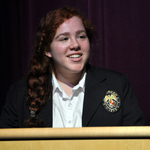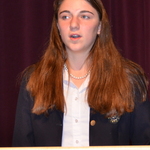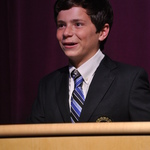 Seventh and Eighth Grade Oratory Finals (Students)
Hosted by Isabella P. '17 and Brendan Y. '16, the entire Middle School gathered in the Ceres M. Horn Theatre on Friday, May 18, to hear the 10 finalists in the annual seventh and eighth grade oratory program. The students spent much of the spring semester writing their own two- to four-minute oration. Seventh graders wrote persuasive speeches based on a researched topic of interest. Eighth graders wrote personal narratives based on a memorable moment or period in their life. Each student was evaluated on their quality of writing and their poise and expression while speaking. The finalists delivered messages on topics such as bullying, sibling rivalry, home invasion, and genetically engineered crops. This year's finalists were seventh graders Jordan A., Greg F., Ryan J., Annalise M., Mohit P. and eighth graders Eleonore E., Olivia H., Kayla H., Chad K., Ali R.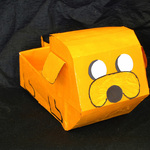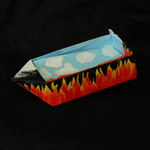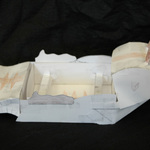 Cardboard Boat Race Models (Students)
Will these models make it across McDonogh's Duck Pond as life-size boats? Find out at the 22nd Annual Cardboard Boat Race on Friday, May 25 at 3 p.m.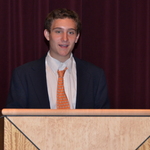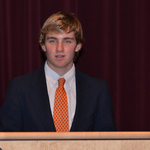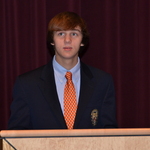 Sophomore Oratory Contest (Students)
Hosted by Master of Ceremonies Kenny B., the 32nd Annual Sophomore Oratory Contest featured speeches by five finalists on Monday, May 14. Jake H. spoke passionately about how smartphones are used too heavily and ruining interpersonal skills in "Smart Phones." Brett E. criticized society's obsession with tweeting in "Twitter." Jake S. pushed the idea of allowing convicted murder criminals to kill off each other in "Capital Punishment." Meena C. explained the health benefits of using expletives in "Cursing." Emily W. expressed the importance of celebrating the reflective and insightful attributes of introverts in "Introverts." Contest judges, assistant to the associate headmaster Katie Michaelson, upper school history teacher Daryl Burch, and 2011 Oratory winner Amanda M. '13, selected Brett as recipient of the Oratory Award and Emily as Runner-up.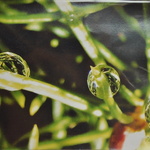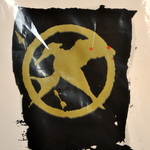 Art Auction Supports Ronald McDonald House (Students)
The sixth annual spring art auction, featuring work by upper school students and teachers, raised approximately $1200 for Ronald McDonald House Charities of Baltimore.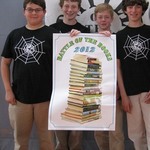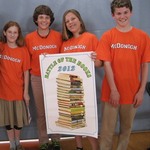 Battlers of the Books Victorious (Students)
McDonogh hosted the annual Battle of the Books challenge for middle schoolers from seven independent schools in a Jeopardy-style competition on Tuesday, May 15.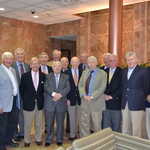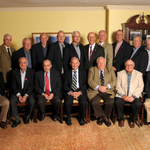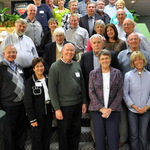 Reunion Weekend Class Parties (Alumni)
Alumni celebrating milestone reunions gathered at venues all over Baltimore on Saturday, April 28 for their class parties.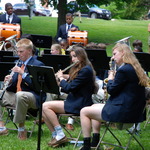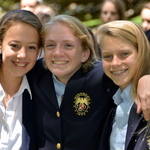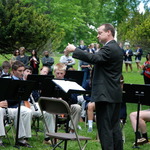 Headmaster's Day Honors (Students)
During the Headmaster's Day ceremony on Friday, May 11, the entire school community gathered to recognize students for academic and artistic achievement, honor Diana Cooper, Nancy Fleury, Heather Ford, Karen Fox, and Kit Ulgen, who have served the school for 25 years, and say goodbye to Linda R. Brand, Marion O. Brecht, and Carolyn E. Pentzer who are retiring. Editor Kelsey P. announced that the 2012 Legacy had been dedicated to Upper School science teacher Bob Mahon.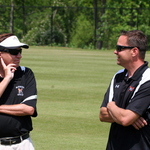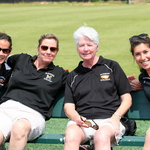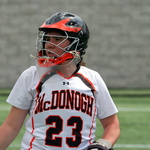 Girls Lax Wins Fourth Straight Title (Students)
The girls varsity lacrosse team defeated Maryvale 12-11 to win their fourth consecutive Interscholastic Athletic Association of Maryland A Conference championship on Sunday, May 13, at Stevenson University. In an extremely intense contest, the Eagles stay poised and scored the winning goal with only 9.8 seconds left in the game. Thanks to Carlton Etchison for the photos.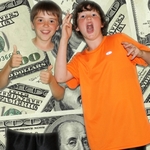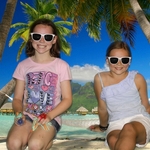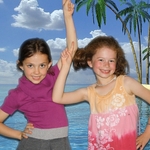 LS Family Fun Night (Students)
Lower School families enjoyed a night of food, games, dancing, and jumping in the moonbounce on Friday, May 4, at the McDonogh Parents Association-sponsored Family Fun Night. Some students captured moments with their friends and families at a green screen both. Photos by Elite Party Entertainment.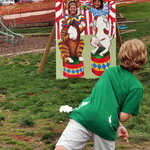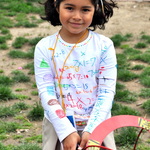 LS Math Fun (Students)
Decked out in numerical clothing , lower schoolers spent Wednesday, May 9 participating in all kinds of arithmetic amusement at the fourth annual Math Carnival. In true carnival fashion, the children also enjoyed cotton candy, snowballs, funnel cakes, popcorn, and lemonade. Over 80 parent volunteers helped math specialist Regina Karwacki make the event a success.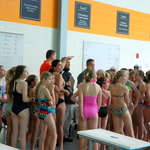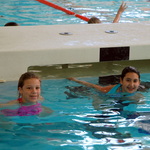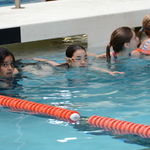 Swim. Bike. Run. (Students)
After weeks of training in physical education classes, sixth graders swam, biked, and ran to the finish line in the annual sixth grade triathlon on Thursday, May 10. The athletes had a choice of participating as a team member or competing on their own as an Iron Man or Iron Woman. The best part of the race was the tremendous support students showed their classmates along the way.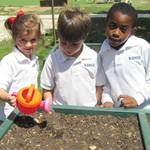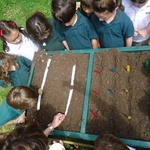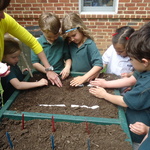 Kindergarten Sprouts (Students)
With the chance of frost behind us, the kindergartners planted lettuce, spinach, and herbs in salad tables for a spring and early summer crop. The tables are an extension of Roots, located near the Lower and Middle Schools, to make gardening more accessible to the students. Some of the crops will be harvested in the next few weeks for salads. Over the summer, the tables will be maintained and harvested to use in the dining hall, as well as in the new cooking class being offered through McDonogh Summer Programs. Learn more about Roots.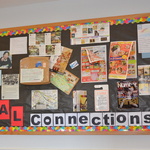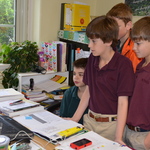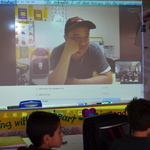 Konnichiwa, Hello from Japan (Students)
Through the use of technology, fifth grade students have had the opportunity to meet new people, discover new cultures, and connect with other students and teachers from Japan.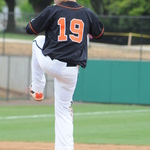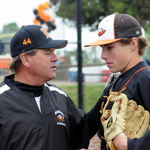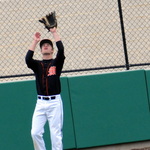 Baseball Field Dedication (Events)
Following a morning of baseball games on Saturday, April 28, Headmaster Charlie Britton announced the dedication of the Howard C. "Dutch" Eyth Baseball Field.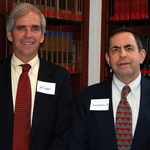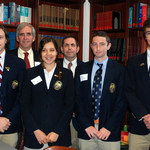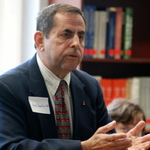 Reunion Weekend Saturday Events (Students)
Alumni went "Back to the Classroom" Saturday morning, April 28, to hear upper school history teacher Jeff Sanborn and The Honorable Fred Smalkin '64 discuss the recent Supreme Court rulings regarding the Patient Protection and Affordable Care Act of 2010. McDonogh students then argued and decided the same issue in the "McDonogh Supreme Court." That afternoon, alumni and their families enjoyed reconnecting at the annual family crab feast and picnic in Lamborn Hall.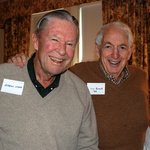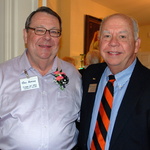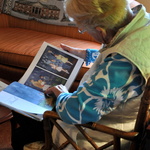 Reunion Weekend Friday Festivities (Students)
Alums came home on April 27 and 28 to celebrate Reunion Weekend. Friday's activities included breakfast at the Bowman House hospitality suite, a Then & Now session with third graders, upper school classroom visits, lunch and a construction update with Headmaster Charlie Britton and Board of Trustees Vice President Arthur Adler '78, campus tours, and a cocktail party and celebration of campus master plan headway.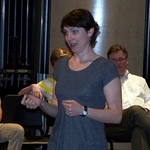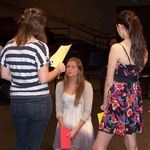 Shakespeare Symposium (Students)
The McDonogh Institute for Shakespeare and Renaissance Studies held its first Annual Shakespeare Symposium on Saturday, April 21. The event featured Dr. Ralph Alan Cohen, Co-Founder and Director of Mission at the American Shakespeare Center in Staunton, VA. Dr. Cohen worked with the first-year Institute students on a scene from The Merchant of Venice for an audience made up of students, parents, teachers, and members from the theatre community in Maryland. Sarah Enloe, Director of Education at ASC, led a workshop on Elizabethan rehearsal practices in the morning.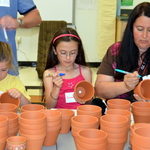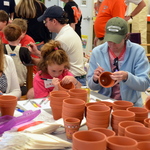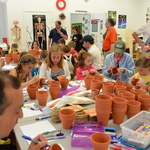 LS Community Service Day (Students)
On Saturday, April 21, more than 90 parents and lower school students gathered for a morning of community service to decorate and fill 150 flower pots, make 300 lunches, assemble 29 lasagnas, and collate 60 craft kits for several local organizations.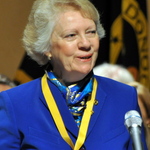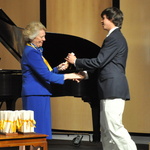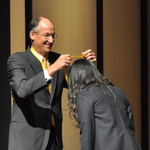 Cum Laude Induction (Students)
On Monday, April 23, 30 students were inducted into the McDonogh School chapter of the Cum Laude Society. Bobby Walker, Jr., head of middle school at King and Low-Heywood Thomas School in Connecticut and former dean of middle school at McDonogh, delivered the address. The 15 seniors inducted were Liz B., Garrett B., Yei Rin C., David C., Alysa D., Danielle G., Kristina G., Nancy H., Laura O., Hannah P., Grant R., Patrick R., Emmy W., Mitchell Y., and Matt Z. The 15 juniors inducted were Bruno B., Maddie C., Tess K., Benjamin L., John M., Paige M., Elizabeth O., Rachel P., Nathaniel P., Jamie R., Anne R., Bert S., Allison S., Claire S., and Joshua V.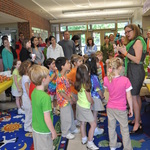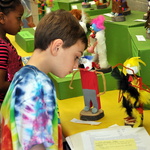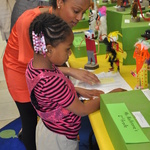 Adventure with the Arts (Students)
Family and friends joined lower school students for a day-long celebration of visual and performing arts on Friday, April 20. Students and their guests toured "Imagination Celebration," a gallery of artwork displayed throughout the Lower School, which included papier-mâché animals, watercolors, self portraits, yarn weavings, and more. The students also entertained their guests with musical programs.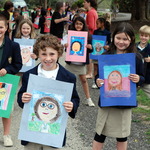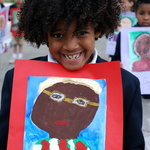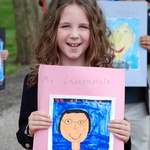 Second Graders Form Living Museum (Students)
On April 17, third and fourth graders passed through a Living Museum of Women's History on their way to chapel. In honor of Women's History Month, second graders lined the walkway between Elderkin Hall and Tagart Memorial Chapel holding handmade posters of special women in their lives: mothers, grandmothers, sisters, aunts, teachers, and friends. Once inside the chapel, the celebration continued with songs and stories about women who have made a difference. After chapel, the second graders proudly lined up again so that students could take another peek at the faces on the posters and ask questions.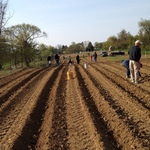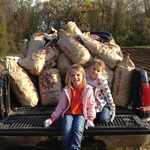 Opening Day at Roots (Students)
Volunteers of all ages got their hands dirty planting potatoes and preparing beehives at the McDonogh Roots farm on Saturday, April 14. Potato tossing added to the fun of the morning. Learn more about Roots.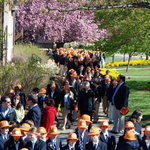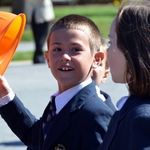 Cornerstone Celebration for Naylor STEM Building (Students)
Students, faculty, and dedicated supporters, clad in "McDonogh Orange" hard hats, gathered around the construction site to witness the Cornerstone Laying for the Naylor Science, Technology, Engineering, and Math (STEM) Building on Thursday, April 12. Irvin S. Naylor '54, whose lead gift made this this project possible, addressed the appreciative crowd. The festivities concluded as a tall crane lowered the cornerstone into place and fireworks lit up the sky. View video of the celebration.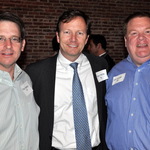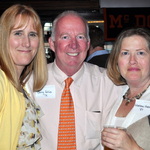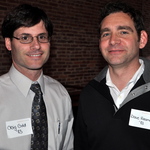 Baltimore Alumni Happy Hour (Students)
Baltimore alumni from the classes of 1970 - 2007 shared laughs and good cheer at the Red Star Bar & Grill on Thursday, April 12, with Headmaster Charlie Britton and upper school faculty members, Wright Abbot, Mona Barr, Cynthia Cox, Dave Harley, Rob Smoot, and Mina Wender.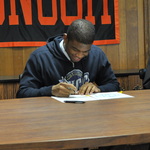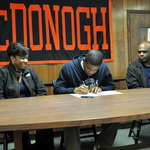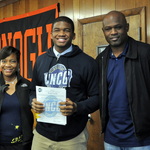 April Athletic Signings (Students)
On April 11, McDonogh seniors Kayel L. and Tiersa W. signed NCAA letters of intent to play Division I sports in college. Kayel will be attending University of North Carolina at Greensboro to play men's basketball. Tiersa will join the women's basketball team at Bryant University in Rhode Island.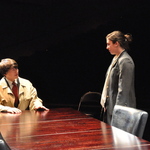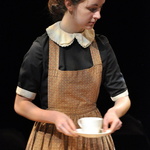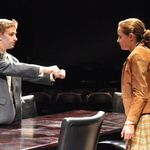 The Dining Room (Students)
Scenes from the McDonogh Theatre Lab's production of The Dining Room on stage in the Horn Theatre, April 13-15.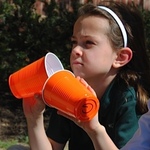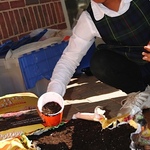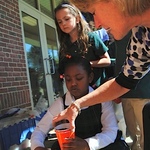 Tomato or Tomahto? (Students)
No matter how you say it, first graders enjoyed a beautiful April day planting a variety of tomato seeds.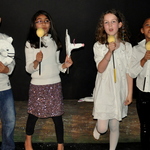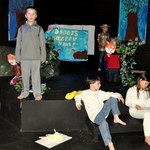 The Fantastic Mr. Fox (Students)
Opera-singing mice, a cunning fox, and other animals entertained parents and lower school students during Kate Hailstone's second grade class's adaptation of Roald Dahl's book, The Fantastic Mr. Fox.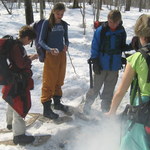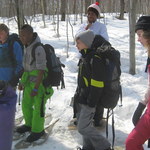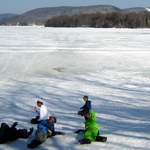 Bonjour, Canada! (Students)
During spring break, twelve Middle School French students led by Ms. Offut and Mr. Thomas traveled north to explore the language and culture of French Canada.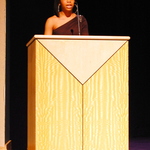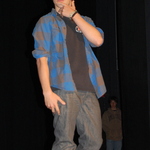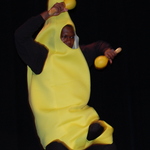 2012 Mr. GQ Crowned (Students)
Seven students competed for the coveted title of Mr. GQ 2012 on Saturday, March 31 in the Ceres M. Horn Theatre. The audience cheered for their favorite contestants who entertained the crowd with their talent and charm. Each year proceeds from the annual contest are donated to a charity of the winner's choice. Faculty judges selected Richard G. '12 as the winner, who chose Doctors Without Borders as the beneficiary of this year's proceeds. Watch the video.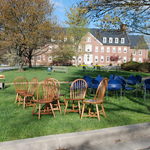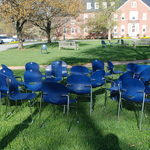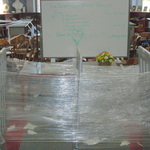 April Fool's Pranks (Students)
Is this McDonogh's new outdoor classroom? No, just some April Fool's Day pranks courtesy of the senior class.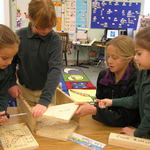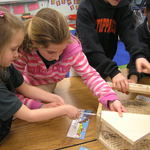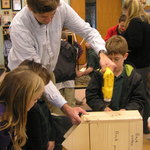 LS Buddies Help Environment (Students)
One of the most effective and environmentally friendly ways to reduce the mosquito population is to install a bat house. This is just one of the facts Jennifer Richter's kindergarten class learned during their study of bats' importance to the environment. As a community service project, the kindergarteners recently assembled and decorated bat houses with their fourth grade reading buddies in Craig Whiteford's class. The houses will be donated to McDonogh's Roots and Oregon Ridge Nature Center to assist in bat conservation efforts. Learn more about McDonogh Roots.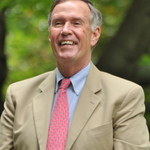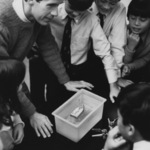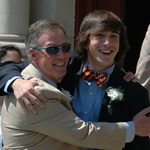 Remembering Bill Seal (Students)
Former faculty member, coach, and dorm parent Bill Seal, who retired last spring after years of dedicated service, died on Monday, March 26, from an apparent heart attack. Bill's wisdom, good counsel, and sense of humor touched the lives of so many during his 39 years at McDonogh.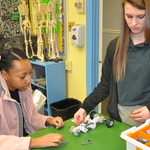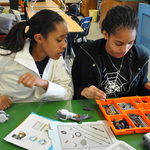 Robot Racing (Students)
What started out as just piles of LEGOs are now moving vehicles that can travel approximately 16 feet across the classroom floor. Eighth grade students in Rick Thompson's science classes spent two weeks before spring break building vehicles as part of an engineering and robotics lesson.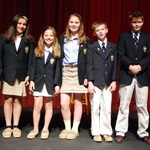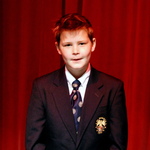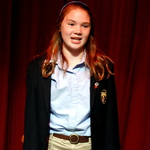 Fifth and Sixth Grade Oratory Finals (Students)
Middle schoolers gathered in the Ceres M. Horn Theatre on Friday, March 16 to hear the finalists in the annual fifth and sixth grade oratory program. Current fourth graders also attended to see what is in store for them next year.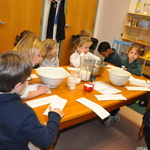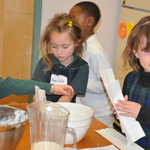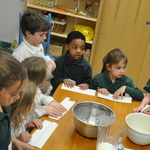 African-American History Celebrations (Students)
Lower school students wrapped up their study of African-American history with culminating celebrations which highlighted the importance of social justice and being a responsible citizen. On Friday, March 9, the kindergarten and prefirst classes participated in hands on activities such as crafts, cooking, and music. The first through fourth graders experienced African-American culture, Tuesday, March 13, with food and family traditions, and music and dance of the Harlem Renaissance.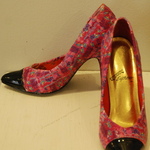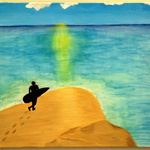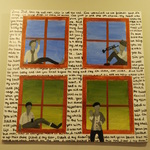 Student Art Exhibit (Students)
Recent artwork by ninth, tenth, and eleventh graders will be on display in the Tuttle Gallery and the lobby of Keelty Hall through Thursday, April 5.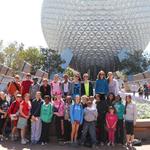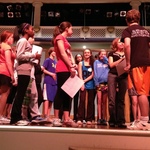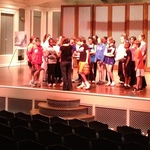 Honors Choir Creates Magic in Disney (Students)
Twenty-six students from the Middle School Honors Choir spent four enchanted days in Walt Disney World to learn from professional Broadway choreographers and directors and to have a little pre-spring break fun.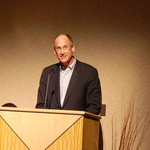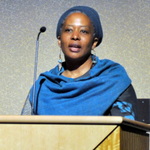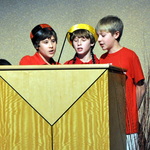 Multicultural Evening Celebration (Students)
"Family Networking" was the theme of this year's Multicultural Evening on Friday, March 9 in the Ceres M. Horn Theatre. Hosted by student emcees Jazmin V. '12 and Bill H. '13, the event showcased a variety of acts, featuring unique talents, musical numbers, cultural dances, and more. Following the spectacular performances, students and guests enjoyed a reception in Lamborn Hall with entertainment and an assortment of ethnic dishes. View video of the program.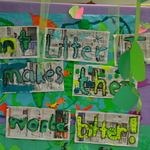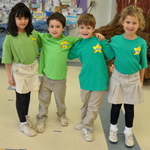 Prefirst Sings About Being Green (Students)
The prefirst class has been learning about recycling and upcycling in an effort to preserve our planet. On Tuesday, March 13, the class performed Prefirst Sings, an adaption of songs from Sally K. Albrecht and Jay Althouse's It's Easy Being Green. Through the lyrics of songs such as "Goin' Green, Slow Down,Turn It Off!" the children learned the importance of protecting the natural resources of the earth. The prefirst students recognized it just takes a little team work and persistence to develop better habits to help the environment. Watch the performance.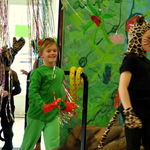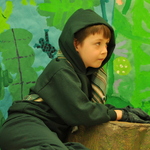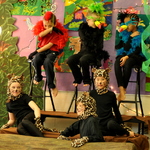 Students Bring The Great Kapok to Life (Students)
Dressed as frogs, jaquars, and other rainforest creatures, Mrs. McGrain's second grade class performed The Great Kapok: A Tale of the Amazon Rainforest for parents and lower school students. Adapted from Lynne Cherry's book, The Great Kapok Tree, the story is about a man who comes into the rainforest to chop down the kapok tree. When the man falls asleep under the tree, the animals who live in the rainforest speak to him, hoping he will realize the tree is a vital part of the rainforest ecosystem. The students learned about the fragile rainforest environment in Mrs. Moag's science class and created the artwork for the play in Mrs. Lamborn's art class. With original lyrics from popular song tunes, the students brought the story to life, entertaining their audience and learning to care for the earth. Watch The Great Kapok .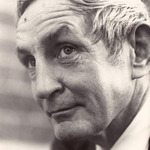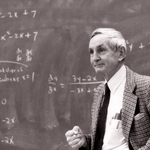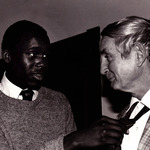 In Memory of Ray Oliver '40 (Students)
In loving memory of teacher, coach, friend, and colleague Ray Oliver '40 (January 29, 1922 to February 25, 2012).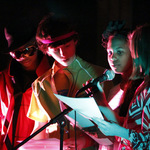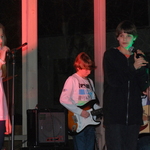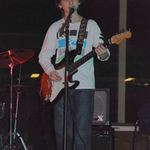 Well, Well, Well Rocks On (Students)
The Middle School Rock Shop's annual Well, Well, Well concert was "Rocking in the Free World" on Friday, February 24 in Lamborn Hall to raise money for Kenya Connect. Playing a variety of songs and 1980s classics to a cheering crowd, the bands raised more than $2,000 to benefit the nonprofit organization. Kenya Connect is working with children in Africa to make significant, lasting changes that contribute to peaceful, productive globalization. Thank you to Robert Ramsey and students Charlie G.'16 and Marisa W.'16 for contributing photos to this essay.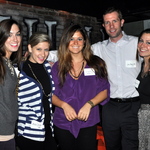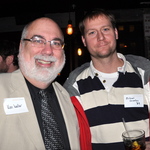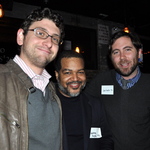 Alumni Gathering in NYC (Students)
A huge alumni crowd gathered for a reception at Amity Hall in New York City on February 16. Headmaster Charlie Britton and Middle School faculty members Eileen Heady, Josh Waller '02 and Ken Waller '65 joined the festivities.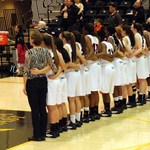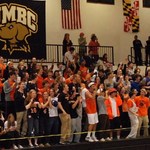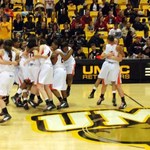 Girls Win Basketball Title (Students)
With a dramatic, come-from-behind win against defending champion Archbishop Spalding (46-44), the girls varsity basketball team clinched their first Conference Title since 1999 on Saturday, February 18 at UMBC. Photos courtesy of Cathy Rees.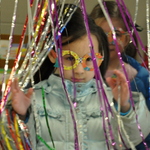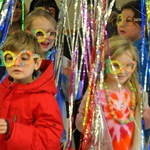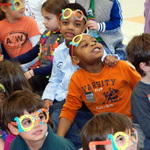 100th Day of School (Students)
The Lower School celebrated the 100th day of school with much hoopla and a special visit from Zero the Hero (Head of Lower School Noreen Lidston in disguise) on Friday, February 17. Kindergartners and their teachers came to school with 100 items stuck to their clothes and Mrs. Bitz's third grade class made a paper chain with 100 acts of kindness written on each piece of paper. The third and fourth graders entertained the lunchroom with their rendition of "One Hundred Days of School." Classes throughout the building enjoyed special snacks and math activities involving the number 100.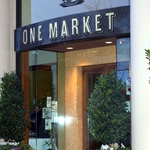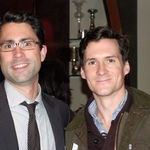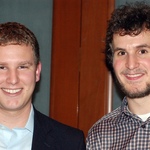 Alumni Gather in San Francisco (Alumni)
On Tuesday, February 7, alumni and parents connected, re-connected, and got the "insider's tour" of the many changes taking place on campus during a McDonogh reception at One Market Restaurant in San Francisco.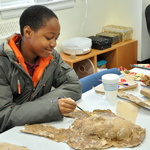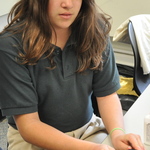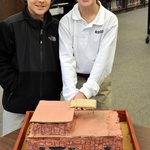 Sixth Graders Explore Egypt (Students)
Launching marshmallows with custom-made catapults was just one highlight of the recent sixth grade cross-curricular study of Egypt. Known as McEgypt, the unit was designed to help students make connections between physics and ancient Egyptian culture.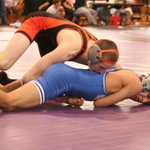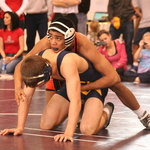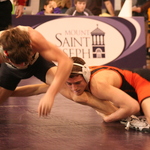 Varsity Wrestling Takes MIAA Title (Students)
McDonogh wrestlers claimed the 2012 MIAA A Title on Saturday, February 11. The Eagles dethroned defending champion Archbishop Spalding in the two-day tournament. Many thanks to Tammy Bode for sharing these photos.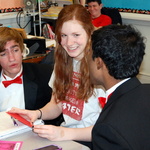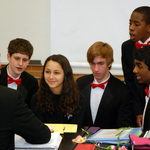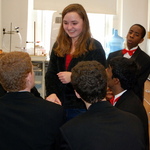 Singing Telegrams (Students)
The Women of Note and Gentleman Songsters delivered singing telegrams to classmates and faculty for Valentine's Day. View some of the embarrassing moments caught on video.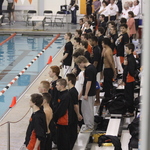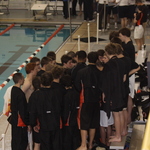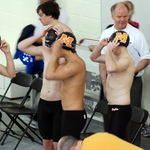 Boys Swimming Champions (Students)
The boys varsity swim team defeated Loyola Blakefield to win the MIAA A Championship on Saturday, February 11 at McDonogh with a final score of 392-365.5. It is the boys first conference title since 1939. Thanks to Shelley Sovero and Randi Hertzberg for providing photos.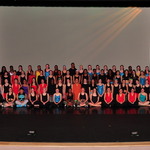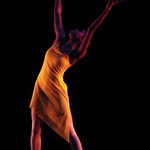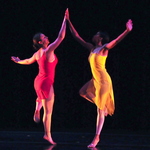 Dazzling Show by McDonogh Dancers (Students)
More than 90 upper school dancers took the stage of the Ceres M. Horn Theatre February 4 and 5 for McDonogh Dances. The colorful show included an eclectic mix of ballet, tap, jazz, musical theatre dance, and hip hop. Many of the numbers were choreographed by students and alumni. Photos were taken by Irvin Simon Photographers.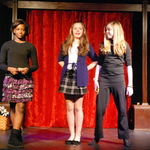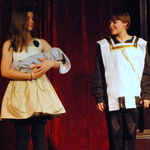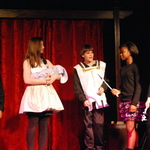 Fairy Tale Madness (Students)
Family, teachers, and classmates laughed and cheered for the seventh grade Onstage class as they presented Fairy Tale Madness on Wednesday, February 8 and Friday, February 10. Written, directed, and performed by the students, the "Madness" included "Cindy-ella," "The Stawnky Cheese Man," "The True Story of The Three Little Pigs," "Hansel and Gretel," "Red Riding Hood," and others.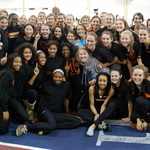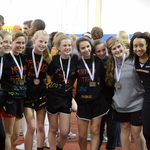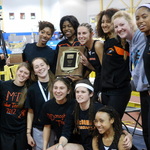 Girls Win Fourth Straight Track Title (Students)
On Friday, February 3, the varsity girls track team won their fourth straight IAAM title at Prince George's Sports and Learning Complex. JV girls also claimed the championship title. Read more in The Baltimore Sun.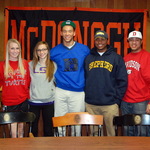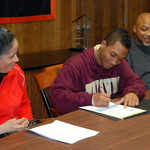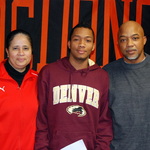 Senior Athletes Sign Letters of Intent (Students)
During a special ceremony on February 1, four football players ( Roman B., Colby E., Tre H., and Allen J.), four soccer players (Mike G., Malcolm H., Morgan R., and Ashley S.), and field hockey player Danielle G. from the Class of 2012 signed NCAA letters of intent to play Division I college sports.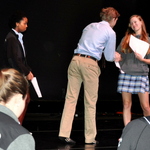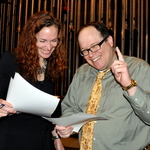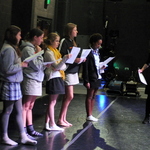 Shakespearean Actor Visits (Students)
On Tuesday, January 31, Blythe Coons, a professional actor who recently completed a season at the American Shakespeare Center in Virginia, visited Kevin Costa's Institute for Shakespeare and Renaissance Studies seminar and Shakespeare acting class. She worked closely with students on Elizabethan staging practices and with embedded acting clues in the text.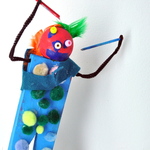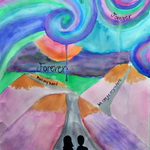 LS and MS Art Exhibition (Students)
Middle and Lower School artists happily showed their artwork in the Tuttle Gallery to family and friends during a reception on January 26. The exhibition will be on display through February 24.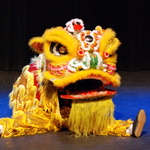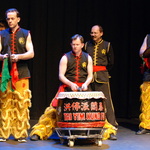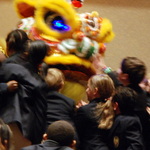 Chinese New Year Celebrations (Students)
Students in all three divisions celebrated the "Year of the Dragon" with song, dance, and skits.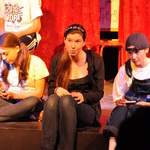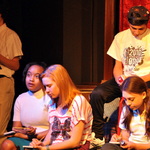 Children's Letters to God (Students)
McDonogh's eighth grade Onstage class entertained family and guests with their performance of Stuart Hample's Children's Letters to God.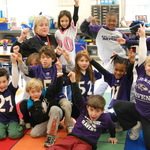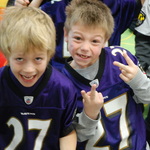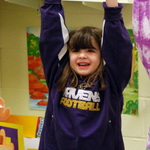 Students Show Ravens Spirit (Students)
As Baltimore prepares to cheer the Ravens to victory over the New England Patriots this weekend, students and faculty traded in their McDonogh orange for "Purple Friday."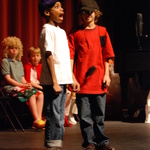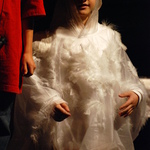 Third Grade Biography Day (Students)
Characters from the stories of authors J.K. Rowling, Andrew Clements, E.B. White, Dr. Seuss and others visited the Ceres M. Horn Theatre on Thursday, January 12, during the third grade's Biography Day. Dressed in character, the students performed short, original skits that they wrote after learning about the authors.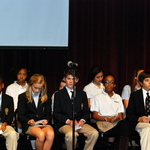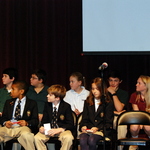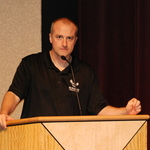 Eighth Grader Wins Geography Bee (Students)
Twenty-four students competed in the finals of the annual Middle School National Geographic Geography Bee in the Ceres M. Horn Theatre on Friday, January 6. Eighth grader Matt M. was declared the champion after he correctly answered a question in the final round.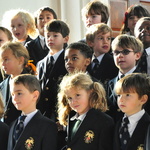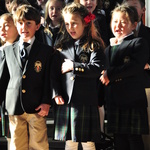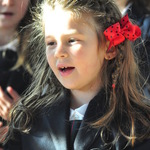 A Time to Celebrate (Students)
During "A Time to Celebrate" on December 16, Lower School children sang about the delights of December, including the winter season, Hanukkah, Christmas, Kwanzaa, and New Year's Eve. Kindergartners and prefirsters entertained parents and friends in Tagart Chapel. First through fourth grade students enchanted guests in the Ceres M. Horn Theatre.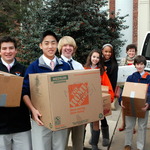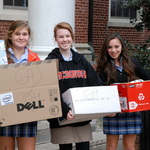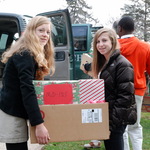 Holiday Project Wraps up Nicely (Students)
Thanks to the generosity of the McDonogh family, holiday gifts for 135 families were delivered to St. Gregory the Great Church in Baltimore on December 14. Many parent volunteers were on hand to help students and teachers load the gifts into vehicles. In addition to cars and school vans, the Davis family donated a truck from their business to help transport the packages.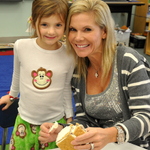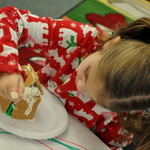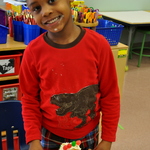 Sweet Creations for the Holidays (Students)
The Lower School has been buzzing with holiday preparations. Kindergarten and third grade classes used skill and creativity while making gingerbread houses. Second graders in Ms. Hailstone's and Mrs. Howell's classes created festive ornaments.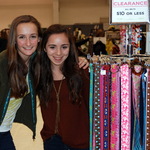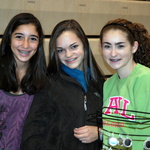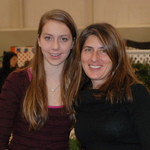 Holiday Bazaar Fun (Students)
The McDonogh Parents Association sponsored Holiday Bazaar drew a big crowd on Saturday, December 10. Shopping, games, crafts, and delicious treats were enjoyed by all.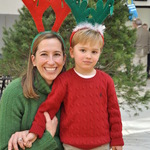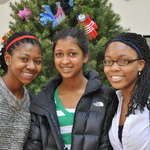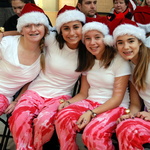 All-School Holiday Assembly (Students)
At the All-School Holiday Assembly on Friday, December 9, Director of Religious Studies, Character, and Service John Grega portrayed Scrooge's old business partner Jacob Marley. Dragging heavy chains and bemoaning his fate, Marley met with spirits of the past, present, and future before finding his own salvation. Students, faculty, and staff enjoyed the story, Grega's notoriously awful jokes, and performances by student dancers, singers, and instrumentalists.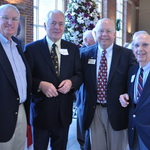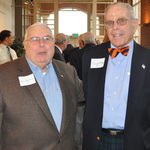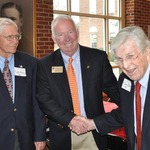 Orange and Black Alumni Holiday Luncheon (Students)
Holiday cheer was in the air on Wednesday, December 7 as alumni gathered in the Ceres M. Horn Theatre lobby for the Orange and Black Alumni Holiday Luncheon. After Director of Religious Studies John Grega offered the blessing, Headmaster Charlie Britton spoke about the healthy state of the school. Guests were also treated to lovely melodies by the student choral groups, The Women of Note and the Gentleman Songsters.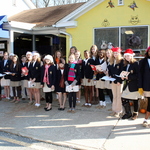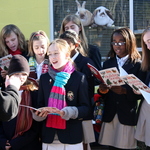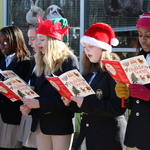 MS Onstage Sings at Humane Society (Students)
Members of the Middle School Onstage Program entertained staff and visitors at the Humane Society of Baltimore County's Open House Holiday Lights Celebration on Sunday, December 4. Led by director of Middle School Choral Music Suzanne Eldridge, the students performed festive songs while visitors and their pets celebrated the upcoming holiday season.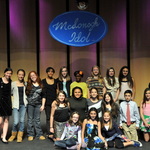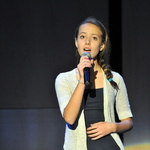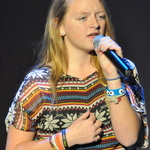 MS Idol (Students)
Middle School students dazzled the audience with their vocal talent during the MS Idol competition.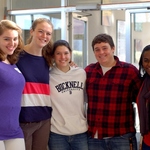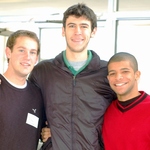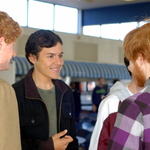 Young Alumni Thanksgiving Breakfast (Students)
Current seniors and alumni from the classes of 2008 to 2011 gathered in Lamborn Hall on Thanksgiving morning for the annual holiday breakfast with the headmaster. This year's incredible turnout showed that while Facebook and Skype are great, face-to-face conversations and real hugs are the best!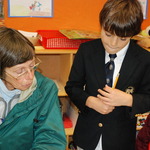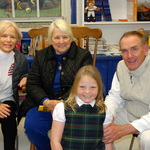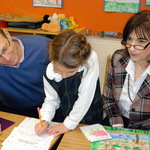 Grandparents Day (Students)
The rainy weather did not dampen the spirit in the Lower School on November 22 as students welcomed grandparents and special friends with hugs and smiles. The guests visited classrooms and enjoyed performances by the youngsters in the Ceres M. Horn Theatre.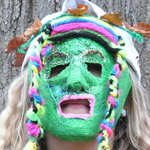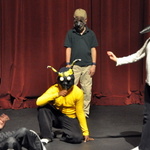 Myths and Masks (Students)
Fourth graders performed original myths and pourquoi tales for Lower School students, parents, and special guests the week before Thanksgiving. The actors and actresses wore colorful masks made from plaster molds of their own faces.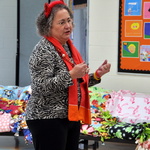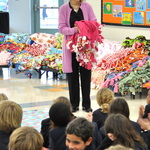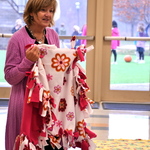 Third Graders Help Cancer Patients (Students)
On November 21, third graders worked side by side to finish making fleece blankets for breast cancer patients as part of the "Blankets of Kindness" project. McDonogh's Director of Communications Lynn McKain, the recipient of one of the first blankets completed earlier this fall, was on hand to tell the kids just how meaningful their gift is to women who are sick. McDonogh's Director of Finance Jeanne Backof, who is involved with The Red Devils, a local breast cancer support organization that will distribute the blankets, was also present and thanked the children for their thoughtfulness.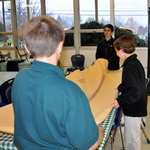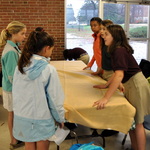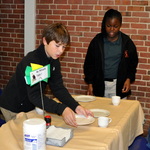 Please, Pass the Salt (Students)
Sixth graders in Associate Dean of Middle School Merritt Livermore's study skills class fine-tuned their dining skills in The Brass Eagle on Wednesday, November 16 and Thursday, November 17.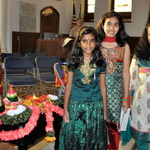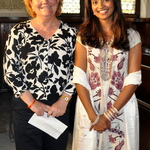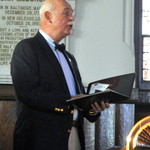 Celebration of Diwali and Eid ul-Adha (Students)
Trimmed with traditional holiday adornments, including diya (small clay lamps) and a picture of the Kaaba (Islam's holiest place), the Tagart Memorial Chapel was filled with beautiful music and meaningful stories as students in prefirst through fourth grade celebrated Diwali and Eid ul-Adha on Tuesday, November 8.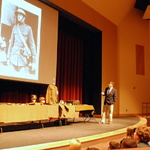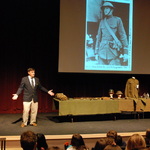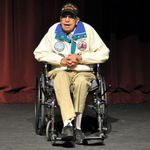 Alumni Share War Stories for Veterans Day (Students)
During the week leading up to Veterans Day, McDonogh alumni gave middle and upper school students firsthand accounts about the realities of war.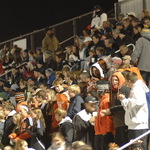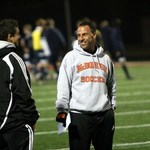 Boys Varsity Soccer Wins Title (Students)
Boys Varsity Soccer defeated Gilman in overtime to win the MIAA title on November 5.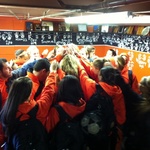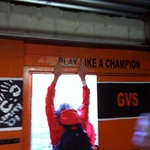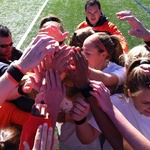 Girls Soccer Wins Champioship (Students)
The Girls Varsity Soccer team vanquished Archbishop Spalding 2-0 on November 6.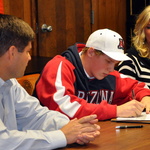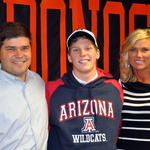 Signing Day for Scholar Athletes (Students)
During a special ceremony on November 9, two swimmers ( Andrew S. and Jes S.)and seven lacrosse players (Taylor C., Gen E., Corinne E., Katie F., Evan G., Sofia R., and Mallory S.) from the Class of 2012 signed NCAA letters of intent to play Division I college sports. It was also announced that lacrosse player Ben F. '11, who chose to do a post graduate year at Choate Rosemary Hall, signed a letter of intent the same day to play for Lafayette.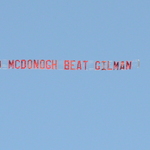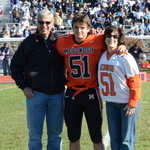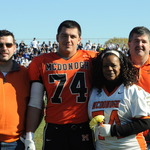 96th McDonogh/Gilman Football Game (Students)
On Saturday, November 5, the Eagles battled the Greyhounds and scored 21 points, but it wasn't enough to beat the strong Gilman team. John McDonogh Stadium was full of spirit as fans of all ages cheered wildly in their orange and black.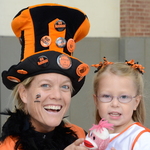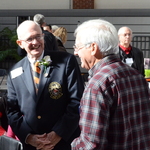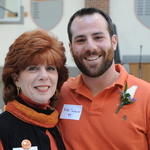 Spirit Brunch Honors (Alumni)
On Saturday, November 5, McDonogh honored its newest Distinguished Service Award recipients: Sharon E. Bradford and Charles O. Monk, II '67, as well as the 2011 Athletic Hall of Fame inductees: Brian Antonelli '92, Anders F. Fristedt '96, Merritt Waskey Livermore '91, Derek S. McEwen '85, Katherine E. Nelson '01, Jed B. Prossner '01, Randolph B. Reinhold '56, Robert R. Scherr '99, Pamela T. Soliman '91, Stephen C. Sullivan '90, and Streett E. Moore, Coach.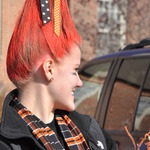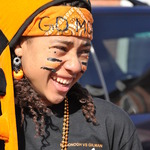 Spectacular Spirit Day (Students)
In anticipation of the 96th McDonogh vs. Gilman football game, the entire student body donned orange and black for the the annual all-school Spirit Parade and Pep Rally on Friday, November 4. As is tradition, junior and senior girls rallied for the annual powder puff football game later in the afternoon.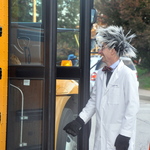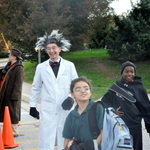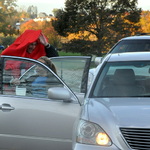 Halloween at McDonogh (Students)
The entire McDonogh community donned costumes and celebrated Halloween on October 28. As always, the Lower School Halloween assembly and parade around campus was a highlight of the day.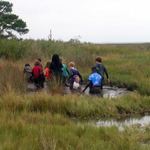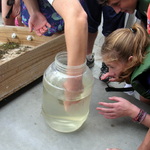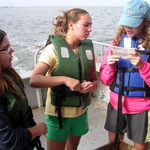 Eighth Grade Bay Trip (Students)
Eighth graders traveled to the shores of the Chesapeake for the three-day, annual Bay Trip. Featured activities included canoeing, crabbing, scraping for oysters and sub-aquatic vegetation, night-hiking, and watching the sunrise.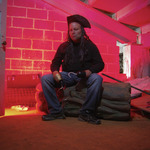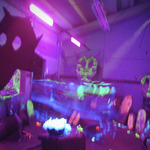 Spooked Under the Bleachers (Students)
On October 27, screams echoed across campus as Middle School students clung to each other in the darkness of the Upper School Theatre Department's Haunted House under the stadium bleachers.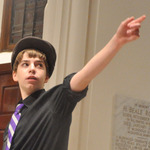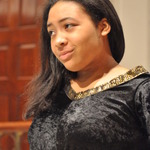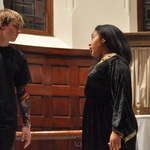 Everyman (Students)
Scenes from the Upper School production of the English Medieval masterpiece Everyman.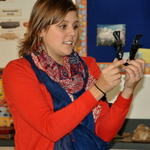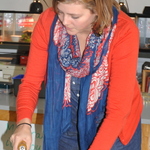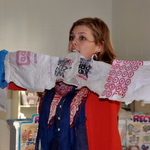 Plastic Bag Quilt Offers Powerful Message (Students)
In an effort to raise awareness and help reduce plastic pollution in our world, fourth graders in Kara Zimmerman's science class created a "Plastic Bag Fact Quilt" that will hang in the Lower School as a reminder for faculty and students to use less plastic to save our oceans. During the week-long project, students collected plastic bags, cut them into squares, and then fused them together into long strips with an iron. They wove the strips together and attached facts about plastic usage.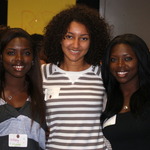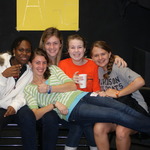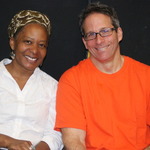 McDonogh Diversity Conference (Students)
On Friday, October 14, Diversity For McDonogh held its fifth annual Black Box Conference. They worked with a group of thirty students to train future leaders by talking about diversity issues both within the McDonogh community and the nation.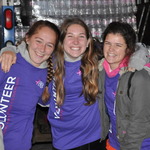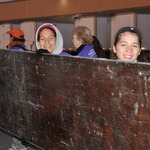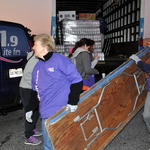 Team McDonogh at Race for the Cure (Students)
The McDonogh community rallied on October 23 for the 19th annual Komen Maryland Race for the Cure in Hunt Valley. For the sixth year in a row, McDonogh assembled the largest team with 850+ members. Prior to the race, participants gathered at McDonogh's tent for refreshments and warm-up stretches led by cheerleaders and our beloved eagle mascot. An additional contingent of teachers and upper school students offered cups of water and encouragement at a rest stop.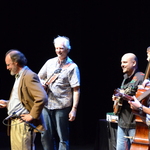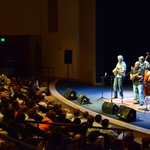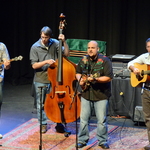 Students Energized by Dirty Kitchen (Students)
Frank Solivan and Dirty Kitchen Band returned to McDonogh for a day of hand clappin'- foot stompin' fun on Tuesday, October 18. They played at an upper school assembly in the morning, and then conducted small workshops on specific instruments. Next, the group discussed bluegrass music and played some of their tunes for a middle school social studies class. In the afternoon they performed in the Horn Theatre for lower schoolers who were thrilled to sing with the band.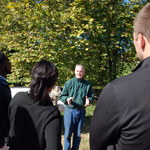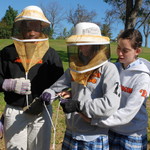 A Honey of a Lesson (Students)
On Monday, October 17, Beekeeper David Cromwell introduced seniors in the "Literature of Food" course to McDonogh's resident hives. After the bees were smoked out, students examined the honeycombs and learned the importance of bees in an agricultural economy. "This is a great lesson because we are so removed from the sources of our food," said English teacher Cynthia Cox. Earlier this month, several students also helped harvest honey. The hives are an important part of The McDonogh Roots Program.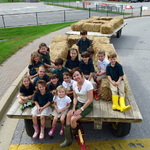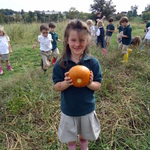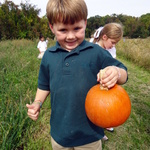 Kindergartners Harvest Pumpkins (Students)
Kindergartners hitched a hayride to the Roots Garden on Tuesday, October 11 to harvest this year's crop of pumpkins. Each child was allowed to take one pumpkin home. The youngsters plan to use the rest to make homemade pumpkin recipes.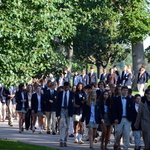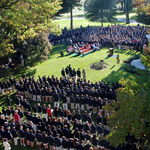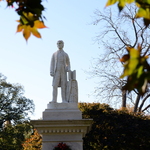 Founder's Day (Students)
The school community gathered around the John McDonogh monument on the morning of October 7 to pay tribute to our founder and other members of the McDonogh family who passed away during the past year. Chapel bells tolled and music filled the crisp morning air with performances by the Lower School Chorus, Upper School Concert Choir, and Senior Singers. The trumpet section of the Upper School Concert Band also played Taps.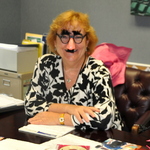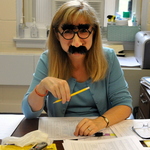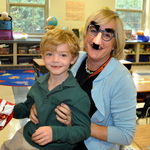 Groucho Glasses Caper (Students)
Adults can be goofy, too! In honor of Groucho Marx's birthday on Monday, October 3, faculty and staff in all three divisions caught kids off-guard by wearing Marx's famous glasses, complete with nose and mustache. The hoax was they pretended as if they weren't. Every time a student asked, "Why is everybody wearing Groucho glasses?" The reply was, "What glasses!"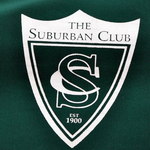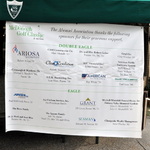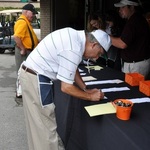 36th Annual Golf Classic (Alumni)
Despite having the rainiest September in history, the weather cooperated and the sun even shone as 114 alumni, parents, grandparents, and friends teed up at the 36th Annual McDonogh Golf Classic on September 26 at the Suburban Club. After playing a modified scramble, golfers turned in their score cards and enjoyed happy hour, dinner, silent and live auctions, and the awards ceremony. Congratulations to the winning foursome: Jack Mitchell '89, Gregg Bell '86, Mark Koski '86, and Todd Pauliny. Chip Sheridan '83 was the lucky winner of the raffle that included two passes to the 2012 Masters. Many thanks to all sponsors and players for supporting the Alumni Association and its endeavors within the McDonogh community.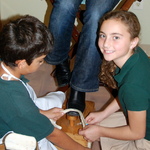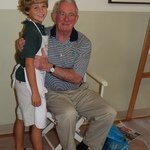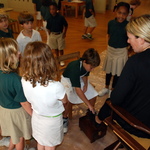 Third Graders' Shoeshine Stand (Students)
"We promise you will leave our shoe shine stand with a little more pep in your step," the third graders told potential customers. Inspired by the book The Shoeshine Girl, the children set up a shoeshine stand in Elderkin Hall on September 26 and 27. Proceeds will enable them to make fleece blankets for the Red Devils organization, which provides services for breast cancer patients.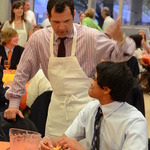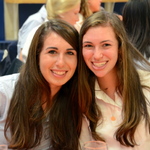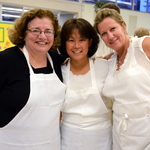 Junior Pin Ceremony (Students)
Members of the Class of 2013 officially became upperclassmen at the Junior Pin Ceremony on Monday, September 26. Prior to the program, students were served dinner by faculty and staff in Lamborn Hall.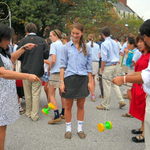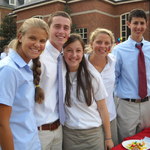 Activities Fair Draws Many (Students)
Leaders from forty upper school extracurricular clubs set up displays and recruited members during the Activities Fair on September 26. Students had many choices, ranging from language and cultural clubs to service and hobby clubs.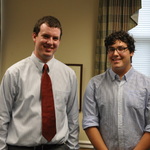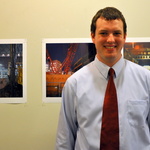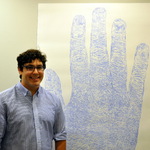 Alumni Tuttle Gallery Exhibition (Alumni)
Photography by David Fulton-Howard '04 and drawings by Danny Greenberg '07 will be on display in the Tuttle Gallery through October 14. The artists discussed their work with guests during an opening reception on September 22. Read more.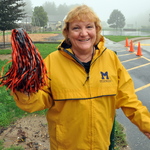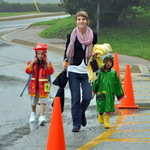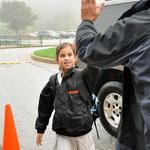 First Day of School (Students)
The rainy weather did not dampen the excitement on campus as students arrived for the first day of school.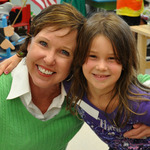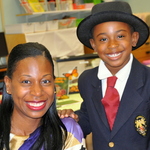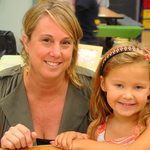 LS "Meacher Teacher" Day (Students)
On Tuesday, September 6, the Lower School hosted "getting to know you" events for new and returning students to checkout classrooms and meet teachers.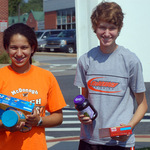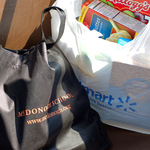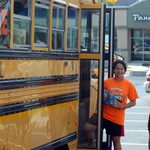 Fill-A-Bus (Students)
The first annual Fill-A-Bus event for the Maryland Food Bank yielded a ton of donated food. A McDonogh school bus was parked in the Anneslie Shopping Center for four hours on August 20. Members of the football and cross country teams filled it with donations of non-perishables from the community.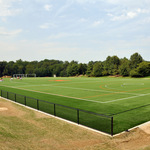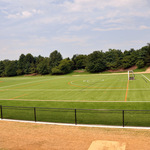 Construction Update (Students)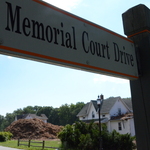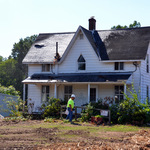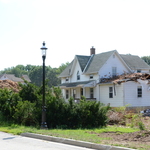 Godfrey and Shamer House demolition (Students)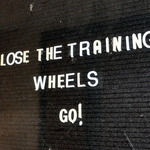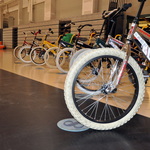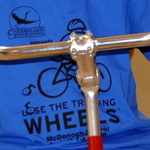 Lose the Training Wheels (Events)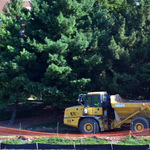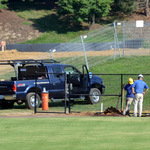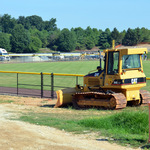 Turf Field Update (Students)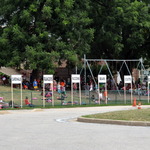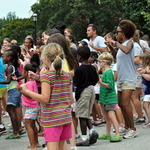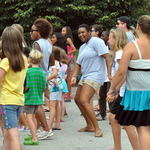 McD Camp Flash Mob (Students)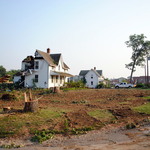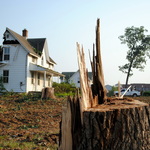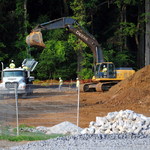 Clearing Trees (Campaign)
After receiving permission from the County, crews spent the last two days clearing trees from the land behind the Godfrey and Shamer houses on Woods Road. Once all of the trees have been removed, the houses will be demolished in preparation for additional parking. The logs will be assessed for value and sold for lumber.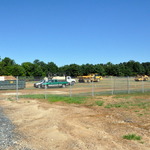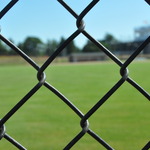 CMP: Turf Field Construction (Students)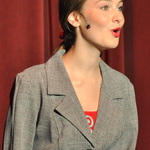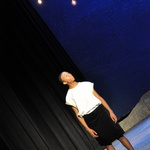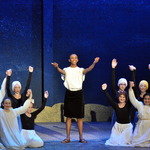 Young Actor's Theatre: Joseph (Events)
The Young Actor's Theatre gave a rousing performance of Joseph and the Technicolor Dreamcoat that left the audience humming the tunes and tapping their toes. Betsy Gaines, assistant director of transportation, has plenty of praises to sing to the young performers and the adults who guided them.
"Major Kudos to Ken and Wanda Waller and all others who worked so hard to provided everyone with an unforgettable experience Friday, Saturday and Sunday at the performances of "Joseph and the Amazing Technicolor Dreamcoat.
"The performers were totally awesome, and after each performance as I stood in the lobby of the Horn Theatre, I heard many express that, in all the years they had been attending, this was probably the best ever. Everyone involved can be very proud of their efforts."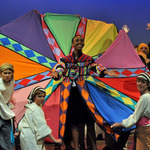 Featured Images (Students)
All the featured images for the 2011-2012 school year.