2015-2016 Photo Essays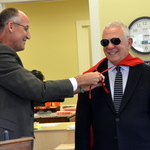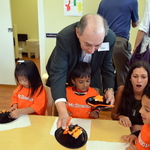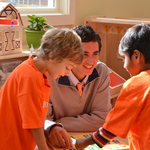 PreK Opening Takes The (Cup) Cake (Students)
The opening of the Esther Ann Brown Adler Wing of Dudley Hall was officially celebrated in true prekindergarten style – with cupcakes! McDonogh's youngest students gathered on Thursday, September 24 to say "thank you" to Howard Brown for his heroic effort in constructing the classrooms in time for the first day of prek at McDonogh. Headmaster Charlie Britton presented Brown with a "superhero cape" and the prek gave him a framed photograph of their class, with a one-of-a-kind mat decorated with their handprints.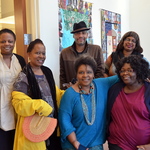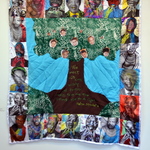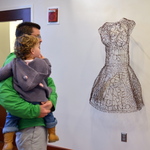 Artists Share Journey to South Africa (Students)
A reception for the exhibit, Without Place: South Africa/Mandela Quilt Project, was held in the Tuttle Gallery on Friday, October 2. The art, which focuses on the themes of gentrification, displacement, and human needs, will be on display in the Gallery through October 9. Prior to the reception, artists whose work is being featured in the show, spent time working with Upper School art students. Complementing the exhibit will be Journey to South Africa, a presentation by renowned Baltimore bead artist Joyce J. Scott, on Thursday, October 8 from 6:00 to 8:00 p.m. in the Klein Lyceum. Please join us.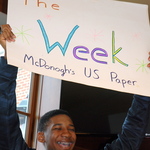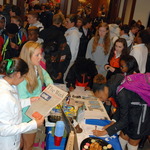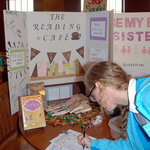 Upper Schoolers Join the Club (Students)
Wet weather on Friday, October 2 drove the annual Club Fair indoors, but enthusiasm for the wide range of opportunities was not dampened. More than 50 student-run clubs, for every interest, were on display in the Edward St. John Student Center and upper schoolers eagerly signed up to participate.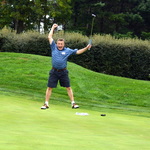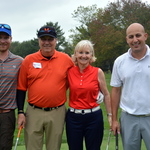 40th Golf Classic a Hit (Students)
The 40th Annual McDonogh Golf Classic was held under threatening skies on Tuesday, September 29 at the Woodholme Country Club in Pikesville, but that didn't stop close to 100 golfers from participating. The tournament, wine grab, a 19th Hole Happy Hour, and new this year, a clinic with Woodholme's golf pro were each a huge success. Congratulations to the winning foursomes: Flight 1: Lance Scott '99, Ben Salisbury '97, Jon Carr '97 and Chris Sittig; and Flight 2: Bruce Block AP '01,'04, '06, Jenna Block '06, Ryan Coudon P '20, and Hank Pokigo P '21. Many thanks to the sponsors, players, and volunteers who contributed to the success of the golf tournament.
Contributing photographer: Leslie Finkelstein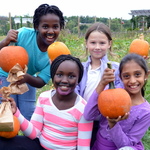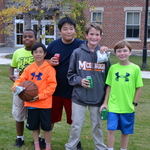 Friendship and Fun at Jam Fest (Students)
The McDonogh community enjoyed an evening of friendship and fall fun during Honey of a Jam Fest on September 25. The Roots Farm was buzzing as kids of all ages pressed apple cider, picked pumpkins and potatoes, got their faces painted, ran through a giant corn maze, and enjoyed hayrides around campus. As the sun set, families headed to the Rosenberg Green for more fun and games, a picnic dinner, and music by the Klassix!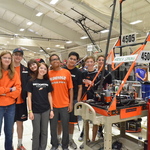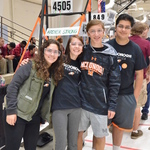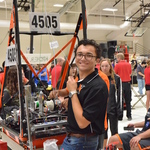 Robots and Recycling in Battle O' Baltimore (Students)
More than 700 participants, volunteers, and spectators gathered in the Rollins-Luetkemeyer Athletic Center on Saturday, September 26 for the Ninth Annual Battle O' Baltimore robotics tournament. After an opening ceremony featuring the Middle School Drum Corps, and the Gentleman Songsters and Women of Note, Headmaster Charlie Britton welcomed students and coaches from across the region. Then, 28 teams maneuvered their custom-built robots in a game called Recycle Rush created by FIRST (For Inspiration and Recognition of Science and Technology.) The game requires the robots to stack up to six rectangular storage totes, place a green recycling can on top of the stack, and then put "trash" in the form of pool noodles into the can. See all the action in this report on WBAL TV.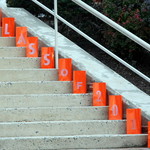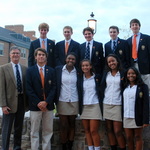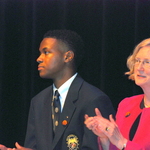 Juniors Receive McD Pin at Ceremony (Students)
The 146 members of McDonogh's Class of 2017 officially became upperclassmen at the Junior Pin Ceremony on the evening of Sunday, September 27. Following a casual dinner in Paterakis Dining Hall with their advisory groups, the class processed into the Ceres M. Horn Theatre for the ceremony. The program included an address by Junior Class President Ryan J. and a slideshow of memories created by Julia S. Headmaster Charlie Britton presented each member of the junior class with a gold McD lapel pin and encouraged them to wear it with pride.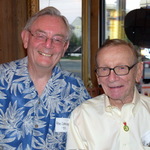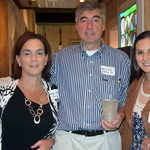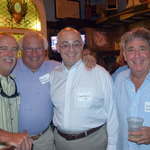 OC Alumni Event (Students)
A crowd of more than 40 McDonogh alumni, parents, and parents of alumni gathered at Phillip's Seafood House in Ocean City on Thursday, September 17, to enjoy each other's company and get a head start on a beautiful beach weekend. Guests enjoyed food and drinks and had an update on the school from Director of Advancement Brad Shelley.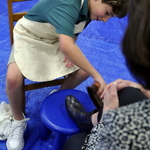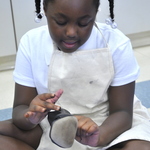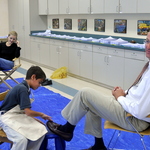 Shoes Shined Here (Students)
Loafers, kitten heels, boots, or wingtips, no matter what the style, third graders inspired by the book "The Shoeshine Girl" by Clyde Robert Bulla tackled them all with polish, brushes, and smiles. Tips earned by the students will be used to buy fleece fabric for blankets, which they will make and donate to The Red Devils, an organization that supports breast cancer patients. A portion of the proceeds will also be used to support the medical needs of junior Archer S. The annual project, coordinated by third grade teacher Margaret Bitz, began in 2009.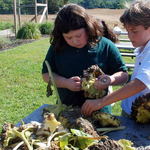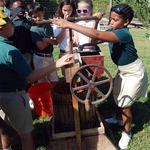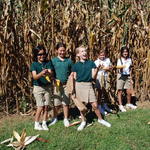 Fourth Graders Enjoy Wonders of Roots Farm (Students)
Pressing apples for cider; making pinecone and sunflower seed bird feeders; sampling honey; and discovering the sights, smells, and sounds of Roots Farm were all part of the fourth grade's morning at the farm. On Wednesday, September 16, the students explored Roots and discovered the many fascinating things being cultivated there through a five senses scavenger hunt and other activities.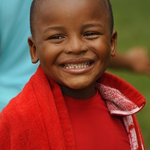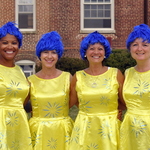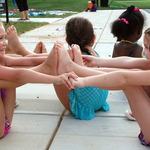 Sheer Joy at Aquapalooza (Students)
Joy was the theme of Aquapalooza 2015, the Lower School's reward for their summer reading challenge. On Friday, September 4, the Lower School administrative team dressed as the character Joy from the movie Inside Out. They spread joy as they slid down the water slides and ran through the sprinklers along with students from prekindergarten through fourth grade. Of course, joy was on the faces of everyone who participated in the afternoon of fun. Click here to see all the action.
Contributing photographers: Cheveé Taylor and Lisa Stoler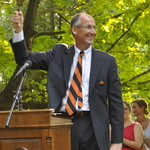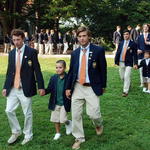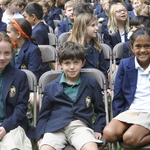 Convocation Sets Tone for School Year (Students)
McDonogh's Convocation ceremony, marking the opening of the 2015-2016 school year, was held Thursday, September 3 on Childs Memorial Terrace. Excitement was in the air as members of the Class of 2016 and their friends in prefirst and first grade processed down the hill to their seats. Bridget Collins '90, Director of Religious Studies, Character, and Service, began the ceremony with words of hope for the entire school community, and in particular for Archer S., a member of the junior class who sustained a serious spinal injury this summer. Following her remarks, Headmaster Charlie Britton and student representatives from each division shared their expectations for a happy and productive year. The program concluded with the ringing of a school bell to officially open the school year.
View the Convocation ceremony here.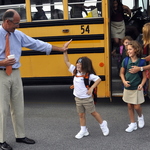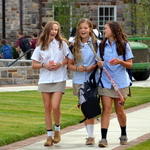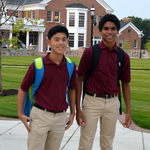 First Day Excitement (Students)
Joyful exchanges, hugs, and happy faces could be found all over campus as students arrived for the first day of school on September 2!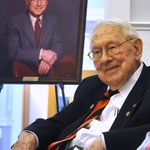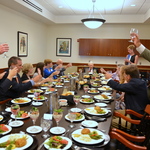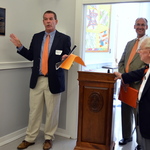 First Middle School Head on Campus for Ceremony in His Honor (Students)
McDonogh's first Head of Middle School, Quinton Donald "Q.D." Thompson, returned to campus on Tuesday, August 18 for a ceremony in his honor. After a luncheon with his family, during which former Headmaster Bob Lamborn was present via Skype, guests gathered outside the Office of the Head of the Middle School in Finney Building for a brief ceremony. Headmaster Charlie Britton spoke about the qualities that made Thompson the ideal candidate to lead the innovative 4-4-4 school structure, in which a Middle School was created to meet the distinct developmental, social, emotional, and physical needs of 10 to 14 year-old boys. He said, "It is no secret, Q.D. ran a tight ship. But everyone was happy. He always kept his office door open and welcomed any student, teacher, or parent who needed a word with him." After the unveiling of a plaque in his honor, Thompson, who served in the role from 1953-1985, was all smiles as he told the tale of the lengths Bob Lamborn went to convince him to accept the job.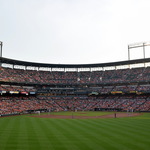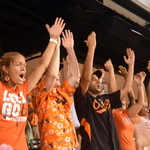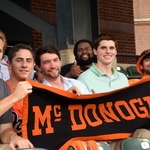 Alumni Night at Camden Yards a Hit (Alumni)
More than 100 McDonogh alumni and friends took over section 94 at Camden Yards on Thursday, July 30 as the Orioles took on the Detroit Tigers. The evening began with a pre-game happy hour at Pratt Street Ale House and continued at the ballpark for baseball magic. Despite an early deficit, the Orioles kept the game interesting with an impressive comeback late in the game. Unfortunately, the O's didn't pull off a victory. Regardless, for the McDonogh crowd in the outfield, the night was a home run.



Featured Images (Students)
All the featured images for the 2015-2016 school year.