2015-2016 Photo Essays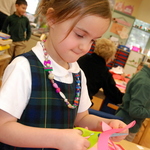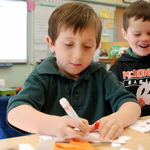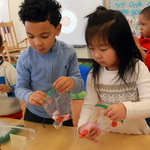 Littlest Eagles Share the Love (Students)
McDonogh's kindergarten and prekindergarten took some time this week to make Valentines for the hungry and homeless in Baltimore who are served by Corpus Christi Church. The prekindergartners packed treat bags, which also honed their counting skills, and the kindergartners created cards with messages of love. According to Bridget Collins '90 Director of Religious Studies, Character, and Service, "Engaging the students in outreach efforts helps them understand the meaning of giving." Throughout the year, the Lower School makes sandwiches, which are distributed to the needy by Corpus Christi.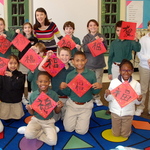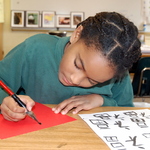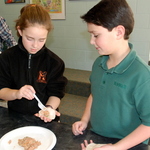 Happy Chinese New Year (Students)
Lower School students celebrated the Chinese New Year on Monday, February 8 in a variety of ways. In the morning, kindergartners heard a story about the zodiac, read by a parent. Later, third graders learned how to write "Happy New Year" in Chinese calligraphy, and fourth graders made and enjoyed savory dumplings, a food traditionally shared on festive occasions. Today's celebration marks the beginning of the Year of the Monkey.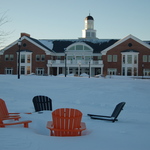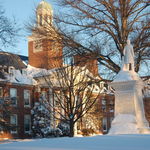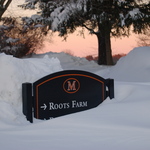 Blizzard Beauty on Campus (Students)
Beautiful scenes from McDonogh the morning after the Blizzard of 2016. Many thanks to the crews from Grounds, Maintenance, Housekeeping, and Security who are working around the clock to clear the snow and make the campus safe for students, faculty, and staff to return!
Photos courtesy of Andy Motsko.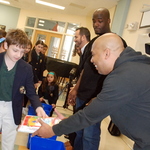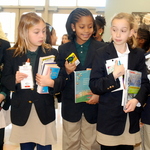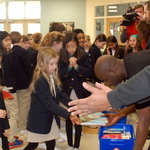 Fourth Grade Collects Books for Children (Students)
The fourth grade recently learned about the rights of every child to an education regardless of gender, socioeconomic status, or geographic location. On Tuesday, January 19, they met with representatives from the International Book Bank (IBB) to pack up brand new books and educational materials they collected for children in Panama. The books (the kids' favorites, in Spanish of course) and school supplies have been collected by the fourth grade in the past month.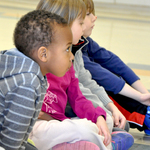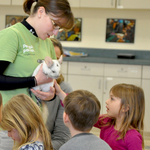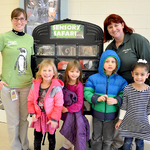 PK has Wild Afternoon with ZOOmobile (Students)
Prekindergarten students went on a "sensory safari" when the ZOOmobile arrived at McDonogh from the Maryland Zoo in Baltimore. Students explored how animals use their senses of sight, smell, hearing, taste, and touch. They enjoyed meeting Echo, the African grey parrot and Snow Queen, the chinchilla. The highlight of the event was an exciting encounter with Lilly, an African penguin, usually found only on the south-western coast of Africa.
- Photos by: Cindy Green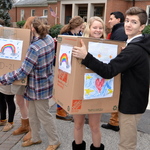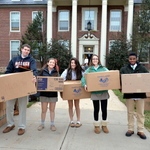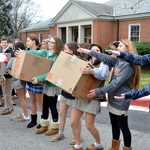 Holiday Project Delivers Love (Students)
Hundreds of boxes of colorfully-wrapped toys, books, and clothes poured out of classrooms and buildings across campus and into three large trucks destined for St. Gregory the Great Church where they will be distributed to 135 families including 401 children. It was the last step in the 2015 Holiday Project, now in its 25th year. The success of the Holiday Project, which ended with the delivery on Wednesday, December 16, was the result of much hard work and the generosity of the McDonogh community. Bridget Collins, Director of Religious Studies, Character, and Service, summed up the spirit of the project saying, "I am inspired by knowing that in a world that has been darkened by violence this year, the light of love will be shining in 135 homes because of the compassion and generosity of the McDonogh community. Thank you for brightening the lives of so many people this holiday season."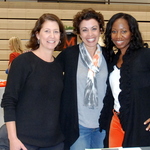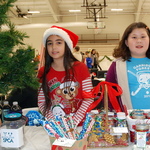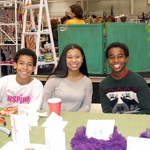 Holiday Bazaar Full of Festive Fun (Students)
No one knows for sure how many Holiday Bazaars there have been in McDonogh's history, but this merry event has provided food, fun, gifts, and games to generations of McDonogh family members. Alums talk about attending Christmas Bazaars in the Allan Building's basement and eating too much "official" McDonogh fudge. Current families enjoy this festive gathering in the Rollins-Luetkemeyer Center where they can meet, greet, eat, shop, and play the day away. Held on Saturday, December 12, this year's Bazaar featured many of its traditional attractions plus a Lower School Craft Corner, and a Secret Santa Shop for the youngest gift givers. Congratulations and thanks go out to the many volunteers whose time, talent, and hard work made this event possible!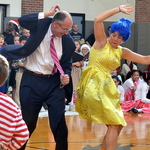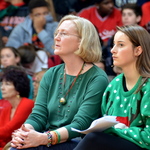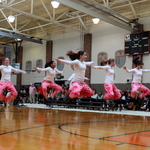 McDonogh's Holiday Assembly is Inside Out (Students)
Poor Riley! She and her family have just moved to Baltimore from Minnesota and she's trying hard to adjust to 60-degree weather in December, no ice hockey team, and a school where everyone wears orange and black—it's enough to turn a girl "Inside Out" (just like the movie!). Luckily, Riley's emotions (personifications of Joy, Anger, Fear, Disgust, and Sadness) are doing their best to help her cope, while her dean, Mrs. Ottinger, encourages her to engage in school life. Their support, along with fabulous performances by 15 of McDonogh's instrumental, dance and choral groups, help restore Riley's holiday spirit and put her back on the road to joy. Conga, anyone?
Watch the fun here.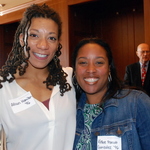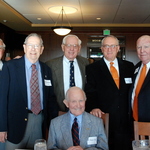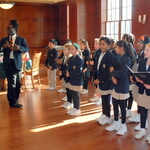 Alumni Enjoy Spirited Holiday Lunch (Students)
The annual Orange and Black Holiday Luncheon on Thursday, December 10 brought more that 50 alumni back to campus. The afternoon began with spirited music performed by the Third and Fourth Grade Chorus under the direction of Javon Morris-Byam '10, who even got the guests to sing-along to "Jingle Bells." After lunch, Middle School English teacher Jon Aaron '72 shared his latest project: working with several Lower School grades, connecting elements of McDonogh history to the students' experiences in their classrooms. He shared one particularly rewarding and enlightening trek across campus with the prek classes--yes, those are our four-year-olds--in search of the McDonogh seal.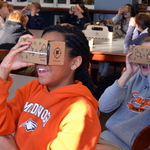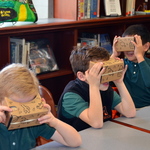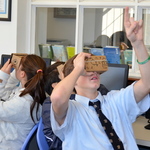 Field Trips to Faraway Places (Students)
A number of classes in all three divisions went on spectacular field trips on December 10, and they didn't use traditional modes of transportation to reach their destinations. Thanks to special goggles and the Google Expeditions Pioneer Program, students had a blast traveling to places like the Moon, Rome, Greece, the Great Barrier Reef, and Macchu Pichu, to name a few! As a third grader proclaimed while exploring Badlands National Park in South Dakota, "This is a fun way to learn!"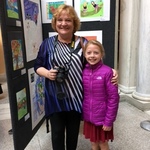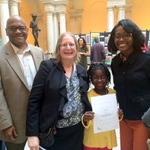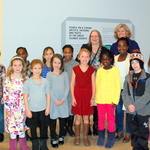 Student Art on Display at the Walters (Students)
Artwork created by 27 lower school students during the 2014-2015 school year is on display at the Walters Art Museum through December 20. Students and their families attended an opening reception at the museum on Saturday, December 5 during which former Head of Lower School Noreen Lidston spoke on the importance of art education for all children.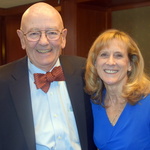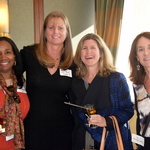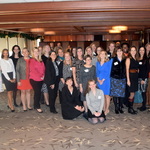 Celebrating 40 Years of Coeducation at McDonogh (Students)
Female and male graduates and faculty guests celebrated McDonogh's 40th anniversary of coeducation at The Center Club in downtown Baltimore on Friday, December 4. After watching a short documentary commemorating the occasion, guests heard an insider's perspective on the transition from former Headmaster Dr. Bill Mules '59 who was the Academic Dean and Head of the Upper School at the time. Additionally, H. Stacey Boyer '76, the first female to apply, be accepted to, and graduate from McDonogh, offered her reflections on the impact her McDonogh education had on the rest of her life.
Faculty members Dave Harley, Laddie Levy, and Peggy Warner, who were teaching at McDonogh the year females were admitted, were in attendance at the luncheon, as were others who began teaching in the early days of coeducation: Ane Lintvedt, Bob Mahon, Patrice Preston, and Rob Smoot.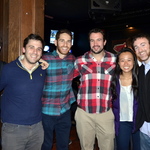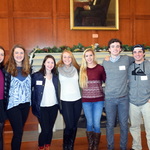 Young Alumni Reconnect Over Thanksgiving (Students)
McDonogh's Alumni Association hosted a variety of events for recent graduates over the 2015 Thanksgiving break. The fun began on Wednesday, November 25 as older young alumni (2001-2012) flocked to Federal Hill for a happy hour. On Thanksgiving morning, younger young alumni and soon-to-be alumni (2012-2016) enjoyed a pancake breakfast in Paterakis Hall where Headmaster Charlie Britton, Board President Arthur Adler '78, and several faculty members served breakfast to the college-age crowd. On Friday morning, former girls' soccer players rallied for their 16th consecutive alumnae game, and boys' lacrosse alumni burned up some Thanksgiving calories in a seriously fun game along with many current players.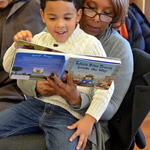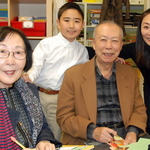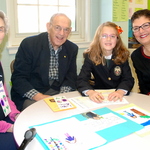 Lower School Shares McDonogh with Grandparents (Students)
The Lower School got a jump start on celebrating with family at Grandparents Day, held Tuesday, November 24. Together, they read stories, worked on puzzles, and conducted interviews, which allowed the two generations to learn more about each other. Along with classroom visits, grandparents and other special friends enjoyed performances by the children on stage in the Horn Theatre. See the performance by prekindergarten, kindergarten, prefirst, and first grade students here and the performance by second, third, and fourth grade students here.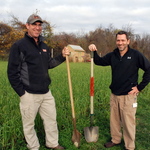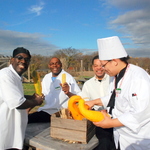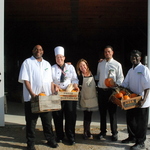 Thanks for Helping Roots Grow (Students)
As Roots is put to bed for the winter, we give thanks to the many people who help at the farm. In addition to the student, parent, alumni, and faculty/staff volunteers, thanks also Sage Dining and to the Grounds, Maintenance, and Transportation departments.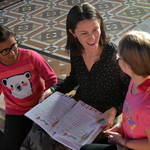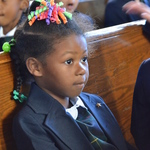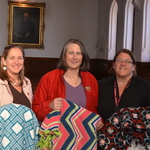 Blankets Give Hope to Sick, Injured (Students)
The Lower School's Blankets of Hope Chapel on Friday, November 13, led by the third grade, was an opportunity for the community to share love, support, and encouragement for the sick and injured. Using the money earned at their shoeshine stand, the third grade bought fleece and made 40 "blankets of hope" to donate to the Red Devils, an organization that supports breast cancer patients. This year, the students made an extra camouflage fleece blanket for McDonogh junior Archer Senft who is recovering from a spinal cord injury suffered in August. Archer's sister, Paula, was on hand to receive the blanket and a book of poems the third graders wrote for him. Watch the Blankets of Hope Chapel here.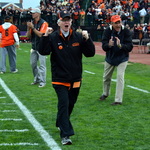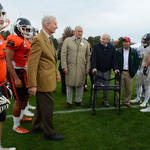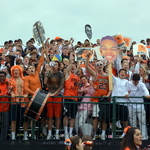 100th McDonogh-Gilman Football Game (Students)
The 100th McDonogh vs. Gilman Football Game on Saturday, November 7 attracted more than 11,000 fans to McDonogh's campus for a day of festivities.
Contributing photographers: Leslie Finkelstein, Middleton Evans '82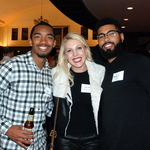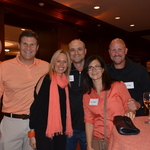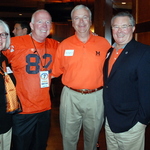 Celebrating the Centennial (Students)
Among the many festivities before the 100th McDonogh vs. Gilman Football Game was the Centennial Celebration & Auction held on the evening of Friday, November 6 in Paterakis Hall. More than 650 parents, alumni, and friends, dressed in their best orange and black, enjoyed fresh shucked oysters, a live and on-line auction, reminiscing about their McDonogh days, and speculating about the outcome of the 100th game.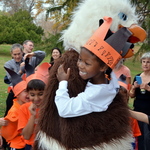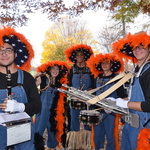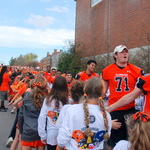 Spirit Day Parade and Pep Rally (Students)
Spirit Day, Friday, November 6 began with members of the football team greeting students, wearing their most spirited orange and black, as they disembarked from the buses. Throughout the day, excitement grew in anticipation of the Spirit Parade and Pep Rally celebrating fall sports and the 100th McDonogh vs. Gilman Football Game. The double, self-enveloping parade wound its way from the chapel to the R-L Center allowing everyone in the school community to both watch and be a part of the fun. New this year was a Mummers-style string band composed of campus musicians and the Lower School Drum Corps. Watch all the fun here.
Contributing photographers: Leslie Finkelstein, Darren Ford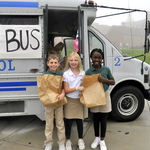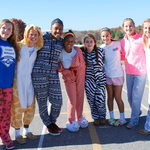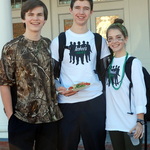 Spirit Week 2015 (Students)
Spirit Week 2015, in anticipation of the 100th football game against Gilman, was filled with dress-up days, a joint Stuff-A-Bus campaign, visits to the rival school, and the always-fun Powder Puff football game featuring girls from the junior and senior classes. The November 2-5 festivities were just the warm-up to the all school Spirit Day on Friday, November 6 and the 100th game on Saturday, November 7.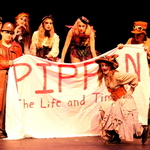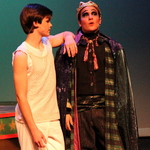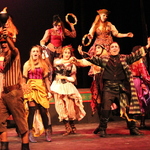 Production of "Pippin" is a Hit (Students)
Dozens of McDonogh actors, singers, dancers, and crewmembers worked together to bring the Tony-award winning musical Pippin to life on the stage in the Horn Theatre over the weekend of October 23-25. The show, directed by Kara Zimmerman McDonogh's music and movement teacher, tells the story of a young prince on his search for meaning and significance.
Photos courtesy of Carrie Pirie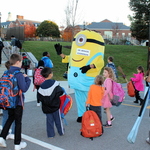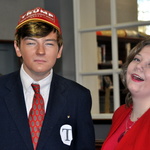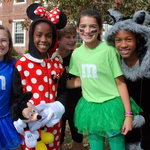 Halloween: Scary, Good Fun (Students)
It's scary how creative the McDonogh community is with Halloween costumes and fun! The morning of Friday, October 30 began with Headminion Charlie Brinion greeting students as they got off the bus. Throughout the day, upper schoolers stopped by the library to show off their costumes and a "flash mob" interrupted a Middle School assembly by singing "Time Warp." The afternoon ended with the annual Lower School Halloween Parade, which delighted parents and spectators from across campus.
Contributing photographers: Jersey Frederick, Valerie Rogers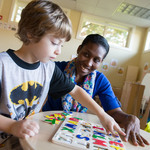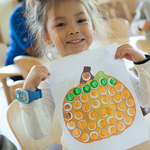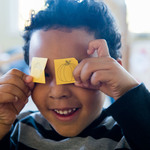 McDonogh's Prekindergarten (Students)
Scenes from McDonogh's new prekindergarten.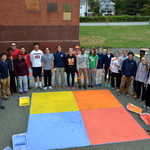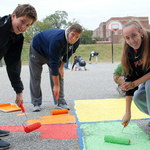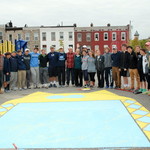 McDonogh and Gilman Play Nice (Students)
McDonogh and Gilman joined forces and worked side-by-side to refurbish and beautify several Baltimore City elementary school playgrounds on October 17 and 24. Working with Playworks, Upper School students painted a variety of inclusive, interactive games for kids. The service project, "Play Nice," was conceived by McDonogh sophomore Kendall K. who was looking for a constructive way to unite the two schools in advance of the landmark 100th football game on Saturday, November 7. Students from both schools raised the funds to purchase paint and other materials for the project.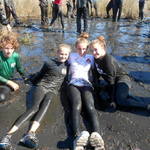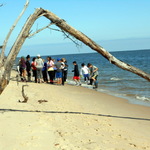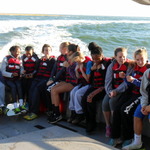 Hurricane Doesn't Stop 8th Grade Bay Trip (Students)
With Hurricane Joaquin bearing down on the East Coast, it was touch and go for the annual 8th Grade Bay Trip planned for October 5-7. The storm went out to sea and the trip went off a day late. For three days at several Chesapeake Bay Foundation sites, students fished, cut bait, crabbed, harvested oysters, conducted water tests, rolled in the muck, and had a blast.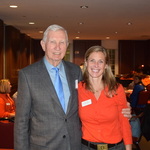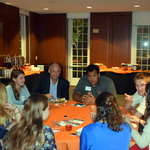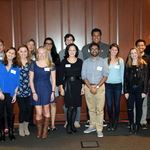 A Visit With Alumni in College Park (Students)
More than 25 McDonogh alumni attended a gathering in College Park on Thursday, October 15 at the University of Maryland's Alumni Center. Alumni of all ages, including strong representation from the Class of 2015, enjoyed a lasagna dinner with a handful of faculty members and Headmaster Charlie Britton who "quizzed" the students on their McDonogh memories. One alumnus, Joe Tydings '46, even recited The Uniform by Eustace S. Glascock (1927).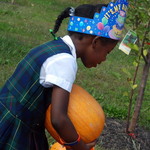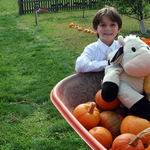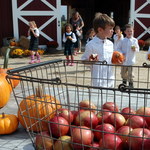 Kindergarten Picks Plenty of Pumpkins (Students)
The kindergarteners took a hayride to Roots Farm for an afternoon of fun on Friday, October 9. First, they picked the pumpkins they will use in the coming weeks to make pies and bread; and then they selected another to take home. Next, they explored the corn maze noting that most stalks were more than twice their size. Finally, after a snack of fresh apples, it was back on the hay wagon for the ride to Dudley Hall.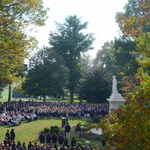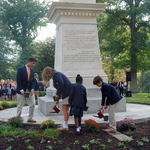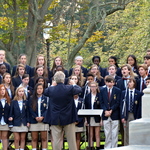 Founder's Day Tradition (Students)
The annual Founder's Day Ceremony held on the morning of Friday, October 9 was a solemn occasion filled with meaningful reflection, song, and tradition. "The purpose of the annual gathering is twofold," said Headmaster Charlie Britton. "First, we honor our founder, John McDonogh, whose generous bequest made it possible, in 1873, for McDonogh School to begin its mission of educating children. McDonogh's one request was, 'that it be permitted annually that the children be allowed to plant and water a few flowers around my grave,'" Britton explained.
"Secondly, on this solemn day, we pause to remember all of those who've gone before us, particularly those members of the McDonogh Family who have passed away during the past year." As Alumni Association President Michelle Mayer '91 read each name, a bell tolled in the tower of Tagart Memorial Chapel and a flower was placed at the foot of the monument. Learn more about the history of Founder's Day here.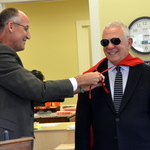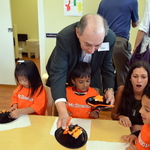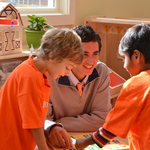 PreK Opening Takes The (Cup) Cake (Students)
The opening of the Esther Ann Brown Adler Wing of Dudley Hall was officially celebrated in true prekindergarten style – with cupcakes! McDonogh's youngest students gathered on Thursday, September 24 to say "thank you" to Howard Brown for his heroic effort in constructing the classrooms in time for the first day of prek at McDonogh. Headmaster Charlie Britton presented Brown with a "superhero cape" and the prek gave him a framed photograph of their class, with a one-of-a-kind mat decorated with their handprints.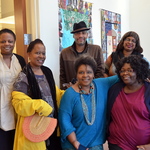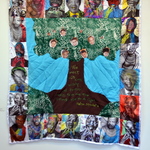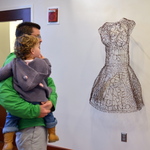 Artists Share Journey to South Africa (Students)
A reception for the exhibit, Without Place: South Africa/Mandela Quilt Project, was held in the Tuttle Gallery on Friday, October 2. The art, which focuses on the themes of gentrification, displacement, and human needs, will be on display in the Gallery through October 9. Prior to the reception, artists whose work is being featured in the show, spent time working with Upper School art students. Complementing the exhibit will be Journey to South Africa, a presentation by renowned Baltimore bead artist Joyce J. Scott, on Thursday, October 8 from 6:00 to 8:00 p.m. in the Klein Lyceum. Please join us.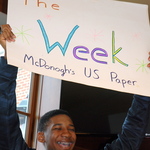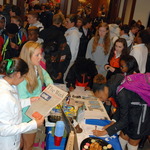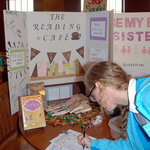 Upper Schoolers Join the Club (Students)
Wet weather on Friday, October 2 drove the annual Club Fair indoors, but enthusiasm for the wide range of opportunities was not dampened. More than 50 student-run clubs, for every interest, were on display in the Edward St. John Student Center and upper schoolers eagerly signed up to participate.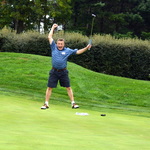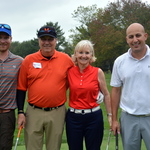 40th Golf Classic a Hit (Students)
The 40th Annual McDonogh Golf Classic was held under threatening skies on Tuesday, September 29 at the Woodholme Country Club in Pikesville, but that didn't stop close to 100 golfers from participating. The tournament, wine grab, a 19th Hole Happy Hour, and new this year, a clinic with Woodholme's golf pro were each a huge success. Congratulations to the winning foursomes: Flight 1: Lance Scott '99, Ben Salisbury '97, Jon Carr '97 and Chris Sittig; and Flight 2: Bruce Block AP '01,'04, '06, Jenna Block '06, Ryan Coudon P '20, and Hank Pokigo P '21. Many thanks to the sponsors, players, and volunteers who contributed to the success of the golf tournament.
Contributing photographer: Leslie Finkelstein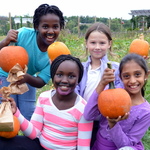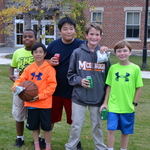 Friendship and Fun at Jam Fest (Students)
The McDonogh community enjoyed an evening of friendship and fall fun during Honey of a Jam Fest on September 25. The Roots Farm was buzzing as kids of all ages pressed apple cider, picked pumpkins and potatoes, got their faces painted, ran through a giant corn maze, and enjoyed hayrides around campus. As the sun set, families headed to the Rosenberg Green for more fun and games, a picnic dinner, and music by the Klassix!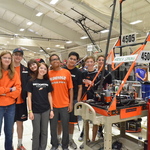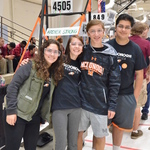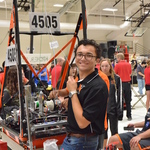 Robots and Recycling in Battle O' Baltimore (Students)
More than 700 participants, volunteers, and spectators gathered in the Rollins-Luetkemeyer Athletic Center on Saturday, September 26 for the Ninth Annual Battle O' Baltimore robotics tournament. After an opening ceremony featuring the Middle School Drum Corps, and the Gentleman Songsters and Women of Note, Headmaster Charlie Britton welcomed students and coaches from across the region. Then, 28 teams maneuvered their custom-built robots in a game called Recycle Rush created by FIRST (For Inspiration and Recognition of Science and Technology.) The game requires the robots to stack up to six rectangular storage totes, place a green recycling can on top of the stack, and then put "trash" in the form of pool noodles into the can. See all the action in this report on WBAL TV.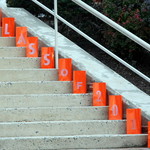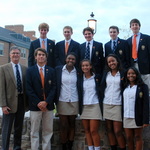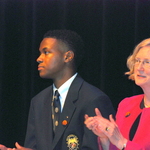 Juniors Receive McD Pin at Ceremony (Students)
The 146 members of McDonogh's Class of 2017 officially became upperclassmen at the Junior Pin Ceremony on the evening of Sunday, September 27. Following a casual dinner in Paterakis Dining Hall with their advisory groups, the class processed into the Ceres M. Horn Theatre for the ceremony. The program included an address by Junior Class President Ryan J. and a slideshow of memories created by Julia S. Headmaster Charlie Britton presented each member of the junior class with a gold McD lapel pin and encouraged them to wear it with pride.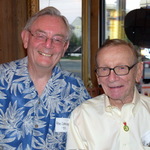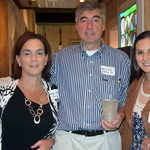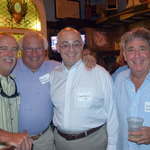 OC Alumni Event (Students)
A crowd of more than 40 McDonogh alumni, parents, and parents of alumni gathered at Phillips Seafood House in Ocean City on Thursday, September 17, to enjoy each other's company and get a head start on a beautiful beach weekend. Guests enjoyed food and drinks and had an update on the school from Director of Institutional Advancement Brad Shelley.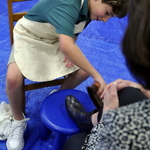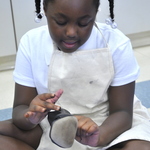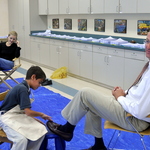 Shoes Shined Here (Students)
Loafers, kitten heels, boots, or wingtips, no matter what the style, third graders inspired by the book "The Shoeshine Girl" by Clyde Robert Bulla tackled them all with polish, brushes, and smiles. Tips earned by the students will be used to buy fleece fabric for blankets, which they will make and donate to The Red Devils, an organization that supports breast cancer patients. A portion of the proceeds will also be used to support the medical needs of junior Archer S. The annual project, coordinated by third grade teacher Margaret Bitz, began in 2009.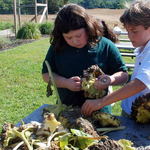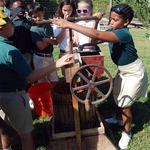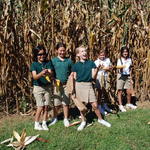 Fourth Graders Enjoy Wonders of Roots Farm (Students)
Pressing apples for cider; making pinecone and sunflower seed bird feeders; sampling honey; and discovering the sights, smells, and sounds of Roots Farm were all part of the fourth grade's morning at the farm. On Wednesday, September 16, the students explored Roots and discovered the many fascinating things being cultivated there through a five senses scavenger hunt and other activities.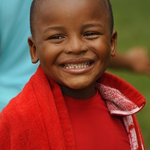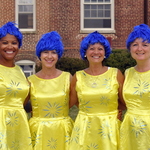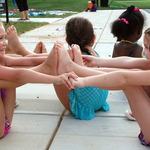 Sheer Joy at Aquapalooza (Students)
Joy was the theme of Aquapalooza 2015, the Lower School's reward for their summer reading challenge. On Friday, September 4, the Lower School administrative team dressed as the character Joy from the movie Inside Out. They spread joy as they slid down the water slides and ran through the sprinklers along with students from prekindergarten through fourth grade. Of course, joy was on the faces of everyone who participated in the afternoon of fun. Click here to see all the action.
Contributing photographers: Cheveé Taylor and Lisa Stoler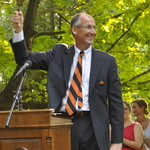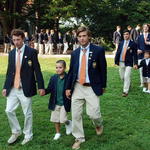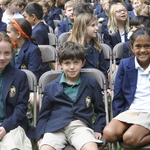 Convocation Sets Tone for School Year (Students)
McDonogh's Convocation ceremony, marking the opening of the 2015-2016 school year, was held Thursday, September 3 on Childs Memorial Terrace. Excitement was in the air as members of the Class of 2016 and their friends in prefirst and first grade processed down the hill to their seats. Bridget Collins '90, Director of Religious Studies, Character, and Service, began the ceremony with words of hope for the entire school community, and in particular for Archer S., a member of the junior class who sustained a serious spinal injury this summer. Following her remarks, Headmaster Charlie Britton and student representatives from each division shared their expectations for a happy and productive year. The program concluded with the ringing of a school bell to officially open the school year.
View the Convocation ceremony here.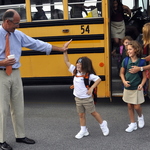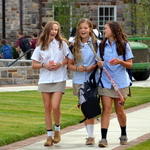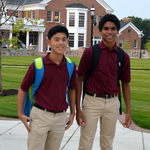 First Day Excitement (Students)
Joyful exchanges, hugs, and happy faces could be found all over campus as students arrived for the first day of school on September 2!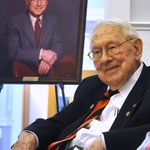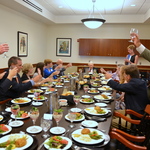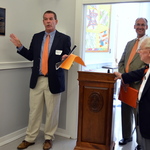 First Middle School Head on Campus for Ceremony in His Honor (Students)
McDonogh's first Head of Middle School, Quinton Donald "Q.D." Thompson, returned to campus on Tuesday, August 18 for a ceremony in his honor. After a luncheon with his family, during which former Headmaster Bob Lamborn was present via Skype, guests gathered outside the Office of the Head of the Middle School in Finney Building for a brief ceremony. Headmaster Charlie Britton spoke about the qualities that made Thompson the ideal candidate to lead the innovative 4-4-4 school structure, in which a Middle School was created to meet the distinct developmental, social, emotional, and physical needs of 10 to 14 year-old boys. He said, "It is no secret, Q.D. ran a tight ship. But everyone was happy. He always kept his office door open and welcomed any student, teacher, or parent who needed a word with him." After the unveiling of a plaque in his honor, Thompson, who served in the role from 1953-1985, was all smiles as he told the tale of the lengths Bob Lamborn went to convince him to accept the job.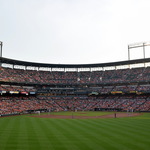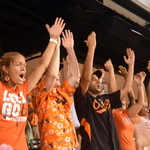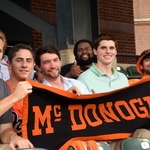 Alumni Night at Camden Yards a Hit (Alumni)
More than 100 McDonogh alumni and friends took over section 94 at Camden Yards on Thursday, July 30 as the Orioles took on the Detroit Tigers. The evening began with a pre-game happy hour at Pratt Street Ale House and continued at the ballpark for baseball magic. Despite an early deficit, the Orioles kept the game interesting with an impressive comeback late in the game. Unfortunately, the O's didn't pull off a victory. Regardless, for the McDonogh crowd in the outfield, the night was a home run.



Featured Images (Students)
All the featured images for the 2015-2016 school year.