2016-2017 Photo Essays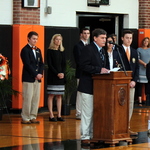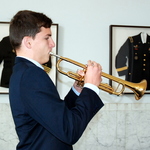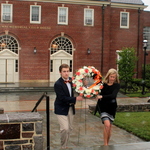 Memorial Day 2017 (Students)
The entire McDonogh community gathered in Lamborn Memorial Field House on a rainy Thursday, May 25 for the school's annual observance of Memorial Day to remember and honor McDonogh alumni who lost their lives in service to our country.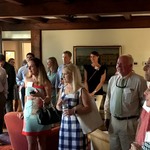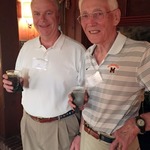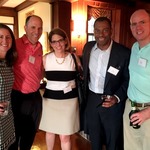 McDonogh Fund Volunteer Thank You (Students)
Headmaster Charlie Britton and wife Jen welcomed an enthusiastic group of more than 30 McDonogh Fund volunteers to their home on Thursday, May 18 to thank them for their dedication to the 2016-2017 campaign. About 150 volunteer alumni, parents, grandparents, faculty, and other community members were invited in appreciation of their efforts, which are critical to the success of the annual fundraising effort. The McDonogh Fund campaign supports virtually every aspect of a McDonogh education, and underwrites expenses above and beyond what tuition dollars can cover. The 2016-2017 campaign closes on June 30.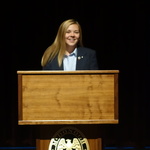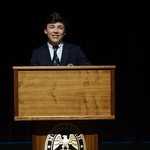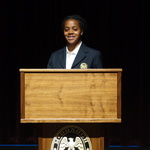 7th and 8th Grade Orators Deliver (Students)
The speakers in the Seventh and Eighth Grade Oratory presentations on Friday, May 19, had the audience immersed in the orators' experience. Hayley S., '22 who explained that she and her classmates were required to write a personal narrative about a significant moment in their lives, introduced the program. The five seventh graders who shared their speeches were: Ellie B., Natalie F., Aidan H., Juliet L., and Molly R.
Eighth grade emcee Aria B. explained that in the final year of Middle School students write and deliver personal essays. She said, "They either describe experiences that gave them insight into themselves and their lives or make persuasive arguments about topics of personal importance." The five eighth-grade speakers were: Ellye A., Rachel C., Cassidy M., Natalie S., and Avinash T.
Contributing photographer: Matt Goode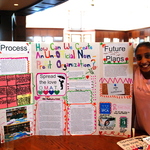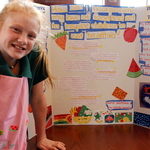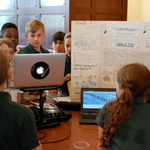 Passion Project Expo (Students)
Watch out, Shark Tank! The fourth grade has spent the past year focusing on their passions, which range from saving endangered animals to making sports accessible to people with disabilities. The Passion Project endeavor was an opportunity to teach many valuable life skills including letter writing, public speaking, web design, and fundraising. Throughout the process students also discovered how their personal passions can drive change. The fourth grade showcased their Passion Projects at an Expo on Thursday, May 18 in Paterakis Hall where they explained their ideas with clarity and conviction to families and friends. Many plan to continue their work through the summer and beyond.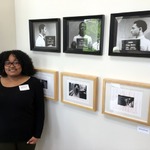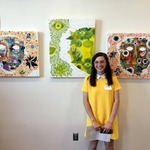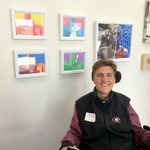 Work of Seniors on Display in Tuttle (Students)
The Senior Thesis Exhibition, the work of 23 members of the Class of 2017 on display in the Tuttle Gallery, opened on Sunday, May 14 with a reception and critique given by local artists. The show, which runs through Commencement, includes paintings, drawings, mixed media, ceramics, digital media, sculpture, and photography. Congratulations to Annalise M. and Rachel W. whose work was named "Best in Show" and to Jahmoni B., Annalise M., and Jason L. who earned the "Excellence in Art" award.
Contributing photographers: D. Robert Lee, Katie Michaelson, and Match Zimmerman '02.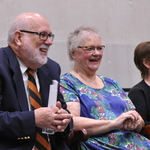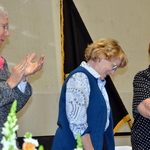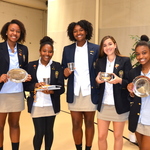 Headmaster's Day 2017 (Students)
The annual Headmaster's Day celebration on Friday, May 12 was cheerful and bright despite being moved from Childs Memorial Terrace to the R-L Center because of rain. The entire school community gathered to recognize four employees for their 25 years of service and then to say farewell to 13 longtime and much-loved faculty and staff members. The all-school portion of the morning concluded with the editors of the Legacy dedicating the 2016-2017 yearbook to retiring Middle School math teacher Ken Waller '65. After the Lower and Middle Schools were dismissed, Headmaster's Day continued with the presentation of academic awards to deserving upper schoolers.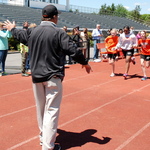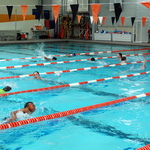 Swim. Bike. Run. Triathlon Fun. (Students)
In early April, if you challenged the sixth grade to finish a triathlon, the majority would have balked at first swimming 200 meters, then biking 1.75 miles, and finally running .75 miles. However, after three weeks of "training" during their physical education classes, the students were ready. On Tuesday, May 9, with faculty, family, and friends cheering them on, they completed the triathlon. As the athletes crossed the finish line, their sense of pride was evident.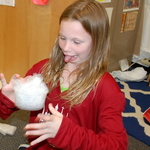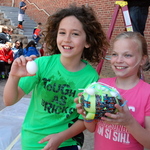 Best Way to Protect Eggs is a Toss-Up (Students)
Close to three dozen raw eggs met their fate in the annual fourth grade Egg-Drop Challenge on Monday, May 8. Using all kinds of materials from bubble wrap to marshmallows, the students carefully packaged their precious cargo for the trip of a lifetime. Eggs were then tossed up in the air from high atop a 10-foot ladder. Not every egg survived, and the students discovered which method of protecting their eggs was most effective. See all the action here.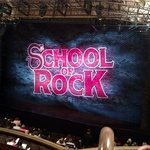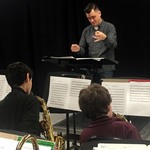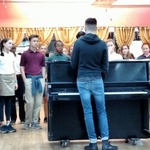 Singers, Band Learn at School of Rock (Students)
The McDonogh Singers (grades seven and eight) and members of the eighth grade band "got schooled" by professionals on Saturday, May 6 when they traveled to New York City for workshops taught by cast members from School of Rock. After learning song and dance techniques and a production number, the McDonogh group attended a performance of the musical by Andrew Llyod Webber at the Winter Garden Theatre. The group also managed to squeeze in a visit to Times Square.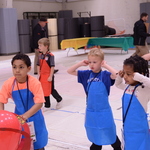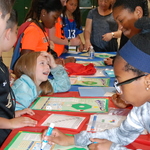 Math Explosion 2017 (Students)
The Lower School Math Explosion 2017 was bursting with fun. Although the day of math-related games was forced inside the Rollins-Luetkemeyer Athletic Center, the event on Friday, May 5, maintained a carnival-like atmosphere. As the lower schoolers made their way from booth to booth completing a variety of primarily math challenges, sixth graders, who operated the games, cheered them on. In another example of cross-division collaboration, eighth graders teamed up with the fourth grade to construct marshmallow and spaghetti towers. Everyone enjoyed the day of fun and games.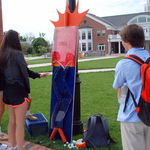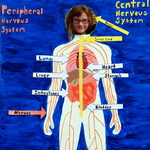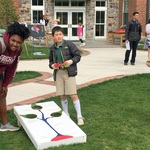 Neuroscience Classes Create Exhibits (Students)
After visiting the "Your Brain" exhibit at the Franklin Institute in Philadelphia, Honors Neuroscience classes were inspired to design and build their own interactive displays to teach younger students about the nervous system. From concept to construction, their projects tackled complicated topics including debunking brain myths and illustrating how brain cells send signals throughout the body. On Thursday, May 4, a group of third grade science students toured the upper schooler's exhibit on the Green where they had fun while learning about the brain and the central nervous system.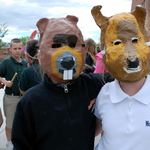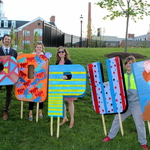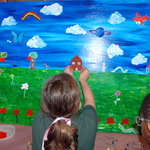 McD Art Pop-Up (Students)
From lower schoolers walking imaginary pets on leashes and performances by the Upper School String Ensemble, to masks and movement, and the very crazy sound suit costumes, visual and performing art popped up all over campus on Wednesday, May 3. McDonogh's Art Pop-Up was designed to showcase the accessible and inclusive public works of art that strengthen the visibility of the PK to 12th grade art program. Throughout the day, the McDonogh community just never knew when they would be surprised and delighted by the creative process. Enjoy more art here.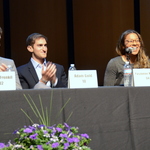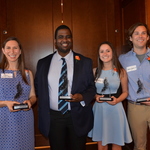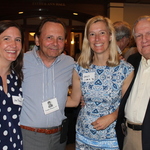 Busy Friday for Reunion Weekend Guests (Students)
McDonogh alumni were kept as busy as the students on Friday of Reunion Weekend, April 28. The morning began with young alumni speaking to students about their career paths, while older guests enjoyed campus tours. After lunch and a State of the School address by Headmaster Charlie Britton, a handful of alumni went to Roots where industrious lower schoolers were making newspaper pots for basil they'd grown from seed. Later, McDonogh tennis legends took on current players in a friendly match. A memorial service in Tagart Memorial Chapel and a flag retreat ceremony on the Senior Quadrangle rounded out the afternoon events. Before the annual Alumni Cocktail Party, four young alumni were presented with the Young Alumni Award. They are: Stephen Garten '04, Paige Kennedy '11, Christopher Nelson '04, and Tamara Newcomer-Johnson '03.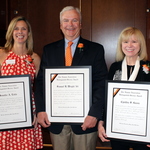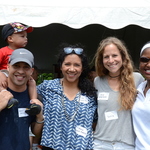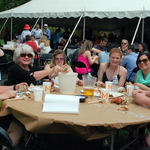 Reunion Weekend Festivities Continue (Students)
Reunion Weekend events, on Saturday, April 29, drew even more alumni to campus. Activities began bright and early. Equestrian alumni took in the Spring Show on the Willis Lynch Showgrounds, while lacrosse alumnae gathered to watch the varsity team take on Marriotts Ridge High School. Meanwhile, three deserving members of the McDonogh Family were honored with the Distinguished Service Award. The 2017 recipients are: Cynthia Green (multimedia specialist), Jennifer Little (Director of Alumni Relations), and Samuel Wright '64 (Trustee). By the afternoon, a record crowd of nearly 500 guests had gathered under a tent on the Rollins Quadrangle for the Family Crab Feast and Picnic. Saturday evening featured reunion parties around town for classes ending in 2 and 7. Reunion Weekend concluded with the Gospel Choir Concert on Sunday in Tagart Memorial Chapel.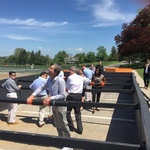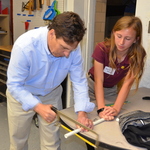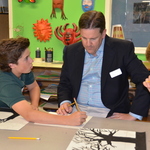 Board of Visitors Experience LifeReady Learning (Students)
Members of the Board of Visitors got a taste of LifeReady learning in the Middle School while on campus for their annual meeting on April 28. They even tried out the "Human Foosball Arena" recently built by eighth graders in the Makerspace.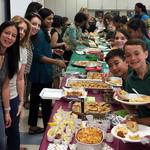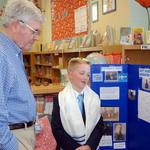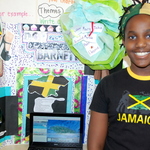 Fourth Grade Celebrates Heritage (Students)
The fourth grade celebrated their heritage on Friday, April 28 with an ethnic feast featuring traditional foods from around the world and by portraying one of their relatives in their Immigration Museum. Standing before displays of photographs, maps, flags, and family trees, and dressed as their ancestors, the students shared their family history with each other and visitors.
Contributing photographer: Sharon Ahn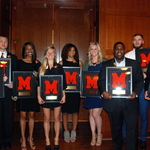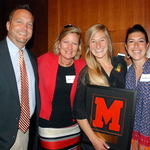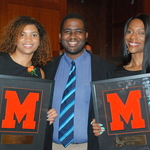 Nine Inducted Into Hall of Fame (Students)
Congratulations to the nine new members of McDonogh's Athletic Hall of Fame. The induction ceremony on Thursday, April 27 kicked-off Reunion Weekend 2017.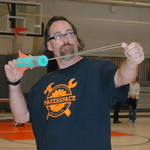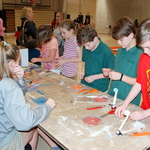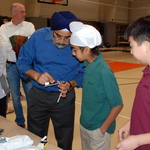 Family Maker Night Fun (Students)
Moms and Dads had as much (or maybe more) fun as the students at McDonogh's first Maker Night for fifth and sixth grade families on Wednesday, April 26. The evening was an opportunity to engage in creative, hands-on activities that combine science, technology, engineering, art, and math (STEAM). At the various stations, students and their families made bristle bots (robots made with household items), CD case labyrinths, rubber band launchers, pool noodle rockets, and more.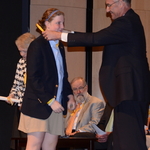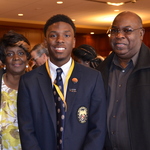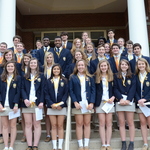 Cum Laude Scholars Inducted (Students)
McDonogh School's Cum Laude Society welcomed 30 new members from the Classes of 2017 and 2018 at an induction ceremony on Monday, April 24. With a speech entitled, "Only the Best!!," keynote speaker, Dr. Clarence Newsome, exhorted the inductees, as well as the rest of the audience, to devote themselves to being the best in all ways. Once this commitment is made, he explained, opportunities present themselves and anything is possible.
The national honor society, which recognizes academic achievement, is modeled after the Phi Beta Kappa collegiate honor society. One of 18 Maryland schools with a Cum Laude chapter, McDonogh has been a member since 1955.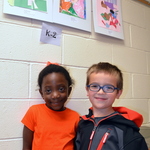 A Rainbow of Talent in LS (Students)
Adventure with the Arts Day, on Friday, April 21, was an opportunity for parents and students from PK to grade four to appreciate the artistic and musical talent of the Lower School. Following musical performances in the Klein Lyceum, each grade, dressed in the colors of the rainbow, explored Edlerkin Hall, which was transformed into a museum. Docents, stationed throughout the exhibits, explained the artistic process and shared what the students learned about the style of the art and the history of the artists and the art form. Click here to see the performances and artwork displayed throughout the Lower School.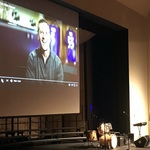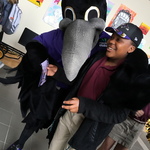 8th Grader to Announce Ravens Draft Pick (Students)
During the Middle School assembly on April 20, eighth grader T.J. O. got the surprise of his life when Baltimore Ravens Coach John Harbaugh, in a videotaped message, asked him to name the team's first pick in the 2017 NFL Draft. T.J.'s dream-come-true was made possible by Make-A-Wish Mid-Atlantic. Upon hearing the news, the entire student body erupted in cheers as Ravens cheerleaders and the team's mascot, Poe, surrounded a stunned T.J. on stage! The NFL Draft takes place in Philadelphia from April 27-29. Check out the full version of Coach Harbaugh's special announcement here: https://www.youtube.com/watch?v=dQWHM8vVzFE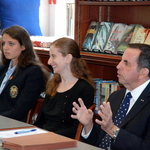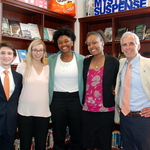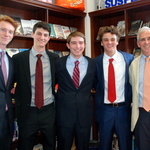 McDonogh Court Does Supreme Job (Students)
In the McDonogh Supreme Court hearing held Tuesday, April 18, Judge Fred Smalkin'64, University of Baltimore Law School Professor Natalie Ram, and several AP Government students heard arguments concerning the case of The County of Los Angeles v. Angel Mendez. The case was to determine if two deputies should be held liable for the injuries sustained by Mr. Mendez when they entered the shack he was residing in and, after seeing a gun pointed at them, shot Mr. Mendez. The District Court found the officers liable and awarded Mr. Mendez $4.1 million in damages. The 9th Circuit Court of Appeals upheld this award. The case was appealed to the "Supreme Court of McDonogh" where students, on both sides of the argument, made their case. After intense presentations by both sides, the "court" ruled 5-4 to affirm the earlier decisions.
By: Burke P. '17 and Jeffers I. '17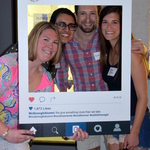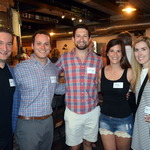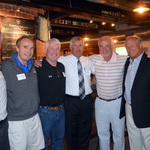 Baltimore Alumni Enjoy Evening (Students)
More than 60 Baltimore-area alumni and guests joined Headmaster Charlie Britton, his wife, Jen, and treasured faculty members for brews and barbeque at Diamondback Brewing Company in Locust Point on Wednesday, April 13. In addition pulled pork and samplings of the local craft beer, McDonogh alumni spanning seven decades were also treated to behind-the-scenes tours of the brewery.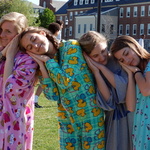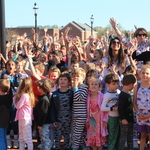 School PJ Day Supports Ill Children (Students)
The McDonogh community jumped out of bed and came right to school, still dressed in their pajamas, on "Wear Your PJs to School Day," Tuesday, April 18. The school-wide event, which included photos of the entire school community and an Upper School "Jammiefest," was coordinated by student leadership groups in each division. It was the culmination of a pajama collection drive called "PJs for T.J.," benefitting the Casey Cares Foundation. T.J. is a McDonogh 8th grader who received support from Casey Cares during his battle with brain cancer. Thankfully he is now in remission. Casey Cares gives new pajamas to critically ill children at hospitals, hospices, and at home. It is estimated that McDonogh students donated nearly 1,000 pairs of new PJs to the cause.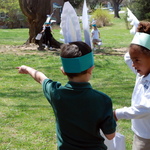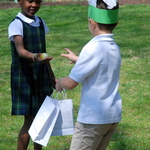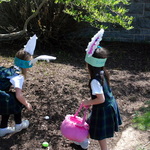 Eggscellent Afternoon for Kindergarten (Students)
Everybunny in kindergarten had fun peeping for eggs hidden at Tagart Chapel, on Childs Memorial Terrace, and beside the John McDonogh statue on the afternoon of Thursday, April 13. The students were on the hunt for specific eggs containing their initials, home address, and birth date.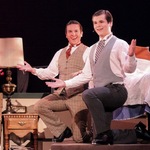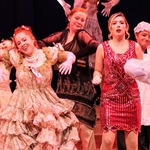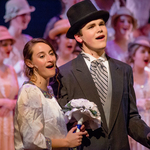 Drowsy Chaperone Delights (Students)
The cast of characters in the Upper School production of The Drowsy Chaperone had audiences in stitches during the performances over the weekend of April 7-9. The musical comedy was a display of talent both on the stage and behind the scenes.
Contributing photographers: Carrie Pirie and Irvin Simon Photographers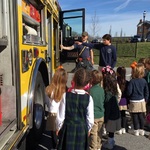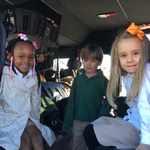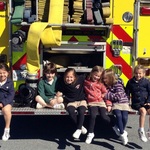 Sophomore Volunteer Firefighter Speaks to PK (Students)
The recent visit from the Owings Mills Volunteer Fire Company was even more thrilling for the PK when they learned that McDonogh sophomore Garrett M. is one of the company's firefighters. Garrett and the other volunteers spoke to the children about fire safety and gave them a tour of the truck. The visit on Wednesday, April 5, was part of the PK's study on community helpers.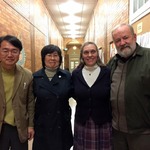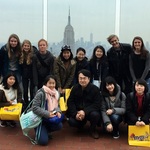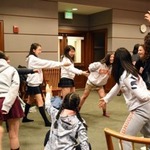 Japanese Exchange Delights All (Students)
Eight Japanese students and two teachers from the Seijo Gakuen Senior High School in Tokyo soaked up as much American and McDonogh culture as possible during the biennial exchange that took place at McDonogh from March 20 to April 2.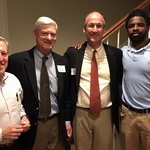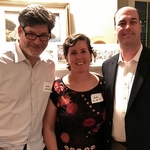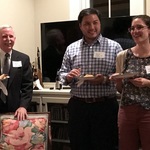 Alumni Enjoy Spring in Atlanta (Students)
Spring had sprung in Atlanta, Georgia on Thursday, March 30 when McDonogh held its alumni reception at the home of Martha Parr Ille '89. Despite the I-85 bridge collapse disrupting traffic, alumni friends were able to join Headmaster Charlie Britton and Director of College Counseling Alice Margraff to reminisce and hear updates on the school.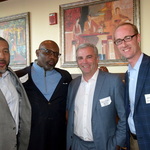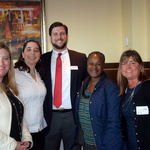 McDonogh and T. Rowe Price Bond (Students)
Members of the McDonogh community, who currently work at T. Rowe Price, gathered for a reception on Thursday, March 23 at Sullivan's Steakhouse. Headmaster Charlie Britton and Trustees Taymour Tamaddon and Clive Williams hosted the event. Alumni as well as current and past parents enjoyed connecting over their common McDonogh bond and even talked a little shop during the happy hour by the water.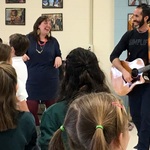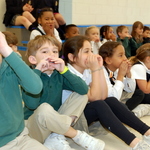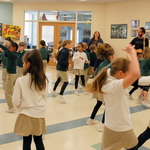 Josh and the Jamtones a Hit (Students)
The Lower School was happy to welcome the lead singer of Josh and the Jamtones to campus today. Josh had a dance party and a "meet and greet" with each grade before giving a concert. Music and Movement teacher Beth Rausch, who jams with the popular kids' band, organized the fun. See the concert here.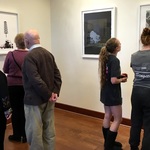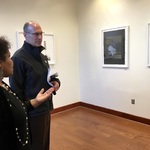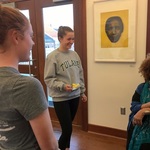 Printmaking Exhibit Reception (Students)
A group of local and nationally recognized artists whose work is on display in the Tuttle Gallery gathered for a reception on Thursday, March 9. Soledad Salame of Baltimore's Sol Print Studio curated the printmaking exhibit, which will continue to be displayed from March 21-24.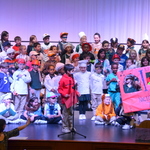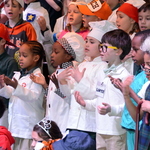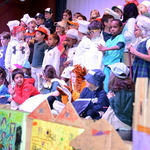 Welcome to Our Neighborhood (Students)
Chefs, lawyers, elderly people, doctors, and athletes were among the neighbors in the first grade musical review, Welcome to our Neighborhood. The production, on Thursday, March 9, based on the television show Mr. Rogers' Neighborhood also featured familiar characters such as the trolley, the mail carrier, and the princess. See the performance here.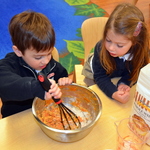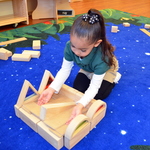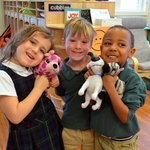 PK Makes Tail-Waggin' Good Treats (Students)
Prekindergartners showed their love and concern for the dogs at the Baltimore Humane Society this week by making them treats! With the help of their teachers and parent volunteers, the students measured, mixed, and rolled the ingredients into bite-size snacks for the pups. They also spent time playing with their favorite stuffed animals and building shelters out of blocks! See video coverage here.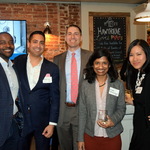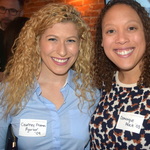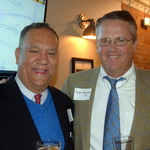 DC Alumni Briefing (Students)
Headmaster Charlie Britton and all-star faculty members Jon Aaron '72, Wright Abbot, Cynthia Cox, Darren Ford, Jan Kunkel, Laddie Levy '63 and Andy Motsko joined alumni at a gathering at The Hawthorne in Washington, D.C. on Thursday, March 2. The evening was filled with lively conversation, updates on the school, and plans for McDonogh's future.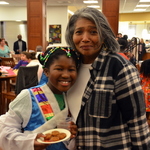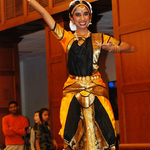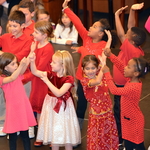 Multicultural Night 2017 (Students)
Multicultural Night 2017 on Friday, February 24 featured an array of international foods; music, dance, demonstrations, and stories from around the world; and camaraderie among families from all three divisions as they shared their cultural traditions. Enjoy performances by McDonogh's talented students.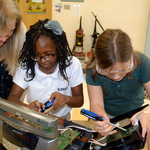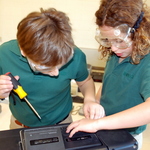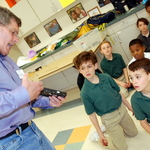 The Mechanics of Take Apart Day (Students)
Appliances, computers, cameras, and vacuum cleaners, once considered state-of–the art, were among the items dismantled by the fourth grade seeking to find what makes them work. Using screwdrivers and wrenches, the curious students discovered that many complex machines are also powered by simple machines. The annual Take Apart Day was held Friday, February 24. See more here.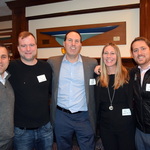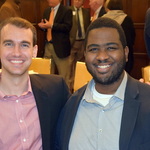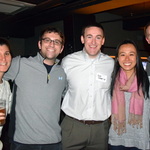 McDonogh Visits in Greenwich and NYC (Students)
McDonogh held its first regional gathering in Greenwich, CT on the evening of Wednesday, February 15. Alumni, parents, and friends gathered at the beautiful Indian Harbor Yacht Club where Headmaster Charlie Britton shared the "state of the school" and Head of the Middle School Darren Ford outlined plans for a new Finney Middle School building.
The next day, donors to the school were invited to lunch at the Harvard Club in New York City as a "thank you" for their support. Kevin Costa, Director of Innovation and Learning, described how McDonogh is teaching students to be LifeReady by providing them with an exceptional education, which will prepare them to meet the challenges of a complex, uncertain, and volatile world. That evening, alumni gathered in the heart of the "Big Apple" for more camaraderie at Madison Square Tavern. They were joined by faculty guests Laddie Levy '63 and Darren Ford.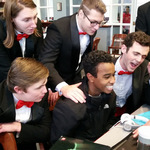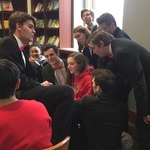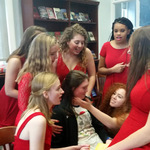 Sweet Sounds of Valentine's Day (Students)
In celebration of Valentine's Day, today, the Gentleman Songsters and the Women of Note delivered singing telegrams to unsuspecting students and faculty members. McDonogh's a cappella groups serenaded the recipients with a variety of lovely songs that surely sweetened their day.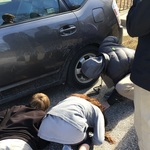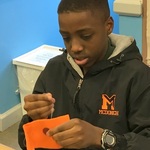 Eighth Graders Learn Life Skills (Students)
You never know when you will need certain life skills like changing a tire, sewing on a button, or writing a note of condolence. But, you can be sure the eighth grade will know what to do. Before they move on from Middle School, they will have also learned to tie knots, set a table, and use proper manners. The first of three afternoons filled with learning a dozen life ready lessons was held Friday, February 10. The series will continue in March and conclude in May.
See video coverage here.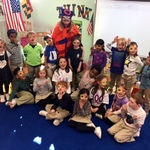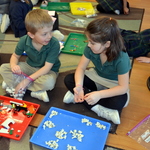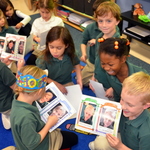 100 Days and Counting (Students)
There are hundreds of ways to celebrate the 100th day of school. Kindergartners began the morning of Thursday, February 9 with a visit from Zero the Hero who explained the power of zero, a number that makes counting by tens possible. The day continued with lots of counting fun, and Lower School students and teachers alike imagined what they will look like when they are 100 years old.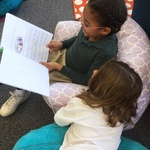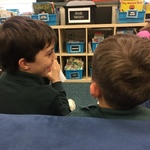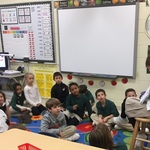 Second Graders Have the Write Stuff (Students)
The Class of 2027 recently shared their original compositions at a writing celebration entitled, "Second Grade's Gripping Fiction Stories." The authors read their works aloud to an admiring audience of first graders who were, indeed, "gripped" by what they saw and heard.
The second graders have been refining their skills in the realm of fiction by writing pieces about "small moments" in their lives, take-offs on current favorites, or tales from their imaginations. They have built on the skills and strategies learned just a year ago and were happy to give their first grade teachers a bit of the credit. Likewise, those teachers were proud of the progress their former students have made.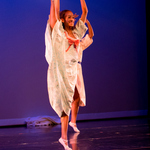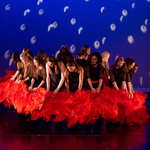 Dancin' Feet (Students)
Fifty-six dancers from the Upper School swept onto the stage of the Ceres M. Horn Theatre on January 28 and 29 to perform 17 unique dances for two appreciative audiences. The dances were created by 14 choreographers that included alumni, faculty members, and students in every grade of the Upper School.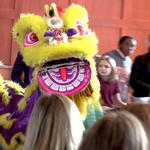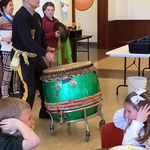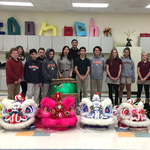 Chinese New Year Celebration (Students)
Middle and lower schoolers were treated to the excitement of a Chinese New Year celebration on Thursday, January 26. The beating of drums and the clanging of cymbals interrupted lunch periods as colorful lion dancers (middle schoolers) wove their way through the tables. The celebration marked the beginning of the Year of the Rooster. Watch the exciting celebration here.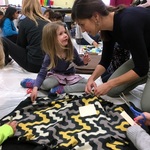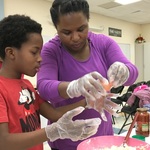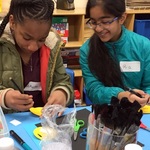 Morning of Service Honors Dr. King (Students)
Close to 200 Lower School students and their families participated in the Martin Luther King, Jr. Morning of Service on Monday, January 16. The day off was an opportunity to answer one of the slain civil rights leader's questions, "What are you doing for others?" The volunteers worked together to make craft kits for the children staying at the Ronald McDonald House, assemble sandwiches for the Corpus Christi soup kitchen, create artwork for the residents at Stella Maris, package wash kits for the recipients of Meals on Wheels, tie blankets for the animals at the ASPCA, make pans of lasagna for the elderly residents of Roland Heights Tower, and decorate cards for sick children and enlisted men and women.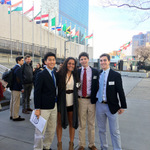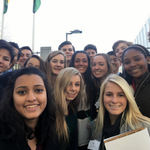 Model UN 2017 (Students)
McDonogh's 16-member Model UN delegation travelled to Columbia University in New York City for a four-day conference from January 12 to 15. During the weekend, McDonogh delegates participated on a variety of committees including the meeting of the Chinese Politburo, the Oceans Summit, and the Flight of the French Monarchs.
Contributing photographers: Ethan C. '19, Alexis S. '17, and Joanne Cho.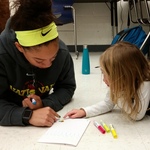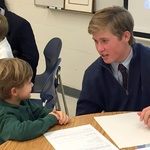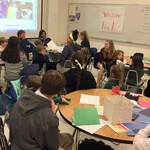 PK Meets Tenth Grade Pen Pals (Students)
In prekindergarten, everything is a teachable moment as the children learn through play. Throughout January and February, prekindergarten will "see, think, and wonder" about people, places, and things associated with the Post Office. Upon their return from winter break, they received letters in their mail boxes from pen pals across campus, including a tenth grade English class. Recently, the two groups met and wrote letters to military personnel and hospitalized children.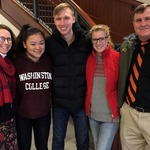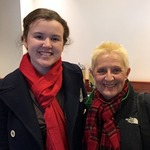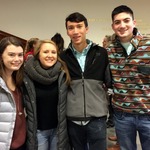 Young Alumni Visit (Students)
Young alumni from the classes of 2002-2016 were invited back to campus on Monday, January 9 for the second annual Young Alumni Open House. Guests had the opportunity to socialize with former teachers before heading off to the classrooms for visits.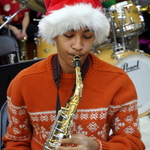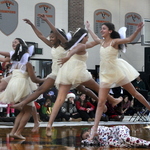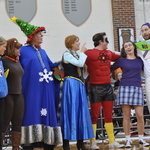 Holiday Spirit FOUND! (Students)
Oh, no! The Holiday Spirit has gone missing, but a cast of Pixar & Disney characters—Dory, Buzz Lightyear, Dug the Dog, Anna, and Mr. Incredible are on the case! Searching high and low, and helped along the way by the fabulous performances of 14 of McDonogh's instrumental, dance and choral groups, the friends eventually discover that the friendless Darla has kidnapped the Holiday Spirit out of loneliness. Dug the Dog promises to be Darla's friend and the Holiday Spirit (retired Director of Religious Studies, Character, and Service John Grega) is restored! Watch the fun here.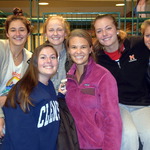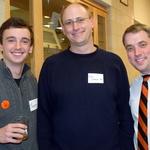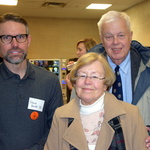 Swimming Alumni Make Splash (Students)
Alumni swimmers ranging from the classes of 1956 to 2016 made a splash at the varsity girls and boys McDonogh vs. Archbishop Spalding swim meet on Monday, December 19. After cheering McDonogh's current team to victory, alumni gathered in the pool lobby for a reception and an opportunity to catch up with each other and Coaches Scott Ward, Anne-Marie Botek '06, and Danny Russell. Coach Ward thanked the guests and shared his gratitude for the dedication of the alumni swimmers and hope that current teams continue the tradition of McDonogh's superior swimming program.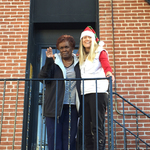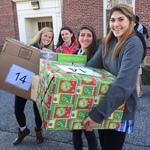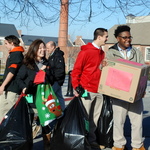 Holiday Project Delivers Joy (Students)
In a well-orchestrated effort on the morning of December 14, students brought hundreds of boxes of colorfully-wrapped toys, books, and clothes out of buildings across campus and into three large trucks destined for St. Gregory the Great Church. McDonogh parents were waiting there to help unload as the final step in the 26th annual Holiday Project. The gifts will be distributed to 131 families including 413 children. Director of Character and Service Bridget Collins is immensely grateful for the enormous community effort that makes the Holiday Project such a success each year. "I am inspired by knowing that the light of love will be shining in the homes of these families because of the compassion and generosity of the McDonogh community. Thank you for brightening the lives of so many people this holiday season."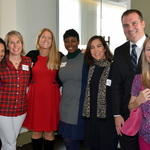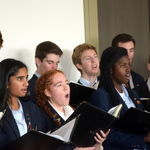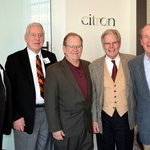 Alumni Enjoy Festive Holiday Luncheon (Students)
A record crowd of alumni gathered for the annual Orange & Black Holiday Luncheon on Wednesday, December 7 at Citron, a new restaurant in Quarry Lake, owned by McDonogh parents Susan and Charles Levine. After a performance by the Gentlemen Songsters and Women of Note, under the direction of Philip Olsen, alumni representing seven decades enjoyed holiday greetings from Headmaster Charlie Britton, who spoke about gratitude and joy. Upon their departure, guests were treated to an organic dark chocolate bar from Pure Chocolate by Jinji, a shop owned by Jinji Fraser '01.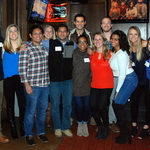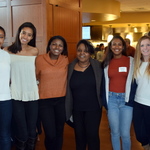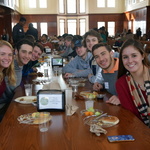 Alumni Association Hosts Thanksgiving Events (Students)
The Alumni Association provided young alumni with a bounty of opportunities to reconnect with McDonogh over Thanksgiving break. On Wednesday, November 23 older Eagle alumni (2002-2013) flocked to Federal Hill for a happy hour. The following morning, before their Thanksgiving feasts, younger young alumni and soon-to-be alumni (2013-2017) enjoyed a pancake breakfast in Paterakis Hall where Headmaster Charlie Britton, Board President Arthur Adler '78, and several faculty members served breakfast to the college-age crowd. Friday provided an opportunity to burn off calories and have some fun as former girls' soccer players rallied for their 17th consecutive alumnae game. Across campus, boys' lacrosse alumni and many current players faced off in their annual game.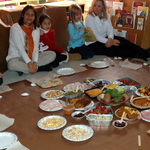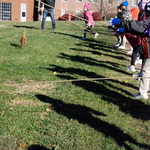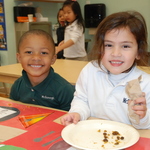 A Thanksgiving Feast of Learning (Students)
The Thanksgiving season was the perfect opportunity for the Lower School to explore Native American culture and Thanksgiving traditions. On November 21, Nancy Lewis's second grade class spoke about the Indian village they created and enjoyed a Wampanoag Feast. The next day, expert John Fishback taught first graders about the ways Native Americans used nature and animals for survival, and kindergartners enjoyed bread made from pumpkins they planted in June and harvested in October.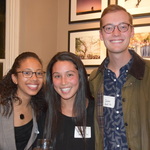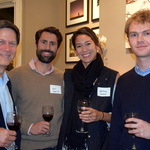 San Francisco Alumni Get Update on the Hill (Students)
Alumni living in and around the hills of San Francisco gathered for an opportunity to hear the latest news from "McDonogh on the hill" on Wednesday, November 16. Hosted by Shannon Leahy Rosenbaum '02 and Joe Rosenbaum '99, the group of more than 25 guests, ranging from the Class of 1965 to the Class of 2013, enjoyed meeting each other and catching up with faculty guests Darren Ford and Laddie Levy '63. Ford, the Head of the Middle School, provided an update on the state of the school.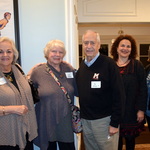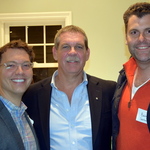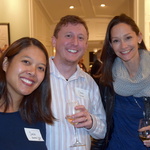 Los Angeles Alumni Gathering Attracts Crowd (Students)
Close to 30 alumni from the Los Angeles region gathered on Thursday, November 17 at the home of David '89 and Susan Robinson. The graduates, ranging from the Classes of 1959 to 2013, enjoyed getting to know each other and hearing an update on McDonogh from Darren Ford, the Head of Middle School. Laddie Levy '63 was also in attendance as a faculty guest.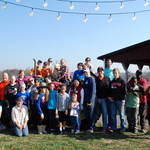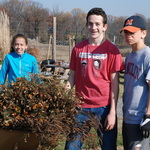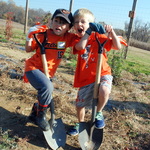 Volunteers Put Roots to Bed (Students)
It took a crew of more than 45 volunteers a little over two hours to put Roots to bed for the winter. The crew, comprised of families, faculty, alumni, and friends reported to the farm on Saturday morning, November 19 and got to work pulling up tomato plants, cutting down sunflowers, pruning apple trees, removing irrigation tubes, collecting markers, hauling debris, and doing many other chores. After working up an appetite, everyone gathered in the barn for a potluck lunch.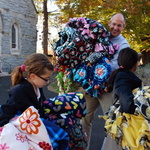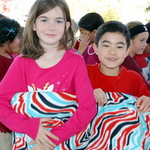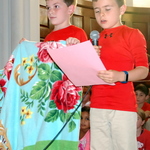 Blankets Provide Hope and Courage (Students)
The annual Lower School Hope and Courage chapel, held Friday, November 18, was the culmination of a third grade project that began with the summer reading assignment, The Shoeshine Girl by Clyde Robert Bulla. Like the girl in the story, the third grade held a shoeshine stand to raise money to buy the fleece material for their Blankets of Hope. During the chapel, students reflected on hope and courage and presented the 40 hand-tied blankets to the Red Devils, an organization that provides support to breast cancer patients. See more here.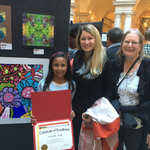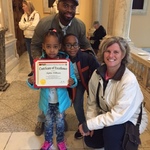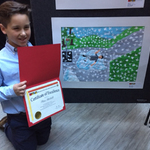 Walters Exhibit Features Work of Lower Schoolers (Students)
The work of three McDonogh Lower School students was included in an art exhibit put on by the Maryland Art Education Association (MAEA) at the Walters Art Museum from November 2-13. The exhibit featured artwork by students from across the state and included a portrait made with buttons by Sophia W. '28 and paintings by Isabella S. '25, and Finn M. '24. All three works of art were created last year.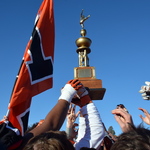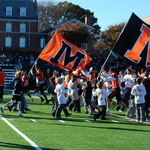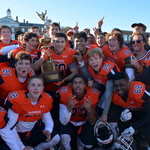 Eagle Victory in 101st Game (Students)
The conditions for the 101st McDonogh vs. Gilman football game on Saturday, November 12 were ideal. Under a clear blue sky with crisp autumn temperatures, fans from both sides came to cheer on the Eagles and the Greyhounds. At the end of the afternoon, McDonogh prevailed with a score of 42-6 and Gilman Headmaster Henry Smyth handed the Price trophy back to Headmaster Charlie Britton who then presented it to the team.
Contributing photographer: Leslie Finkelstein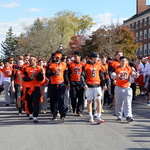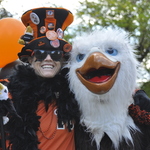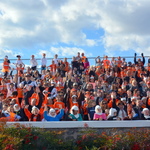 Spirit Parade and Pep Rally Excitement (Students)
The entire McDonogh community was bursting with excitement on Friday afternoon, November 11 at the annual Spirit Parade and Pep Rally. The "double self-enveloping" Spirit Parade, in which everyone marches and watches, made its way from Tagart Chapel to the John McDonogh Stadium under a brilliant blue sky. The Pep Rally featured energizing music by the Middle School Band, a high-flying routine by the cheerleaders, a synchronized performance by the Step Squad, and words of encouragement for the football team in the 101st McDonogh vs. Gilman football game. See more here.
Contributing photographer: Leslie Finkelstein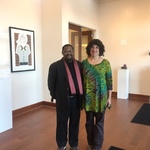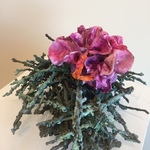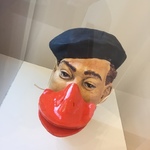 Holmes & Fall in the Tuttle Gallery (Students)
Visitors to the Tuttle Gallery were able to meet sculptor, print-maker, and multimedia artist Sam Christian Holmes and sculptor Nicole Fall at an artist reception Thursday, November 10. Both artists have strong ties to Baltimore and the Maryland Institute College of Art. Their work is infused with their cultural and personal histories and explores the theme of human relationships. The exhibition will be on display in the Tuttle Gallery through Monday, November 21.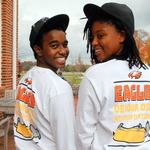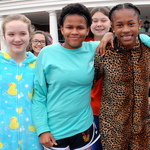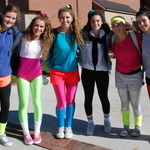 Spirit Week Fashion (Students)
You know it's Spirit Week when middle and upper schoolers come to school wearing pajamas, dressed for a luau, or wearing the iconic fashions of the 50s, 60s, 70s, and 80s. The theme dress-up days (November 7-10) were just the warm up to the school-wide Spirit Day, in advance of the McDonogh vs. Gilman football game.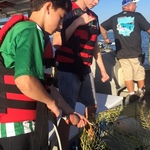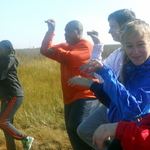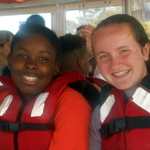 Highlights of 8th Grade Bay Trip (Students)
The eighth grade spent three days on the Eastern Shore with the Chesapeake Bay Foundation crabbing, fishing, testing water samples, and slogging through mud and muck. The annual trip, from October 17 to 19, is a highlight of Middle School.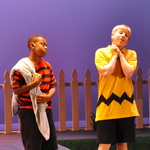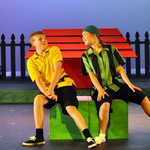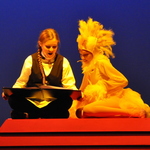 Scenes from Snoopy!!! (Students)
Scenes from the Middle School Players production of Snoopy!!!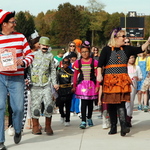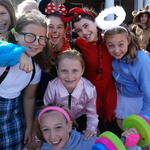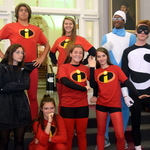 Halloween 2016 Fun (Students)
The McDonogh community went all out with their creative costumes on Halloween 2016. Anyone looking for Mr. Britton (aka Waldo) found him on the bus lot in the morning and leading the Lower School Halloween parade in the afternoon. Treat yourself to a video of the Lower School assembly and parade here.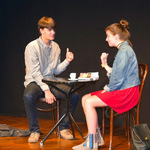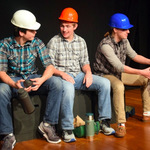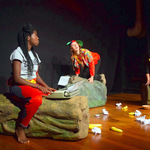 All in the Timing a Hit (Students)
The timing was perfect for the Upper School production of All in the Timing, a series of one-act plays by David Ives. Two performances on Saturday, October 29 had the audience in stitches in the production that focuses on language, wordplay, and the complications of human interaction.
Photos by Jacob R. '20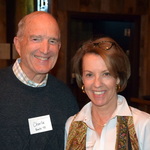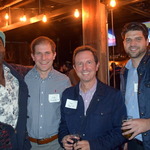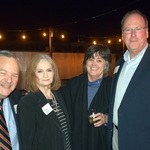 McDonogh Alumni Gather in Denver (Students)
McDonogh headed to the Mile-High City on Thursday, October 20 to host an alumni event for those living in the Denver area. Nearly 30 graduates ranging from the class of 1957 through 2015 joined Headmaster Charlie Britton and Head of Middle School Darren Ford at Tap XIV for an evening filled with memories, stories, and laughs.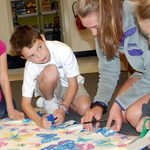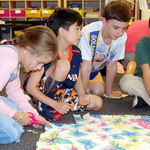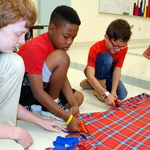 Teamwork Results in Blankets of Hope (Students)
Piles of colorful fleece fabrics were transformed into 40 cozy blankets on Friday, October 21, the third grade's Day of Hope. The eighth grade teamed up with the third grade to make the "blankets of hope," which will be donated to the Red Devils, an organization that supports breast cancer patients.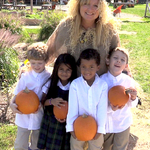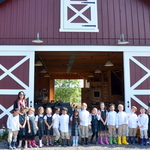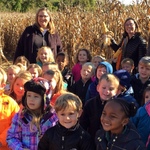 Picking Pumpkins With PK and Kindergarten (Students)
Decked out in their rain boots in case it was muddy, the kindergartners took a hayride across campus to Roots Farm on Friday, October 7. The excursion was an opportunity for them to pick the pumpkins they planted in June. After each child plucked two perfect pumpkins from the patch—one to take home and one to turn into pie—they ventured into the corn maze where they got "lost" among the stalks, which are twice their size. See the fun here.
The following Friday, the prekindergartners boarded the haywagons for their trip to Roots. After picking pumpkins, flowers, and corn, they hiked around the outside of the farm where they made lots of exciting discoveries.
Contributing photographers: Eliza Bower, Cindy Green, Sharon Hood, Leslie Zuga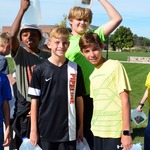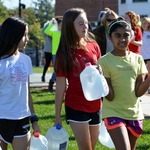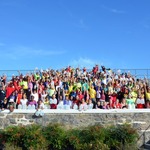 Water Walk Raises Awareness, Funds (Students)
In an effort to experience what people who do not have immediate access to clean water must do every day, McDonogh's sixth graders held a water walk on Tuesday, October 11. The students walked a one-mile loop around campus carrying one-gallon containers of water. The third and fourth grades, as well as a number of upper schoolers and faculty members joined them. The walk was a follow up to the sixth grade's "Day of Water" during which students took a cross-curricular look at the global water crisis and how it impacts communities in Uganda.
The initiative gave students a chance to connect what they are learning in the classroom to a real world issue; and the water walk provided an opportunity to do something about it. Through sponsorships, students raised enough money to purchase several rainwater collection tanks for schools in Uganda through the Ugandan Water Project.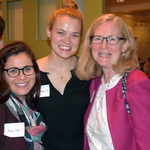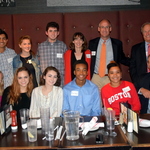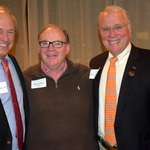 Boston Alumni Enjoy Visit From McDonogh (Students)
Headmaster Charlie Britton, his wife, Jen, and revered faculty members Libet Ottinger, Laddie Levy, and Darren Ford, traveled to "Beantown" on Tuesday, October 4 for two alumni events. First, young alumni who are currently in college in the Boston area enjoyed catching up with their former teachers over dinner. Then, all Boston-area alumni were invited to enjoy conversation and camaraderie at Henrietta's Table in Cambridge. Charlie Britton updated the group on the latest campus happenings, Laddie Levy spoke about the new Upper School schedule, and Darren Ford shared preliminary and exciting information on the transformation of Finney Building, McDonogh's Middle School.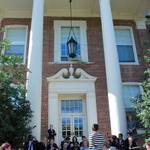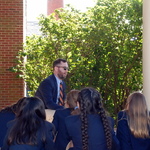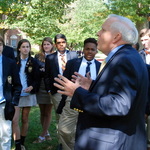 Walkabout Teaches McDonogh History (Students)
In honor of Founder's Day on Friday, October 7, the Middle School spent the afternoon on a history walkabout. The walk was an opportunity for the students to learn more about the history of McDonogh School from those who came before them. Alumni faculty and friends were stationed at nine locations across campus including Tagart Chapel, Allan Building, the John McDonogh Monument, Memorial Court, and Memorial Field House. The alumni shared a bit of history of the location as well as their own McDonogh experience.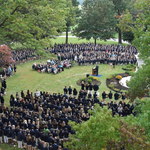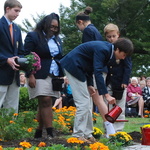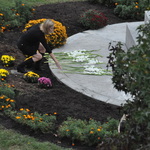 Honoring and Remembering (Students)
The entire school community gathered in silence around the John McDonogh monument for Founder's Day on Friday, October 7. The annual ceremony honors the request John McDonogh made of those who would benefit from his generosity. He asked, "That it may be permitted annually, to the children of the schools situated the nearest to my interment, to plant and water a few flowers, around my grave. This little act will…open their young hearts to gratitude and love."
In addition to the planting of mums, a flower was placed at the base of the monument for each member of the community who passed away in the past year. As each person's name was read there was a moment of silence as the bell in the tower of Tagart Memorial chapel tolled.
Contributing photography by Legacy Staff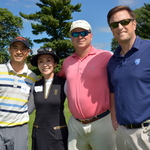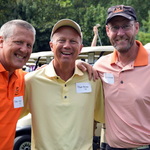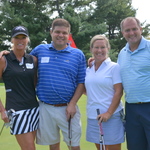 Competition and Camaraderie at Golf Classic (Students)
The 41st Annual McDonogh Golf Classic was held under blue skies and warm breezes at Woodholme Country Club on Tuesday, September 27. Players included 101 alumni, parents, and friends who hit the links for an afternoon of camaraderie and competition.
Congratulations to the winning foursomes - Flight 1: Mike Schettig P '19, Steve Thacker '82, P '15 and '19, and Scott Tilson P '19; and Flight 2: Shelley and Rick Sovero AP '12 and Jamie and Chris Swann P '28. Many thanks to the sponsors, players, and volunteers who contributed to the success of the golf tournament.
Contributing photographer: Leslie Finkelstein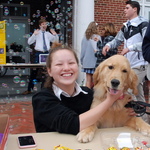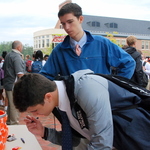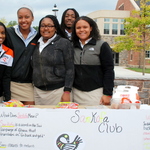 Clubs Offer Something for Everyone (Students)
McDonogh's Upper School Club Fair on Wednesday, September 28 had something for everyone. More than 70 student-led clubs offered upper schoolers the opportunity to explore diverse cultures, hobbies, and ideas. Among the new clubs this year are: Mock Trial, Wool Spinning, Art for Home, Random Acts of Kindness, and the Timmy Global Health Project. Many clubs at the fair enticed new members with everything from baked goods and candy to dogs and a goat!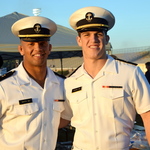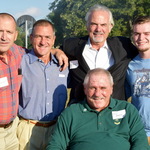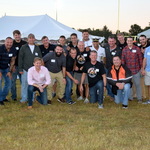 Former Wrestlers Gather for Reunion (Students)
Wrestlers from the classes of 1954 through 2020, and their families, came from near and far for a reunion before the varsity football game on Saturday, September 24. Parents manned the grill under a tent next to the stadium and coaches Pete Welch, Joe Bakewell, and Rob Smoot updated the huge crowd on today's wrestling program. Throughout the evening, the former wrestlers had a great time exchanging stories about their experiences and the camaraderie of the team.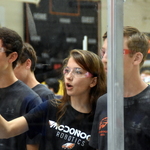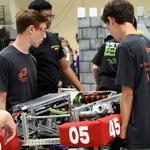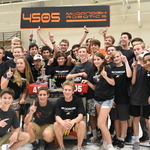 Robotics Team Earns Top Honors in Competition (Students)
Congratulations to McDonogh's Robotics Team and its alliance partners on earning first place in the 10th annual Battle O' Baltimore robotics competition. The daylong event on Saturday, September 24 was coordinated by the Baltimore Area Alliance and held at McDonogh in the Rollins-Luetkemeyer Athletic Center. After an opening ceremony featuring the Lower School Drum Corps, remarks from Headmaster Charlie Britton, and the National Anthem performed by the Gentleman Songsters and Women of Note, more than 30 teams from across the mid-Atlantic region competed in a game called "FIRST Stronghold." McDonogh (4505) also earned the "Gracious Professionalism" award, the highest honor bestowed on a team at any competition.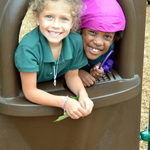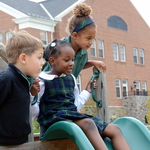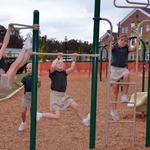 LS Playground is Tons of Fun (Students)
Hooray! The newly revamped Lower School playground officially opened for fun and games on Monday, September 26. The spacious playground, with its meandering pathway and additional grassy areas, features new swings and an exciting new climber with multiple slides, as well as old favorites including the pirate ship and the big wooden truck. See more fun here.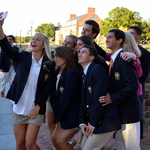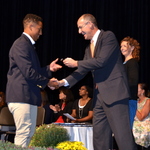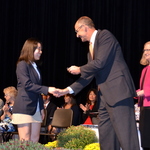 Junior Pin Celebration (Students)
The Class of 2018 officially became upperclassmen at the Junior Pin Ceremony on Sunday, September 25. Following a celebratory potluck dinner with their advisor groups in Paterakis Hall, the students headed to the Horn Theatre where family and friends awaited them. Junior Class Dean Libet Ottinger and Class President Margaret A. offered remarks, and Headmaster Charlie Britton and Head of Upper School Merritt Livermore presented each student with a gold McD lapel pin. Britton encouraged the juniors to wear their pins with pride, saying, "Tonight is a reminder that the education that you are receiving is special and that we are proud of you for your efforts and contributions to the school."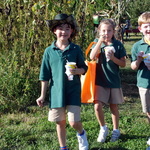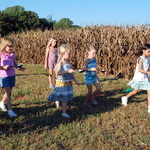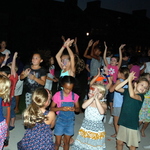 Honey of a Jam Fest a Sweet Success (Students)
Honey of a Jam Fest on Friday, September 23 was a great way to end the week. Hundreds of families made their way to Roots after school for fun and games at the farm. In addition to the mini farmer's market, families enjoyed making their own trail mix and salsa, featuring tomatoes and peppers grown only steps away. There were lots of field games for the kids as well as face painting, wool spinning, and cider pressing. Faculty musicians added to the festive spirit. Later, hundreds more gathered on the Rosenberg Campus Green for a cookout and a dance party featuring music by the Klassix.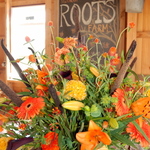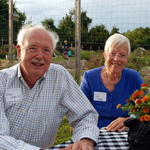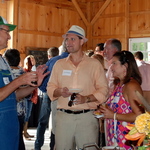 Jeans and Boots at Roots (Students)
The Signature Society reception, honoring The McDonogh Fund's most generous donors, was held at Roots Farm on Sunday, September 18. Decked out in jeans and boots, guests enjoyed a variety of appetizers featuring farm fresh ingredients. A blue grass band added to the festive atmosphere of the evening in the barn and on the farm.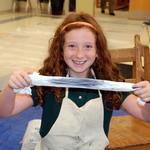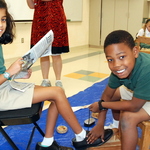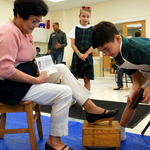 Third Grade Shoeshine Stand Shines (Students)
McDonogh's third graders dusted, polished, and buffed hundreds of shoes at their shoeshine stand, which was open for business on Thursday and Friday, September 15 and 16 in the Kelly Center. The annual project, inspired by the book "The Shoeshine Girl" by Clyde Robert Bulla and coordinated by third grade teacher Margaret Bitz, began in 2009.
Customers lined up waiting for their turn and when their shoes were clean and shiny, tipped the hard working students. The funds will be used to buy fleece fabric for blankets, which the students will make and donate to The Red Devils, an organization that supports breast cancer patients.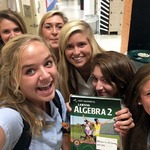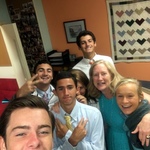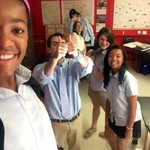 Selfies Capture Joy! (Students)
At Upper School Back-to-School Night this week, a slide show of selfies gave parents a glimpse of the joy that comes with being a McDonogh student!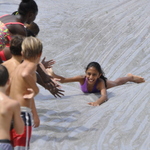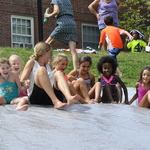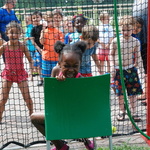 Aquapalooza 2016 Celebrates Reading (Students)
With temperatures over 90 degrees, Friday, September 9, was the perfect day for Aquapalooza 2016, the Lower School's celebration of summer reading. As a reward for collectively reading a total of 4,786 books, students in PK through fourth grade spent the afternoon slipping and sliding down McDonogh's hills, running through sprinklers, and enjoying water games. Playing in the water came naturally to the Lower School administrative team dressed as characters from the movie Finding Dory. Headmaster Charlie Britton and a number of teachers who were anxious to cool off joined in the fun. Click here to see all the action.