2014-2015 Photo Essays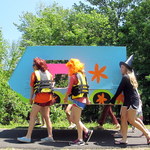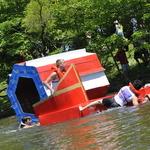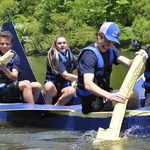 Boat Builders Put Their Crafts to the Test (Students)
The 26th Annual Cardboard Boat Race held Friday, May 22 was full of excitement and surprise. In addition to the clever concepts and brilliant engineering of the 10 cardboard boats (constructed using only industrial grade cardboard, a limited amount of adhesive, and paint) there was a "promposal" and the unexpected capsizing of the canoe carrying Headmaster Charlie Britton, former Boat Race Coordinator and current Science Teacher Rob Smoot, and Creative Director Heather McPeters. Congratulations to all the participants and to the Navy team which earned two awards for speed and the B.O.B (Best Overall Boat) award.
Contributing photographer: Paget Barranco '14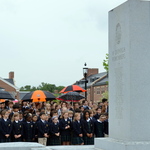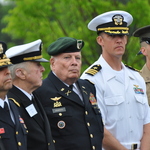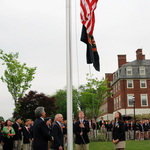 McDonogh Remembers: Memorial Court Rededicated (Students)
The entire school community gathered with reverence on May 21 for the annual Memorial Day Service and to rededicate Memorial Court. The sacred space, originally dedicated in 1946 to honor McDonogh alumni who lost their lives in World War I and II, has been refurbished to include the names of alumni who died in the Korean and Vietnam Wars. The ceremony included the raising of the flag, special remarks by Adm. Henry G. Chiles, Jr. '56, a reciting of The McDonogh Uniform poem, the ceremonial wreath laying and playing of Taps, and the singing of McDonogh's Alma Mater, written by Robert L. Lamborn '35, Headmaster from 1952 to 1973. Afterward, guests enjoyed lunch in the Aarsand 1873 Room. Throughout the day, Butch Maisel '72 displayed military artifacts from World War I through the Vietnam War in the Rogers Lobby of the Edward St. John Student Center.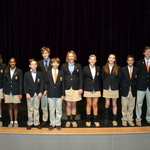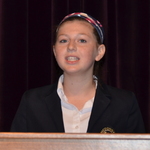 7th and 8th Grade Orators Impress (Students)
The entire Middle School gathered in the Ceres M. Horn Theatre on Friday, May 15 to hear the 10 finalists in the annual seventh and eighth grade oratory program. The students spent much of the spring semester writing their own two- to four-minute orations. Each student was evaluated on their quality of writing and their poise and expression while speaking. This year's finalists were seventh graders Caroline B., Ellie E., Charlotte M., Laya N., and Shane S. and eighth graders Lacey A., Nicholas C., Christian E., Mimi G., and Benjy S. The event was hosted by emcees Jacob R. '20 and Haylie L. '19.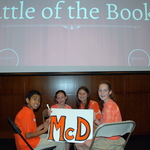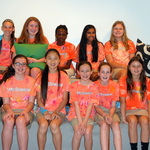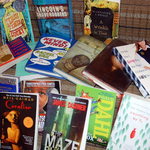 15th Annual Battle of the Books (Students)
Middle schoolers from eight area independent schools gathered in McDonogh School's Klein Lyceum on Wednesday, May 13 for the 15th Annual Battle of the Books competition. Teams representing grades five to eight demonstrated their knowledge of designated books read outside of the classroom. English teacher Nancy McFadden, a former librarian, brought the Battle of the Books competition to McDonogh in 2000.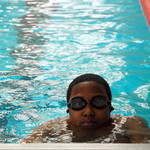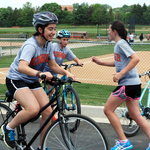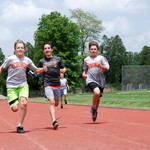 Sixth Grade Puts the Try in Triathlon (Students)
After weeks of training, the sixth grade participated in the annual triathlon on Monday, May 11. The event, which encourages students to challenge themselves, began in the pool. After swimming eight lengths, the athletes transitioned to their waiting bikes and rode to Mr. Britton's house. Then, they used their last bit of energy to complete the running portion of the event around the fields and onto the track where they were cheered on by parents, faculty, and classmates.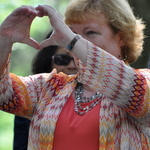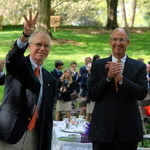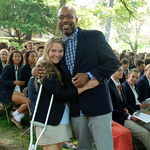 Headmaster's Day Celebrates, Honors (Students)
Headmaster's Day was a celebration of dedication and academic achievement. On Friday, May 8 the school community gathered on Childs Memorial Terrace to recognize 25 years of service, the retirement of five longtime and much-loved faculty members, and the presentation of more than 50 academic awards. Students taking AP exams during the morning celebration received their awards later in the day.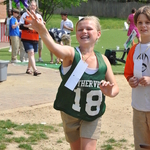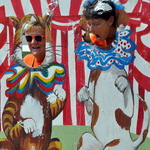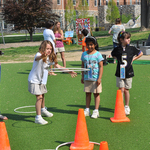 Lucky Number 7 Math Carnival (Students)
The night before the seventh annual Lower School Math Carnival on Wednesday, May 6, one first-grader wasn't sure he'd be able to sleep because he was so excited about the event. At 6:05 a.m. the next morning, his mother reports, he was awake and raring to go. With indoor and outdoor carnival games designed to test their arithmetic skills; snacks of popcorn, funnel cake, cotton candy, and snowballs; and the opportunity to show off their numerical duds, it's easy to see why the day is so highly anticipated. More than 80 parent volunteers helped math specialist Regina Karwacki make the event a success and they had a great time as well!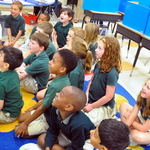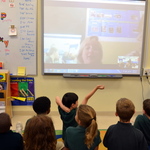 Big Surprise for First Graders (Students)
When Mary Catherine Irving's first graders Skyped with their pen pals in Argentina on Monday, May 4, they received a big surprise...Mrs. Irving was waving to them on the screen! She is in Argentina teaching classes and meeting with the Prime Minister of Education in Buenos Aires to discuss plans to expand the pen pal program with more schools in America. Mrs. Irving's classes have been corresponding with students in Argentina for the past five years. Muy bien, Senora Irving!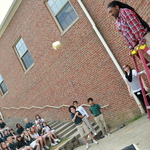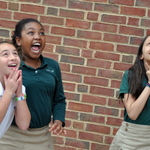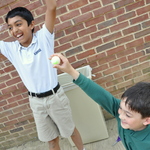 Cracking Up Over Egg Drop (Students)
The fourth grade wrapped up their problem-solving unit on Thursday, April 30 with an Egg Drop. Earlier in the month, they were presented with the challenge to construct a container to safely hold a raw egg, using materials only found at home or school. The egg had to survive being tossed in the air from atop a ladder over the cement ground below. Students couldn't wait to open their containers to see if their eggs survived the fall. In the end, some containers weren't all they were cracked up to be!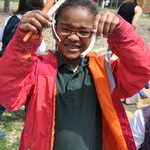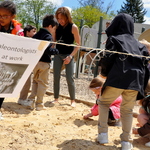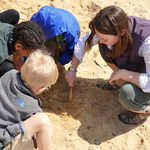 Dinosaur Bones Discovered on Campus (Students)
Junior paleontologists from Sharon Hood's kindergarten science classes went on an archeological dig this week (in the sandbox) and discovered a cache of dinosaur bones. McDonogh alumna Mary Brill '10, who is an actual paleontologist, met with the students at the dig site April 27 – 30 to explain how to carefully search for fossils and other aspects of her job. The kids really dug the experience!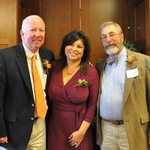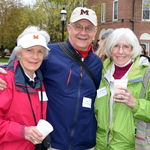 Reunion Weekend Saturday and Sunday (Students)
When Reunion Weekend festivities continued on Saturday, April 25, the campus was again bustling with activity. The day began with the presentation of the Alumni Association's Distinguished Service Award. Recipients of the 2015 award were: Aida Gamerman, former McDonogh Parents Association President; Barry Rollins '74, Director of Planned Giving; and Marty Sataloff, Athletic Trainer. A Cavalry and Riding Open House was held in the barn, and walking and bus tours showcased the other areas of campus. Although it didn't feel like crab-eating weather, hundreds of alumni and their families turned out for the Family Crab Feast and Picnic on the Rollins Quadrangle. Many also took the opportunity of being on campus to explore the Archives. Class reunions were held off campus on Saturday evening, and the Gospel Choir held a concert on Sunday evening.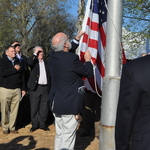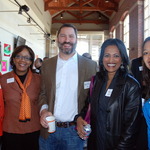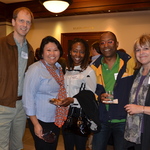 Reunion Weekend 2015 Friday Events (Students)
McDonogh alumni began arriving on campus mid-morning on Friday, April 24 for the first full day of Reunion Weekend activities. They joined the Upper School for an alumni panel discussion; had lunch in the Aarsand 1873 Room where Headmaster Charlie Britton gave a "state-of-the-school" address; enjoyed a presentation by Jon Aaron '72 called McDonogh Remembers; and took campus tours. After school, few daring members of the boys tennis team took on Pam Shriver '79 and other alumni legends in a spirited tennis match. After a Memorial Service in Tagart Chapel, a Flag Retreat Ceremony (complete with the firing of a cannon) was held on the Senior Quad. The day ended with an Alumni Cocktail Party in the Edward St. John Student Center.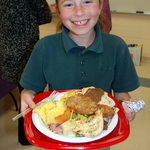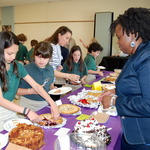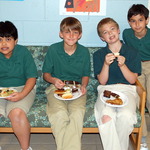 Discovering Heritage Through Food (Students)
The fourth grade, their parents, and even some grandparents enjoyed an international luncheon buffet as part of their annual Heritage Day on Friday April 24. Parents provided samples of foods that represent the myriad of cultures in the McDonogh community. The students were eager to sample the many different options and to discover new tastes from near and far.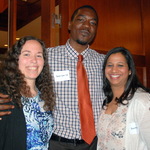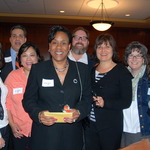 Eight Inducted Into Hall of Fame (Students)
McDonogh's Athletic Hall of Fame Induction ceremony was the first of many events held over Reunion Weekend 2015. Seven former McDonogh athletes and one coach were inducted into the Hall of Fame on Thursday, April 23.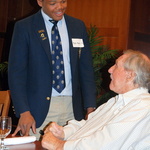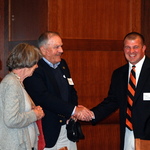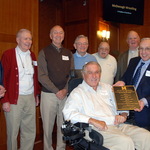 Seven Decades of Wrestlers Celebrate Streak (Students)
McDonogh wrestlers from seven decades gathered in the Aarsand 1873 Room for a reunion luncheon on Thursday, April 23. The occasion marked the 60th anniversary of the end of the infamous 47-1 winning streak earned between 1950 and 1955. Current members of the wrestling team enjoyed swapping stories (and weights) with the wrestling alumni. Among the guests were three captains from the winning streak: Jim Turner '50, Butch Schwab '52 and Irv Naylor '54.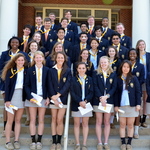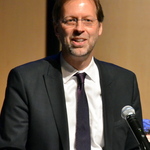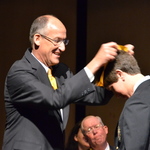 Cum Laude Society Welcomes New Members (Students)
McDonogh School's Cum Laude Society welcomed 30 new members from the Classes of 2014 and 2015 at an induction ceremony on April 22. The keynote speaker, Dr. Daniel Porterfield, President of Franklin & Marshall College, emphasized "the value of striving for integrity in everything we say and do, in how we carry ourselves, always." The national honor society, which recognizes academic achievement, is modeled after the Phi Beta Kappa collegiate honor society. One of 18 Maryland schools with a Cum Laude chapter, McDonogh has been a member since 1955.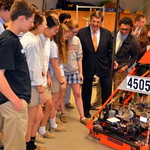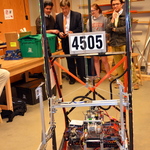 Robotics Team Introduces Congressman to Romulus (Students)
Congressman Dutch Ruppersberger, a believer in getting young people excited about STEM industries, stopped by campus on April 20 to meet McDonogh's Robotics Team and their recycle bin-stacking robot, Romulus. The students explained that in the process of building Romulus they learned a lot about mechanical and electrical engineering, computer science, computer-aided design, public relations, business, mentoring, art, construction, and teamwork. Congressman Ruppersberger even took a turn operating the robot!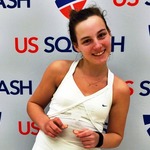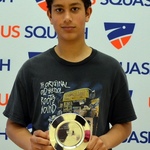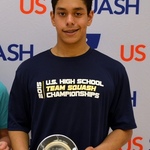 Squash Players Soar at Tournament (Students)
Five McDonogh squash players faced tough competition in the U.S. Junior Silver Squash Championships held at the Meadow Mill Athletic Club over the weekend of April 19 and 20. Many of the matches required five games to determine the winner. Congratulations to Ben K. '18 who placed 4th in Boys U17, Darden G. '18 who won the Girls U17 consolation match and to seventh grader Rohan K. who placed 4th in the U15 division. Additionally, Eleonore E. '16 earned a spot on the U.S. Junior Team. She will represent the United States in the Junior World Championships this summer in the Netherlands.
Contributing photographers: Dale Walker and US Squash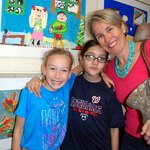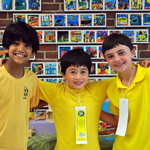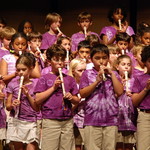 Adventure With The Arts: A Colorful Day (Students)
The Lower School was a rainbow of color on Friday, April 17 as students and their families celebrated Adventure With the Arts. Elderkin Hall was transformed into a museum and students enjoyed the opportunity to showcase their own work and to appreciate the talents of children in other grades. Musical performances included songs and a variety of instruments.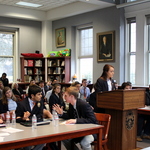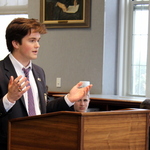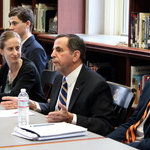 Mock Supreme Court in Session (Students)
The atmosphere in the Upper School library was electric on April 9 as students in Jeff Sanborn's AP U.S. Government class took on the roles of lawyers and justices in a Mock Supreme Court trial to decide if the messages and symbols on state-issued specialty license plates constitute government speech. The Honorable Fred Smalkin '64, retired Chief Judge of the U.S. District Court for the District of Maryland, presided over the trial. Lawyers presented their arguments and had to think quickly on their feet as the Chief Judge and justices challenged their positions. Natalie Ram, a professor at The University of Baltimore School of Law, also participated on the panel and peppered the young lawyers with intense questions to give them a realistic courtroom experience.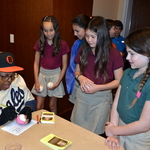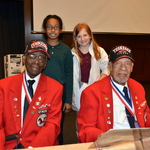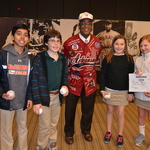 A Special Day for Fifth Graders (Students)
Fifth graders recently enjoyed a visit and Q & A session in the Klein Lyceum with Tuskegee Airmen Cyril Byron and Lemeul Lewie, Negro League baseball players Luke Atkinson and Eddie Banks, Geraldine Day, the widow of Baseball Hall of Famer Leon Day, as well as others associated with the Herbert V. Simmons Museum of Negro League Baseball. Loaded with stories and knowledge (and signed baseballs, bats, and trading cards) from the visitors, the students are now writing research reports on Negro League players.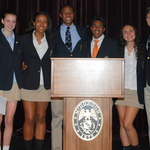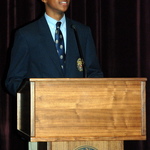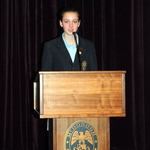 Oratory Finalists Address Timely Topics (Students)
The 35th Annual Sophomore Oratory Program on Monday, March 30, hosted by Master of Ceremonies Mohit P., featured speeches by five finalists. Abbey B. spoke on the topic of abstinence, Ryan J. addressed racial profiling in law enforcement, MaKayla L. addressed immigration, Annalise M. spoke on sexual harassment in the military, and Walker P. gave a tongue-in-cheek talk on reinstating DOMA. The winner and runner up will be announced later this spring.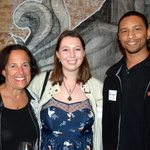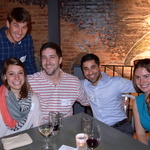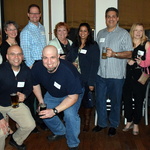 Eagle Alumni Gather in Federal Hill (Students)
A record crowd of McDonogh alumni gathered for the Baltimore Alumni Happy Hour on Thursday, March 26 at Hersh's, a Federal Hill restaurant owned by siblings Josh '96 and Stephanie '92 Hershkovitz. Cadets and Eagles from all decades joined Headmaster Charlie Britton and many beloved faculty members--both current and retired--for pizza and drinks, swapping stories and reminiscing about their years on the hill.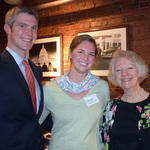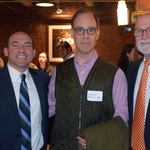 Turnout High at D.C. Alumni Event (Students)
Alumni spanning eight decades attended the regional Washington, D.C. event at District ChopHouse on Thursday, March 12. Veteran faculty members Marilyn Boyle, Noreen Lidston, Bob Mahon, and Ceil Millar, who collectively have served McDonogh for 142 years, joined Headmaster Charlie Britton at the reception. The D.C. Regional Chapter of the Alumni Association was officially launched with Lisa Feroli '08 serving as chair. All those interested in helping organize the chapter should contact Jen Little at jlittle@mcdonogh.org.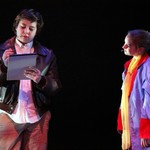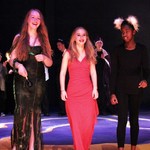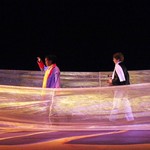 Big Praise For Little Prince (Students)
An early March snowstorm could not prevent the Middle School from performing The Little Prince, a drama based on the book by Antoine de Saint-Exupéry. Over the weekend of March 7 and 8, the ensemble cast expertly told the tale of what it means to truly care for someone, and how to see what's unseen. The complex lead roles of the Aviator and The Little Prince were played by different actors in Acts I and II and Upper School students served as the tech crew.
Photography by Carrie Pirie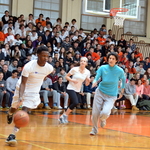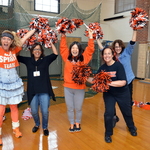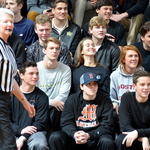 Faculty/Student March Madness (Students)
The stands were packed for the fifth annual faculty-student basketball game on March 11, and fans were treated to a friendly yet competitive match-up that was quite comical at times! Both teams traded leads throughout the game, but the faculty came out on top this year. Other hightlights included the National Anthem sung by students, exciting play-by-play reports, enthusiastic cheerleaders, and a halftime shooting contest.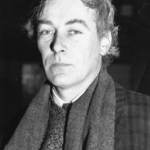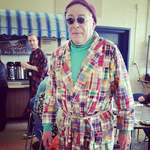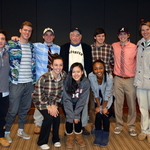 Well Done, Mr. Van (Students)
"So good he couldn't be better," proclaimed the poster in bold red type. Turning John Van Meter's famous expression on its head, his English Department colleagues could not have chosen a better way to describe their friend. After 42 years at McDonogh, John Van Meter taught his final class on Friday, February 27. The images below show Mr. Van throughout the years (and fashions!) and end with photos of his final speech class, where surprise guest Howard Klein '76 recited the selection from Edgar Lee Masters's Spoon River Anthology that he learned as one of Mr. Van's first students. When class was dismissed, students, faculty, and staff gathered to offer farewells and hugs.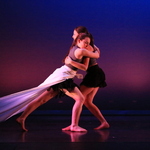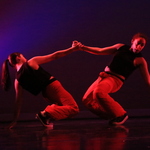 Bravo for McDonogh Dances 2015 (Students)
The adage, "the show must go on" guided the Upper School Dance Ensemble through multiple snow days, which interrupted rehearsals and forced the postponement of the scheduled performance dates of McDonogh Dances 2015. But the group adjusted and put on a spectacular show in the Horn Theatre on Monday and Tuesday, February 23 and 24. The show featured an eclectic mix of ballet, tap, jazz, hip hop, and musical theatre dance numbers, many of which were choreographed by students and alumni.
Photos by Irvin Simon Photographers.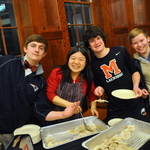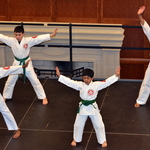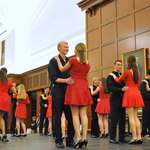 Traditions Shared at Multicultural Night (Students)
Multicultural Night 2015 on Friday, February 27 featured a bounty of international foods; music, dance, demonstrations, and stories from around the world; and camaraderie among families from all three divisions as they shared their cultural traditions. Enjoy performances by McDonogh's talented students here.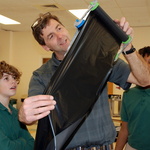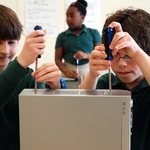 Take Apart Day Reveals What's Inside (Students)
What's inside an old fax machine, vacuum cleaner, printer, or toaster oven? The fourth grade can tell you. There are motors, fans, wires, and lots of other cool looking things, which they discovered on Take Apart Day, Friday, February 27. The opportunity to deconstruct small electronics, household devices, and everyday gadgets, came at the end of their science unit on simple machines. Next, the students will use some of the components to create their own machines. Watch the students discover the simple machines inside the complex machines here.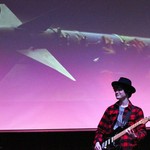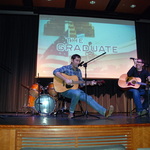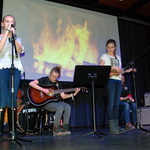 All's Well (Well, Well) (Students)
The Middle School Rock Shop bands put on a lively show in the Klein Lyceum on the evening of Friday, February 20 at the 9th Annual Well, Well, Well Concert. The show, which featured music from the movies, raised significant funds for the Ugandan Water Project and for Haiti Relief, two Middle School outreach projects.
Contributing photographers: Elizabeth Irvine and Carrie Pirie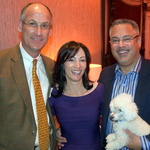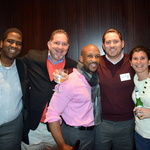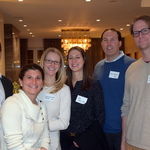 McDonogh Takes the Chill Out of NYC (Students)
Despite the frigid temperatures outside, the atmosphere inside was warm and inviting at the two McDonogh alumni events held in New York City on Thursday, February 19. Members of the McDonogh community joined Headmaster Charlie Britton for lunch at the Harvard Club where Board of Trustees member Adam Brooks '89 updated the group on recent initiatives at the school. Britton followed with comments on the state-of-the-school, and alumni were given the opportunity to speak about their experiences while students. Faculty guests Dave Harley, Mickey Deegan, and Dom Damico were on hand and shared memories and laughs with their former students. Later that evening, David '82 and Hope Rothschild hosted an alumni reception in their home on the Upper East Side complete with a young alumni rendition of the Founder's Day song.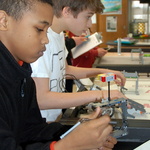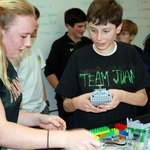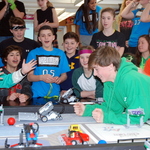 8th Grade Robotics Teaches Programming, Teamwork (Students)
On Thursday, February 19, teams of eighth grade students, who have spent the winter term learning to program robots, put their knowledge to the test in a competition based on a FIRST Lego League (FLL) challenge called Food Factor. The robotics course teaches basic programming and the FLL's core values of teamwork, cooperation, and collaboration.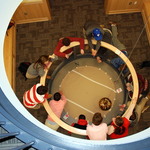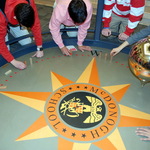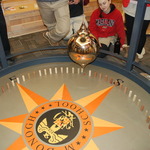 Physics Students Experiment With Pendulum (Students)
After measuring period, acceleration, and forces on the pendulum in The Naylor Building, AP Physics students used the information to calculate its length and the gravity at McDonogh. Then, armed with data, the group measured and calculated where to put small blocks that would be knocked down at regular intervals by the pendulum. Finally, on Thursday, February 12 the students positioned the blocks and waited with anticipation for the pendulum to knock them down one-at-a-time. The students estimated it would take until late Saturday evening for all the blocks to topple.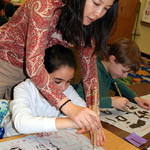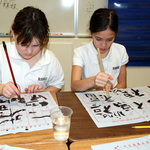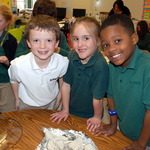 Lower School Prepares for Chinese New Year (Students)
In preparation for the upcoming Chinese New Year, Lower School Chinese teacher Fangfang Ma shared elements of her culture with her students on Wednesday, February 11. She taught her third graders to use calligraphy to write Chinese words in celebration of the new year; and she shared the tradition of making dumplings with her second grade students. The Lower School will celebrate the New Year on February 19 by wearing red.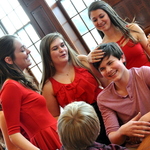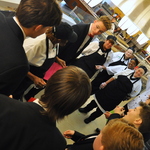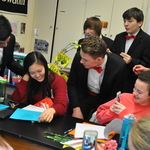 Singing Telegrams Deliver Love (Students)
The Gentleman Songsters and the Women of Note serenaded classmates, teachers, and staff on February 12 as part of the Love Week festivities.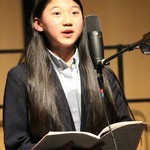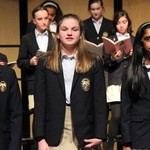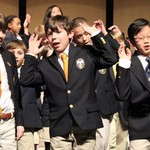 OnStage Performance Dazzles (Students)
After two weather-related cancellations, on Wednesday January 28, the McDonogh Middle School OnStage Classes and McDonogh Singers performed a showcase of songs from Broadway's past and present. The showcase, conducted by OnStage director Suzanne Eldridge highlighted the work of students from grades 5-8. The goal of OnStage is to give students the opportunity to build confidence in the performing arts and beyond. See the concert video here. Photos by: Carrie Pirie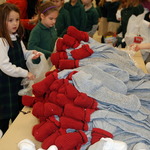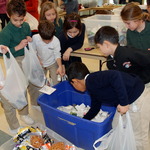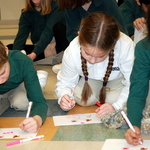 First Grade Labor of Love for Homeless (Students)
McDonogh's first graders spent the morning of Tuesday, February 10 assembling bags filled with warm gloves and socks, snacks, and toiletries for Baltimore's homeless. The bags, which will be distributed to the needy over Valentine's Day weekend, each also included a handwritten card. The children collected sample size shampoo and soap from members of the McDonogh community and did odd jobs to earn money to purchase the socks, gloves, and other items.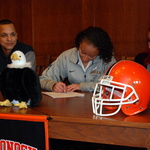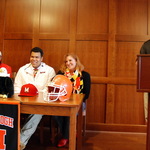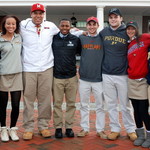 Seniors Sign Letters of Intent (Students)
Congratulations to the eight McDonogh student athletes who, on Wednesday, February 4 signed their official letters of intent to play football and soccer in college.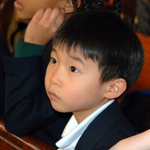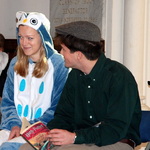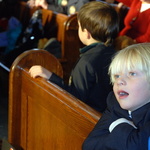 Honor Council Participates in LS Chapel on Kindness (Students)
As part of their mission to educate the school community about points on McDonogh's Character Compass, members of the Upper School Honor Council participated in the Lower School February Chapel, which focused on kindness and compassion. The Upper School students acted out the story A Sick Day for Amos McGee by Philip Stead, which not only illustrated the theme of kindness and compassion, but also delighted the children.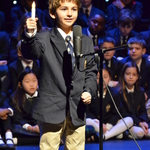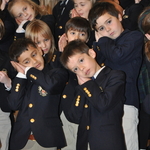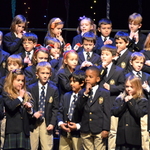 Celebrate! (Students)
The Lower School Celebrate performances for parents on Friday, December 19 were a perfect way to start the holiday break. The day began in the Chapel with the kindergarten and prefirst singing and moving to popular holiday songs and enjoying a delightful story about The Smallest Gift of the Holidays. Next, in the Horn Theatre, first and second grades celebrated the traditions and love of the season; and finally the third and fourth grades shared their musical talent on their recorders and enjoyed a touching reading of If I Had a Candle.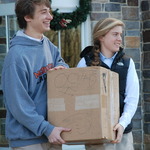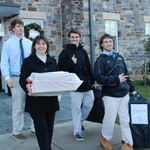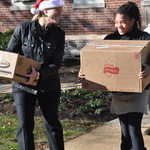 Holiday Project is a Wrap (Students)
Students poured out of buildings across campus carrying boxes and bags overflowing with brightly wrapped gifts on Wednesday, December 17—the delivery day for the annual Holiday Project. Then, they loaded them into waiting cars, trucks, and vans for delivery to St. Gregory the Great Church where they will be distributed to nearly 160 Baltimore families. The McDonogh community came together in support of the Holiday Project by purchasing books, toys, and clothing and contributing funds for Giant Food Gift Cards. The school-wide effort, now in its 24th year was coordinated by Director of Religious Studies, Character, and Service Bridget Collins who notes that based on their experience at McDonogh, several alumni have started similar Holiday Projects.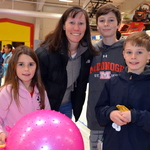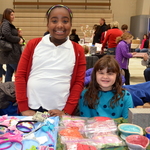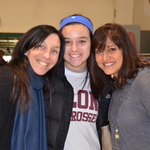 Holiday Bazaar: A Seasonal Favorite (Students)
Thanks to all of the volunteers and vendors who spread good cheer at the 2014 Holiday Bazaar on Saturday, December 13. The crowd enjoyed shopping, games, and delicious treats at the all-day event in the Rollins-Luetkemeyer Athletic Center.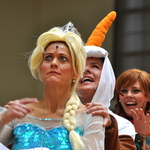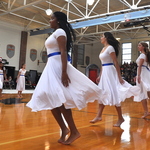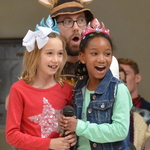 All-School Holiday Assembly (Students)
The weather may be chilly outside, but there was much warmth to be found at the annual Holiday Assembly on Friday, December 12. This year's program featured 18 performances from McDonogh's choral, dance, and instrumental ensembles while Olaf, Sven and Anna encouraged Elsa to trust her heart and emerge from her Frozen life.
Enjoy the performances here.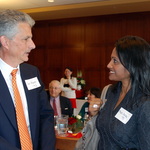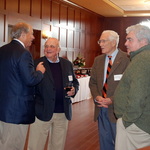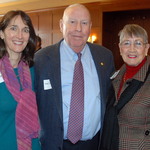 Alumni Enjoy Holiday Luncheon (Students)
A crowd of more than 70 alumni and guests ranging from the Classes of 1948 to 2013 attended the Alumni Association's annual Orange and Black Holiday Luncheon on Wednesday, December 10. A highlight of the event, held in the Aarsand 1873 Room in the Edward St. John Student Center, was a talk by Middle School English teacher Jon Aaron '72. Aaron based his "lesson," McDonogh Remembers, on the poem The McDonogh Uniform by Eustace Glascock Class of 1879.
Click here to see Jon's presentation McDonogh Remembers."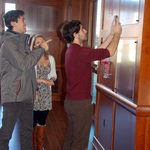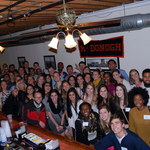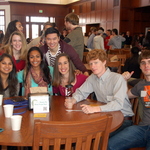 Thanksgiving Homecoming for Alumni (Students)
Over the 2014 Thanksgiving break, McDonogh's Alumni Association hosted a variety of events for graduates. On Wednesday evening, a happy hour for older young alumni (2000-2011) was held in Federal Hill. On Thursday morning, younger young alumni and soon-to-be alumni (2011-2015) enjoyed a pancake breakfast in Paterakis Hall where Headmaster Charlie Britton, Board President Arthur Adler '78, and several faculty members served breakfast to the college-age crowd. On Friday morning, former girls' soccer players rallied for their 15th consecutive alumnae game, and boys' lacrosse alumni burned up some Thanksgiving calories in a seriously fun game along with many current players.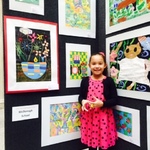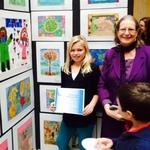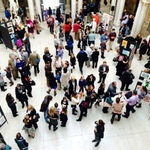 Student Art on Display at Walters (Students)
Twenty-six pieces of art created by McDonogh Lower School students are being featured in an exhibit at the Walters Art Museum through Saturday, December 13. Joan Newcomer, McDonogh's Director of Lower School Visual Arts, coordinated the display, which includes more than 180 works by lower schoolers from 15 different AIMS (Association of Independent Maryland Schools) schools. Kevin Costa, Director of Fine and Performing Arts, served as the speaker during the Gallery Reception held for the artists and their families on Sunday, November 23.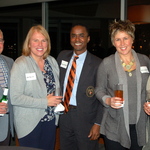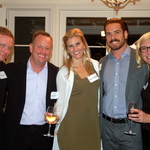 McDonogh Visits West Coast Alumni (Alumni)
McDonogh caught up with alumni on the West Coast at three regional gatherings and on a few stops in between. The first event hosted by Richard Mitchell '84 was in Seattle on Monday, November 17. The following day, Eric White '04 hosted the Bay Area gathering for alumni in the San Francisco area; and on Thursday, November 20, Susan and Dave '89 Robinson hosted the Los Angeles event. Alumni spanning 1958 through 2010 attended the parties and caught up with Headmaster Charlie Britton and faculty members Darren Ford and Ellee and Rick Thompson. The California gatherings were the official launch events for the Bay Area and Los Angeles Chapters of the Alumni Association. If you are interested in serving on the planning committee for future events, please contact Jen Little at jlittle@mcdonogh.org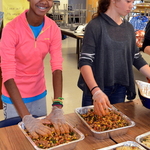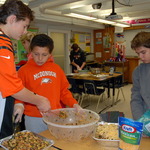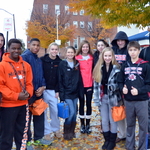 Middle School Launches Service Effort (Students)
The eighth grade launched a yearlong effort to help the needy in our community during the week of November 17. After making taco casseroles and packaging cookies in their classrooms, they delivered them to: My Brother's Keeper, Paul's Place, the Helping Up Mission, Our Daily Bread, the Franciscan Center, and St. Paul's Church of Christ in Westminster. The extra helping hands were welcome at each outreach agency where the students pitched in serving and cleaning up from the meal, as well as sorting clothes for distribution.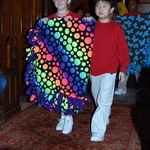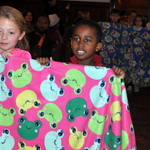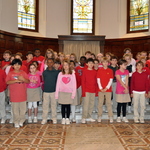 Third Grade Inspires Hope (Students)
Over the summer, third graders read the book "The Shoeshine Girl." Inspired by the story, in September they operated a shoeshine stand and raised more than $1,000 in donations. In October, the group of 68 students worked with ninth graders to make fleece blankets with material purchased with the proceeds from the shoeshine stand; and on Monday, November 17 the third grade donated the nearly 40 "Blankets of Hope" to the Red Devils, a cancer support group. One special blanket was presented to Barry Rollins '74, who works in McDonogh's Development Office, for his wife who is battling cancer. Additionally, a $300 contribution was made to the Huntington's Disease Society of America in honor of Mick and JP McMillan.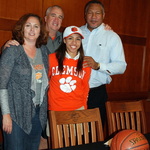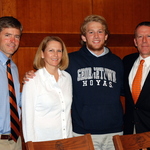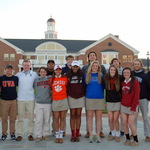 Fall 2014 NCAA Signings (Students)
At a ceremony on Wednesday, November 12, sixteen senior student athletes signed their official letters of intent to compete on the college level in basketball, wrestling, and lacrosse.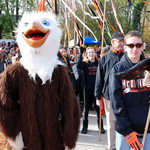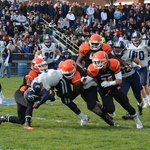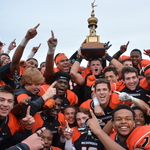 2014 McDonogh-Gilman Game (Students)
The 99th McDonogh v. Giman rivalry football game began with hundreds of Eagle fans parading to the field. Both teams had the crowd on the edge of their seats when the game went into overtime. McDonogh pulled off the win and their supporters stormed the field with delight at McDonogh's second consecutive win. This year they share the MIAA "A" confernce title with Gilman.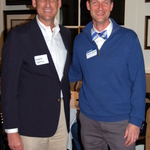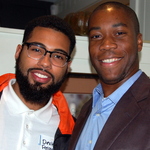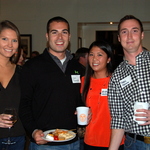 Alumni Cheer on Eagles (Students)
McDonogh alumni broke out their orange and black for a weekend of cheer surrounding the 99th McDonogh-Gilman football game. Festivities started at the inaugural McDonogh-Gilman joint alumni happy hour at Mt. Washington Tavern on Friday night, November 7. Good sportsmanship prevailed, and the spirit of the healthy rivalry was evident in remarks by Gilman's Headmaster Henry Smyth and McDonogh's Headmaster Charlie Britton. The following day, after the heart-pounding race to the victory when the Eagles beat the Greyhounds in overtime, alumni celebrated the win at Ryan's Daughter in Belvedere Square.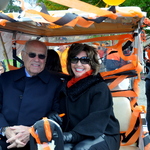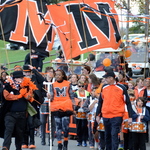 Sensational Spirit Parade (Students)
McDonogh's Spirit Parade on Friday, November 7, the day before the 99th football game against Gilman, was a star-studded, orange and black-wearing, kazoo-humming event. Retired parade marshal Dave Harley joined Kevin Costa for his inaugural parade as the leader; and Henry Rosenberg, Jr. '48 and his wife Dot were the special guests who rode in the first golf cart. A 50-piece Middle School marching band added to the festive atmosphere. Following the parade and a pep rally, girls from the junior class took on the seniors in a friendly game of "powder puff" football. Watch all the fun here.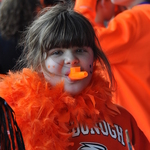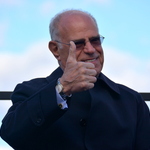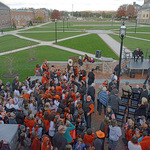 Campus Hums With Excitement at Dedication of Green (Students)
On Friday, November 7, McDonogh's campus was humming with excitement as the community celebrated the dedication of the Rosenberg Campus Green, the link that the joins the major pieces of McDonogh's campus master plan.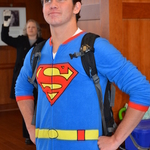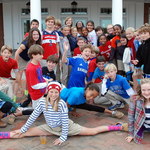 Student Outfits Reflect Spirit Week Themes (Students)
In the spirit of Spirit Week, each day beginning Monday, November 3, Middle and Upper School students dressed according to a variety of themes. There was a patriotic day, a salad dressing day (Caesar, Thousand Island, French, and Ranch) and everyone's favorite: pajama day. Additionally, the Middle School marching band got the McDonogh community "jazzed" for the annual Spirit Parade on Friday.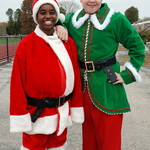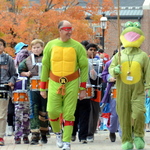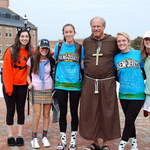 Festive and Frightening Halloween (Students)
McDonogh was filled with some scary-good costumes on Halloween. From clever to cute and frightening to festive, students, faculty, and staff dressed up for the occasion. The fun began when the buses pulled up and continued through the Lower School costume parade.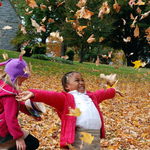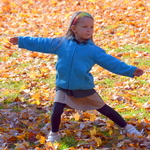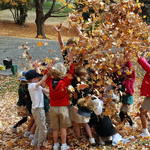 Dancing with Falling Leaves (Students)
There's nothing like the joy of playing in the autumn leaves. During the last week of October when the trees around Childs Memorial Terrace were at their peak, the students in kindergarten, prefirst, and first grade spent their Creative Movement class, with teacher Kara Zimmerman, dancing in the colorful leaves. Classical background music was punctuated by giggles and shrieks of delight as the children jumped, twisted, and twirled through piles of leaves they gathered.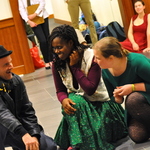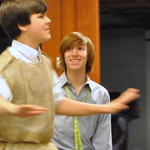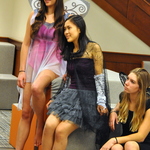 A Midsummer Night's Dream (Students)
Scenes from the traveling production of A Midsummer Night's Dream presented by the Chesapeake Shakespeare Company and the McDonogh Theatre Lab, November 1 and 2.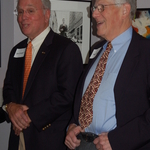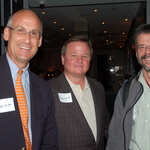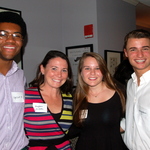 Evening of Camaraderie With Boston Alumni (Students)
Members of the McDonogh community gathered at The Hawthorne in Boston for camaraderie and conversation on Wednesday, October 29. Guests were treated to remarks by Headmaster Charlie Britton, a partial recitation of The McDonogh Uniform by alumnus Dave Livingston '61, an unrehearsed but impeccable rendition of The Dedication Hymn by former Gentleman Songsters Vibav Mouli '12 and Sydney Mukasa '14, and quality time with veteran faculty member Libet Ottinger. Doug Lane '78 officially launched the Boston Regional Chapter of the McDonogh Alumni Association. All those interested in serving on the planning committee should contact Jen Little at jlittle@mcdonogh.org.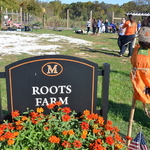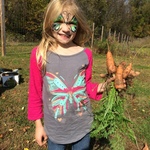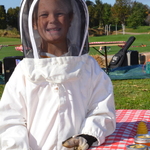 Fun and Fruitful Harvest Day (Students)
A good time was had by all at the Fall Harvest Day at Roots Farm on Saturday, October 18. The event, sponsored by the Roots Farm and the McDonogh Parents Association, included fun games, face painting, pumpkin and potato picking, and live music by the Middle School Rock Shop band. Families sampled Sage Dining's fare featuring sugar pumpkins and McDonogh honey. Best of all, the McDonogh community collected non-perishable goods for the Maryland Food Bank, and proceeds from the sale of McDonogh honey also went to the organization. Families and community members are encouraged to stop by the Roots farm to help plant, weed, and harvest throughout the year.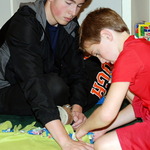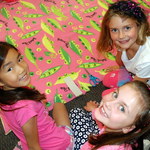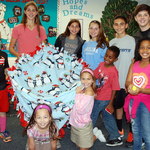 Third and Ninth Graders Show Cooperative Spirit (Students)
A wonderful spirit of cooperation could be felt on campus on Wednesday, October 15 as the third and ninth grades came together to support each grade's service project. Area cancer patients and Baltimore Playworks will benefit from the morning spent making blankets and playing games.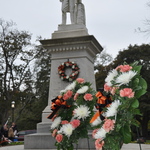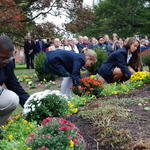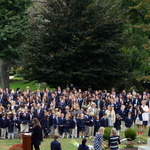 Founder's Day Remembers (Students)
The entire school community gathered at the John McDonogh monument on Friday, October 10 for the annual Founder's Day ceremony. After fulfilling McDonogh's wish that each year children plant flowers around his grave, the school community paused to remember alumni and former faculty and staff who passed away since the previous Founder's Day. As Alumni Association President Michelle Motsko '91 read each name, a bell tolled in the tower of Tagart Memorial Chapel and a flower was placed at the foot of the monument. Throughout the ceremony, meaningful reflections, song, and a flock of geese punctuated the respectful quiet.
Contributing photographers: David Fulton-Howard '04, Chloe Buergenthal '17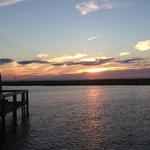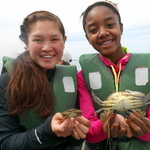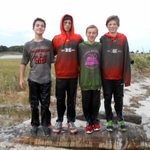 Eighth Grade Immersed in Bay (Students)
What would possess an eighth grader to kiss a fish? Besides being a great photo op, apparently it's good luck to kiss the fish you are using as bait in your crab trap. The students learned this and so much more on their annual three-day trip to the shores of the Chesapeake Bay, which began Monday, September 22. During the trip they immersed themselves in learning about the watershed's unique ecosystem (and in mud and muck). The trip is a highlight of Middle School.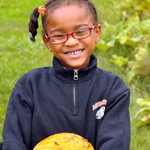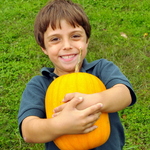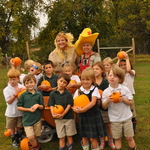 Kindergarten Pumpkin Picking (Students)
Accompanied by Head of Lower School Noreen Lidston dressed as a scarecrow and Roots Farm Chair Sharon Hood decked in her BIG farm hat, the entire kindergarten enjoyed a hayride out to the Roots Farm to pick the pumpkins they planted this summer. Each child chose one pumpkin to take home and another for their creative cooking class where they will roast the seeds and make pumpkin bread for the bus drivers. Watch a video of all the fun here.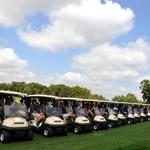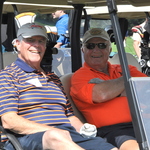 39th Annual McDonogh Classic (Alumni)
Over 100 alumni, parents, grandparents, and friends enjoyed great weather and golfing at Woodholme Country Club in Baltimore on September 30. Golfers and guests participated in a sold-out wine grab, a silent auction, and a happy hour in the evening.

Congratulations to the winning foursomes: Flight 1 was Arthur Adler '78, Abe Adler, John Ginsburg, and Julius Hyatt and Flight 2 was Eddie Ahn '92, Sharon Ahn, Drew D'Anthony, and Lee McChesney. Many thanks to the sponsors, players, and volunteers who contributed to the success of the 39th Annual McDonogh Classic.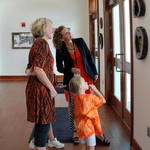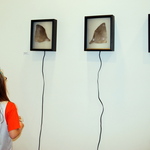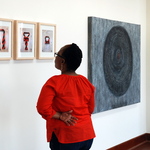 Faculty Art Featured in New Tuttle Gallery (Students)
The work of McDonogh's talented art department is the inaugural exhibit in the "new" Tuttle Gallery now located on the top level of the Edward St. John Student Center. The show, on display in the Tuttle Gallery through Monday, October 13, includes a variety of subjects and some unexpected mediums. Middle School art teacher Jon Detwiler created a trio of guitars using cigar boxes and Upper School art faculty member Match Zimmermann collaborated with his brother on a series of five illuminated fish skins. Other exhibitors who were present at the gallery receptions on Thursday, October 2 include: Camille Gustus, Oletha DeVane, Leslie Portney, and Beckie Lamborn.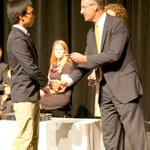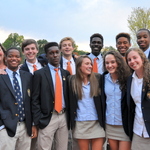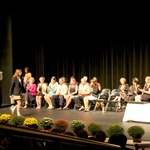 It's Official: Juniors Now Upperclassmen (Students)
McDonogh's Class of 2016 officially became upperclassmen on Sunday, September 28 at the annual Junior Pin Ceremony. The evening began in the Edward St. John Student Center with a casual dinner with advisory groups. Then, family and friends joined the junior class in the Ceres M. Horn Theatre for the more formal ceremony. After a slideshow featuring fond McDonogh memories and remarks given by Class President Alex L., Headmaster Charlie Britton presented each student with their gold McD lapel pin.
Contributing photographer: Don Hoelting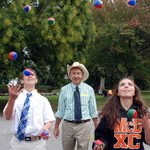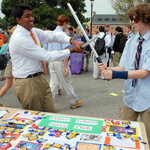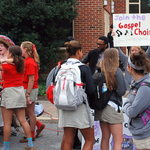 Clubs Attract New Members at Fair (Students)
There was something for everyone at the Upper School Club Fair held Wednesday, September 24 on the Freshman Quad. From service and sports clubs to clubs with an international flavor, plenty of opportunities for student involvement were on display. During the fair, current club members held demonstrations and lured other upper schoolers to their tables with candy and samples of cuisine.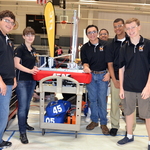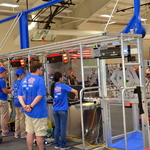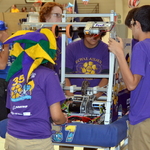 R-L Center Taken Over by Robots (Students)
On September 20, the McDonogh Eagles Robotics Team hosted hundreds of high school students (and their robots) from Maryland and surrounding states for the Eighth Annual Battle O' Baltimore, one of the east coast's premier FIRST® Robotics Competition off-season tournaments. The opening ceremonies included a performance by recent graduates of the Lower School Drum Corps, welcoming remarks by Headmaster Charlie Britton, and the singing of the National Anthem by the Women of Note and Gentleman Songsters. The remainder of the the day was action-packed as teams directed their 120-lb. custom-built robots in a competition that combined close contact, tough defense, dramatic buzzer beaters, strategic assists, and awe-inspiring shots on goal!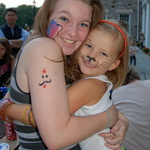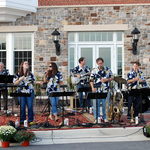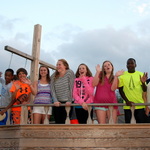 Perfect Evening For Jam Fest Fun (Students)
With the first few weeks of the school year behind us, Friday, September 19 was the perfect evening to chill-out with McDonogh friends and families at the back-to-school Jam Fest. More than 600 people spread out their blankets and chairs on the circle in front of the Edward St. John Student Center for the annual party which featured the sounds of Retrospect, a band including Upper School Director of Instrumental Music Don New and a guest appearance from riding teacher Holly Gizzi. In addition to the live music and picnic supper, students had a blast playing on the Lower School playground, joining in an impromptu football game, having their faces painted, hula-hooping, and taking turns on the bouncy super slide. Get a taste of the Jam Fest fun here.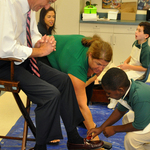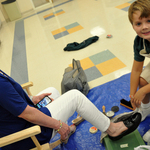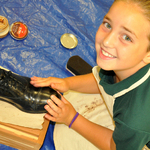 Book Inspires Shoeshine Stand (Students)
After two days of operating a shoeshine stand, the third graders have become skilled at shining, buffing, and polishing shoes and boots of all sizes and shapes. On Tuesday and Wednesday, September 16 and 17, parents, grandparents, faculty, and staff lined up to have their shoes shined by the students who were inspired by the book "The Shoeshine Girl" by Clyde Robert Bulla. The generous tips they collected will be used to purchase fleece fabric for blankets, which they will make and donate to The Red Devils, an organization that supports breast cancer patients. The annual project, coordinated by third grade teacher Margaret Bitz, began in 2009.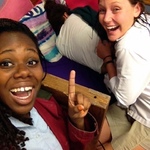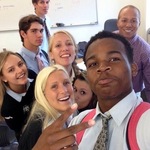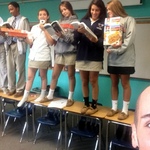 Selfies Show Joy In Upper School (Students)
In preparation for Back-to-School Night, Head of Upper School Merritt Livermore sent students an email with the subject line, "Wanna take a selfie?" She asked them to send selfies throughout their day of themselves "doing school." She received the first picture at 7:15 a.m. and they continued to pour in past the 3:30 p.m. deadline. What did they show? Clearly, the Upper School is place of joyful learning.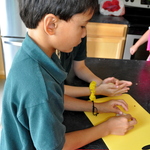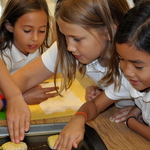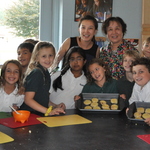 Third Grade Celebrates Chinese Moon Festival (Students)
Lower School Chinese teacher Fangfang Ma shared the Asian tradition of the Moon Festival with her third grade students over several days in early-September. She explained that the Moon Festival or "Mid-Autumn Day" is a time to reunite with family and celebrate the harvest. As she showed the students, who have been learning to speak Chinese, how to make the moon cakes they used their language skills to express how "yummy" the cakes are. In the spirit of family, Miss Ma's mother who was visiting from China, helped demonstrate how to make the cakes -- a pastry filled with red bean paste.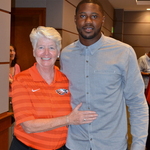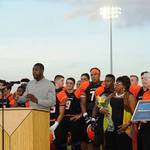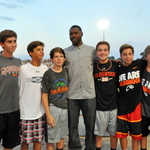 A Festive Night Under the Lights (Students)
Decked out in orange and black and beach attire (planned by the SGA), the McDonogh community came out in full force on September 5 to celebrate the first Friday night football game in John McDonogh Stadium and to thank Darrius Heyward-Bey '05 for his gift of stadium lights. In a brief ceremony prior to kick-off, Headmaster Charlie Britton spoke about Darrius's example of keeping a promise. Then, the guest of honor told the crowd that the lights were his way of thanking the McDonogh community for all that he gained from his experience at the school. Read more about his gift here.
Contributing photographers: Beth Franks, Kathleen LaPore Miller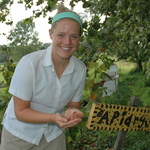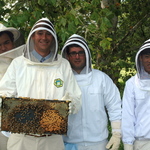 Beehives Teach Valuable Lessons (Students)
A visit to McDonogh's beehives is a much anticipated outing for the seniors taking In Good Taste: The Literature of Food an elective taught by Cynthia Cox and Lucy Dawson. On Thursday, September 4, some students arrived at the hives thrilled by the prospect of handling the honeycombs covered in bees and dripping with golden honey, while others were wary. In the end, students walked away buzzing with awareness after beekeepers Darryl and Courtney Gonzalez explained the role bees play in the production of food.
Photos by: Rebecca Brown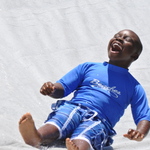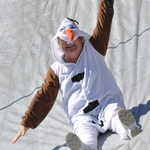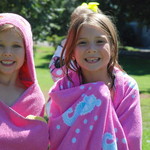 Wet and Wonderful Aquapalooza (Students)
On Friday, August 29, lower schoolers were treated to summer fun on a school day! Olaf, the popular snowman from Disney's hit Frozen (a.k.a. Head of Lower School Noreen Lidston), led students in kindergarten through fourth grade down water slides and through sprinklers as a reward for reading a combined total of 3,108 books over the summer.
View the slipping and sliding here.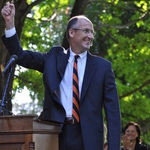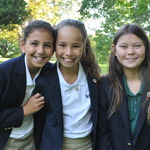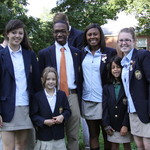 Convocation Kicks Off School Year (Students)
The entire student body gathered on Childs Memorial Terrace for Convocation on Thursday, August 28. After the Class of 2015 and their friends from the Class of 2026 (prefirst and first grade) walked down the hill to their seats, Headmaster Charlie Britton and student representatives from each division shared words of wisdom and welcome. At the conclusion of the program, Mr. Britton rang the school bell to officially open the 2014-2015 school year!
Click here to see a video of the Convocation ceremony.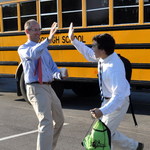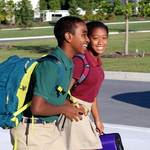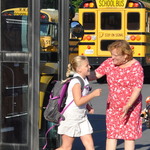 Joyful First Day of School (Students)
A chorus of "welcome back" and "happy new year" greeted students as they disembarked from buses and cars and made their way across campus on August 27, the first day of the 2014-2015 school year. Faculty, administrators, and Upper School leaders welcomed and directed the 1,300 students to the proper buildings and around the construction of the Rosenberg Campus Green. By 8:20 a.m. the new school year was well underway.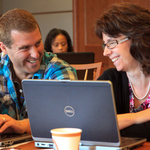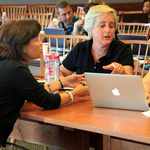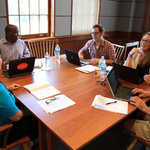 Faculty Get Schooled in PBL (Teachers)
Nearly 30 faculty members from all three divisions spent three days in August attending a Project Based Learning (PBL) workshop presented by Thomas Markum, author of Project Based Learning: Design and Coaching Guide. During the workshop, teachers learned about the benefits of PBL as a means of improving their students' academic performance as well as enhancing their critical thinking, communication, and collaboration skills. Of course, the group was not idle; they put PBL into practice working in groups to solve problems.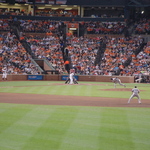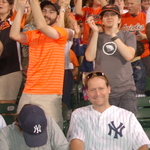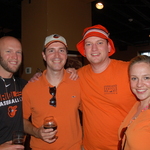 Alumni Night at Camden Yards (Alumni)
Home runs were the name of the game at McDonogh's Alumni Night at Camden Yards on Wednesday, August 13. After a pre-game get together at Pratt Street Ale House, approximately 120 McDonogh alumni, faculty, friends, families - including a few quiet New York Yankees enthusiasts - filled section 94 and watched as the first-place AL East Orioles battled the Yankees, claiming a 5-3 comeback victory thanks to home runs by Jonathan Schoop and Adam Jones. Former Headmaster Bo Dixon and his wife, Ann, also at the game in a different section, stopped by for a visit and high fives. At the top of the ninth inning, after Jones's three-run homer, Adam threw his practice ball into the stands and right into lucky alumnus Ryan Elliott '07's glove. McDonogh's Orioles fans would agree that the night was a grand slam.



Featured Images (Students)