2013-2014 Photo Essays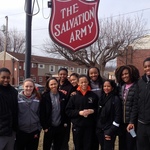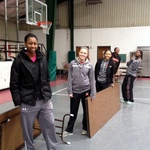 Much More than a Trophy for Girls' Basketball (Students)
<p>The girls' varsity basketball team returned from Cumberland, Maryland on March 9 with the 20th Annual Bishop Walsh Invitational Tournament championship trophy; but more importantly, they returned with the good feeling of knowing they helped those in need. During a break between games, the Eagles volunteered at the Salvation Army, assisting with a rummage sale and packing up leftover items which will be sold overseas for 10 cents per pound of fabric to benefit the organization. The Cumberland community supported the basketball tournament, and the girls were eager and glad to give back. They also cleaned up the gym for the local youth group that was coming in to play after the championship game.</p>
<p>Read more about the tournament in <a href="http://www.baltimoresun.com/sports/high-school/varsity-letters/bal-mcdonogh-girls-close-out-no-1-season-with-bishop-walsh-title-20140312,0,4297037.story"><i>The Baltimore Sun</i></a>.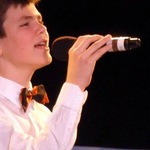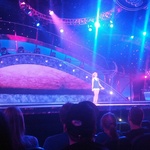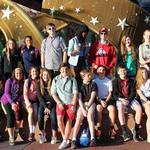 MS Singers Perform At Disney (Students)
The McDonogh Singers traveled to Walt Disney World, for a weekend of performing, attending workshops, and enjoying the excitement of the Magic Kingdom.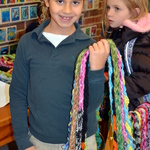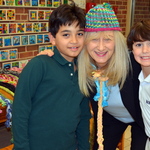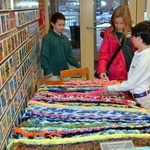 Second Grade Effort Provides Warmth, Comfort (Students)
It's been a cold winter for both man and beast, so Kate Hailstone's second graders set out to provide warmth and comfort to both. First, the students learned to knit hats and scarves, which they sold to benefit the SPCA. The sale, which raised more than $325, inspired the students to collect pet food for the shelter. In early February, the class presented the money and food to the animal shelter and toured the facility to see first hand how their efforts are helping the organization care for the animals during the harsh weather.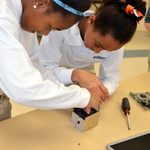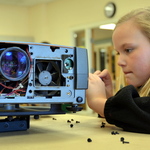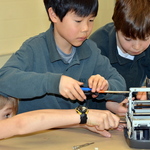 Take-Apart Day (Students)
After learning about simple machines in science class, fourth graders spent a morning disecting a variety of small machines, devices, and gadgets.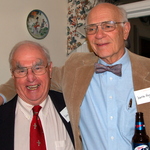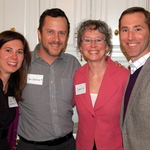 Alumni Reception in Richmond (Alumni)
A flock of McDonogh eagles flew south to Richmond, VA on Wednesday, February 26, for an alumni reception hosted by Chris '74 and Sally Harrison and Jonathan '76 and Jeni Holljes. Following remarks by Headmaster Charlie Britton, alumni shared their McDonogh memories and recognized teachers who made a difference in their lives, including several faculty guests in attendance: Wright Abbot, Cynthia Cox, and John Grega.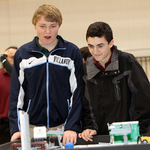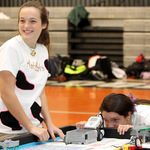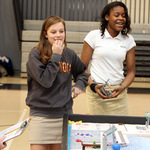 Robotics Challenge (Students)
During the winter term, eighth graders learned to build and program robots to do a variety of tasks related to a specific theme. Then, they put them to the test in a two-day challenge held February 24 and 25.
Contributing photographer: Robert R. Ramsey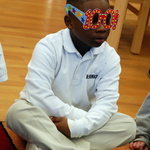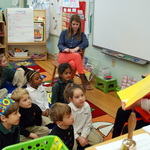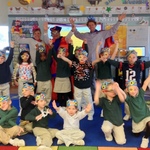 100 Days and Counting (Students)
February 24, wasn't a typical Monday in Lower School, it was the 100th day of the school year! To mark the occasion, "Zero the Hero" (aka Noreen Lidston) swept into the three kindergarten classrooms where she reinforced the heroic power of the number zero when sitting next to another number. Throughout the day, students did lots of counting and shared their collections of 100 items.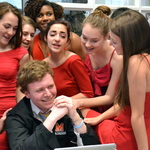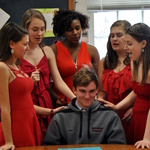 Singing Telegrams Spread Joy (Students)
As is tradition on or around Valentine's Day, the Gentleman Songsters and the Women of Note serenaded classmates, teachers, and staff on February 20. Photos courtesy of the Legacy yearbook staff.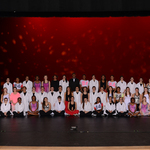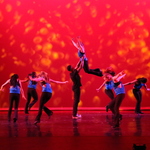 Dance Ensemble Delights (Students)
McDonogh Dances, the annual winter dance concert presented by the Upper School dance ensemble, delighted audiences in the Horn Theatre on February 8 and 9. The show, with it's colorful lighting and costumes, featured an eclectic mix of ballet, tap, jazz, hip hop, and musical theatre dance numbers, many of which were choreographed by students and alumni. Photos by Irvin Simon Photographers.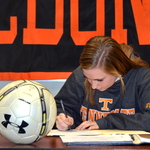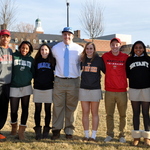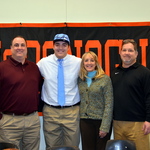 NCAA-Bound Athletes Sign Letters (Students)
Although the official NCAA signing day was Wednesday, February 5, an ice storm forced eight McDonogh seniors to sign their official letters of intent to play Division I sports in college the following day. Prior to each athlete's ceremonial signing, their coach shared a few words about students' character and skills. Congratulations to:
Wrestling: Toby H. - University of Maryland
Football: Jared C. - University of North Carolina, Chapel Hill; Josh W.- University of Maryland
Boys Soccer: George C. - University of Maryland
Girls Soccer: Anna B. - University of Tennessee; Marley C. - Bryant University; Kyla C. - University of North Carolina, Charlotte; Casey M. - Duke University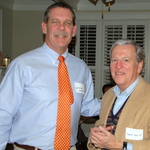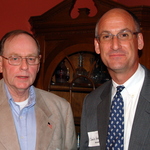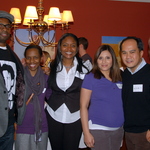 McDonogh Slips into Atlanta (Students)
Baltimore's February 5 ice storm did not stop Headmaster Charlie Britton, Middle School Head Darren Ford, and Upper School History teacher Bridget Collins '90 from heading to Atlanta, Georgia to greet members of the McDonogh community. The well-attended reception, hosted by Martha Parr Ille '89, was the perfect backdrop for guests to reminisce about their fond memories of McDonogh. An Atlanta regional chapter is being established with hopes of providing more opportunities for alumni in the area to gather together. Anyone interested in helping with the Atlanta chapter should contact Jen Little at jlittle@mcdonogh.org.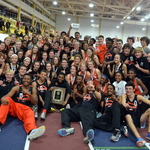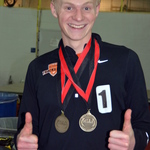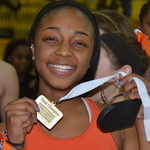 Boys and Girls Sweep Track Finals (Students)
The boys and girls varsity track and field teams came in first place at the 2014 Indoor Track Championships at the Prince George's Sports and Learning Complex on Friday, January 31. It was the girls' sixth straight title and the boys' second in a row. Way to fly Eagles! Read more in the Baltimore Sun.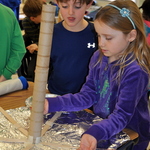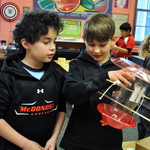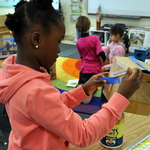 Problem Solving Using STEM (Students)
It's hard to say who was more excited about the Lower School Problem Solving Week, the students or the teachers. For the first couple days, beginning January 27, students learned how the STEM disciplines –science, technology, engineering and math-- can be used together to solve problems. Then the teachers stepped back and the students got to work designing and building birdfeeders, mailboxes, umbrellas, kites, candle holders and catapults. When the teams of students tested their creations, they discovered they didn't always work, and it was back to the drawing board – a valuable lesson.
Click here to see a video of the inventions as they are completed and put to the test.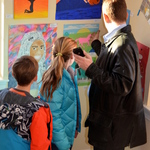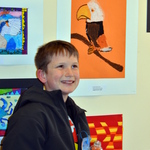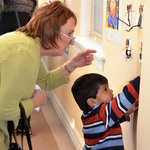 Budding Artists Wow Guests (Students)
Lower and Middle School artists shared their recent creations with family and friends during a reception in the Tuttle Gallery on Thursday, January 30. The exhibit will be on display through February 20.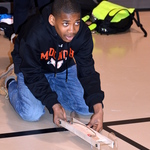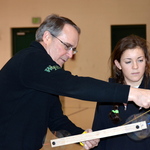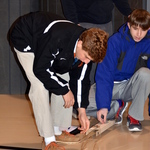 Mousetrap Cars Snap into Action (Students)
Students in Andy Motsko's freshman physics classes studied the transfer of energy by designing, building, and testing cars powered by mousetraps. They measured force, velocity, and acceleration as the cars navigated a course in the Rollins-Luetkemeyer Athletic Center. Awards were given for design and efficiency, including which car went the fastest, straightest, and longest.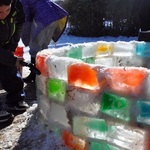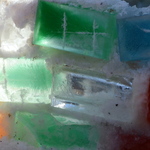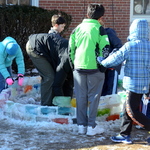 Construction Update: Igloo Takes Shape (Students)
Taking advantage of the Polar Vortex, lower schoolers, under the direction of teachers Peggy Moag and Craig Whiteford, set out to build an igloo. Students made the ice blocks by filling and freezing half-gallon milk and juice cartons with water and food coloring. Then, using snow and slush for mortar, many mittened-hands stacked the colorful blocks creating the walls of the igloo. As the calendar turns to February, the Lower School is keeping their fingers crossed for frigid temperatures so they can continue building.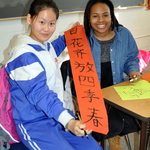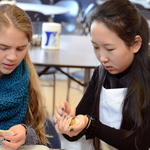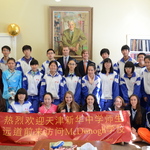 Xin Hua/McDonogh Student Exchange (Students)
A spirit of friendship and cooperation emerged during McDonogh's first cultural exchange with Xin Hua High School of Tian Jin, China. After spending their first two days in the United States in New York City, the delegation of 16 students and two chaperones from McDonogh's sister school arrived in Baltimore on January 20. Plans to spend the week on campus were altered by the snow days, but the exchange students had a unique opportunity to experience American life in the homes of their McDonogh host families. At McDonogh, the Xin Hua students and their American hosts attended classes, made dumplings and enjoyed them at a dinner with the boarders, performed at an Upper School assembly, and practiced writing messages in Chinese in preparation for the New Year. Upper School Chinese teacher Jenny Li who coordinated the event, will lead a delegation of nine McDonogh students to Tian Jin this summer.
Click here to see performances by students from both schools.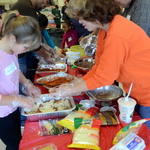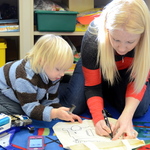 Families Engage in Morning of Service (Students)
Martin Luther King, Jr. Day is the "most favorite day of the year" for first grade teacher Mary-Catherine Irving. In fact, it's the only day she hopes it doesn't snow. That's because for the past three years, she has organized a Morning of Service in honor of Dr. King. This year's event attracted numerous Lower and Middle School K-6 families (totaling more than 200 volunteers) who gave their time and energy in service to others. Volunteers spent the morning making activity bags for children at Johns Hopkins' Believe in Tomorrow House, making blankets for cats at the SPCA, creating cards for hospitalized children, making lasagna for elderly residents of Roland Heights Tower, assembling craft kits for the Ronald McDonald House, decorating tins to be filled with treats for Meals on Wheels, and making sandwiches for the Corpus Christi Soup kitchen.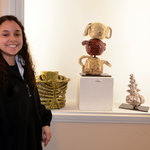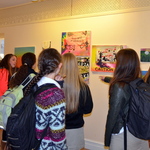 US Art Exhibit Impresses (Students)
The Tuttle Gallery was buzzing with interest and enthusiasm at the closing reception of the Upper School Art Exhibit on Friday, January 17. The show, which has been on display since late last year, featured a variety of mediums, from ceramics and photography to oils and watercolors. Reception guests were genuinely impressed with the artists' talent and could be heard engaging them in thoughtful conversation about the creative process.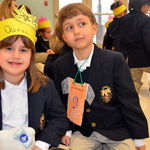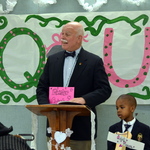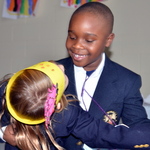 Q and U Together Forever (Students)
The recent Wedding of Q and U was a lesson in togetherness and grammar for the kindergarten classes. On Friday, January 10 the Kelly Center was transformed into a wedding chapel for the uniting of the letters Q and U, officiated by Minister Quentin (a.k.a. John Grega, Director of Religious Studies, Character, and Service).
Quite a number of "Q" words were present at the ceremony including the paper quarters (instead of flowers) dropped by the queens and quarterbacks who were the wedding guests. Teachers planned the wedding to teach students the sound of the letter Q and the fact that Q needs U to make words like quake, queen, quick, etc. A festive reception, including cupcakes decorated by the students, dancing, and party favor bubbles followed the ceremony.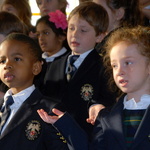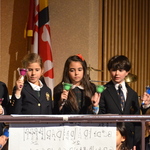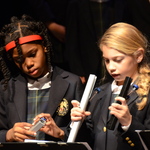 Lower Schoolers "Celebrate" the Season (Students)
The Lower School celebrated the magic of the season with songs and stories at "Celebrate," the annual performance for parents before winter break. Kindergarten and prefirst illustrated the children's book "The Tomten" with song in the Chapel. Later, in the Horn Theatre, the first and second graders' performance featured music and movement. The final "Celebrate" performance by the third and fourth grade included poetry, song, and instrumental music.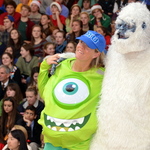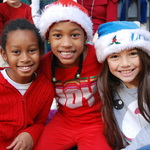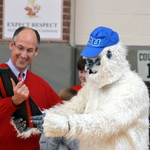 Holiday Assembly: A Scary Good Time (Students)
The 2013 All-School Holiday Assembly on Thursday, December 19 was a monstrously fun morning featuring some 18 performances from a myriad of McDonogh singers, dancers, and instrumentalists, plus a few very corny jokes. The main characters, who wove a story between the song and dance, were the abominable snowman (aka John Grega) and Mike from Monsters, Inc. (aka Bridget Collins). While Mike was trying to scare up some holiday spirit, the Artic Bigfoot showed him that it is positive energy that provides the seasonal glow. At the end of the Holiday Assembly, Mr. Grega's final Holiday Assembly (he plans to retire in June), the McDonogh community gave him a standing ovation in appreciation for his efforts in scripting the show for the past decade or more. Additionally, Headmaster Charlie Britton presented Mr. Grega with a framed collage of the many characters he has portrayed over the years in the annual assembly. To see a video of the assembly, click here.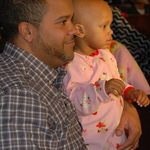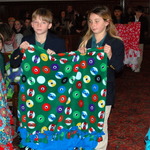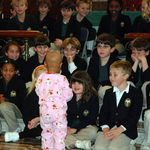 Blankets Bring Hope to Cancer Patients (Students)
The "Blankets of Hope" chapel, is a heart-warming service during which the third graders present handmade fleece blankets to the Red Devils, an organization dedicated to improving quality of life for breast cancer patients and their families. During the often emotional program, cancer patients from within or related to the McDonogh community are presented with blankets. The Tuesday, December 17 chapel included a little spark of joy as blanket recipient, 20-month-old Sarah B., a friend of third grade teacher Chevee Taylor, charmed the crowd with her winning smile and engaging personality. After receiving her blanket, the little girl dressed in pink footie pajamas, greeted and "high-fived" as many of the students as her father would allow. Sarah's disposition said as much about "hope" as the third graders' reflections, which were read during the service. Click here to see the "Blankets of Hope" chapel service.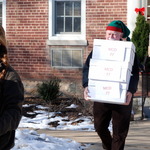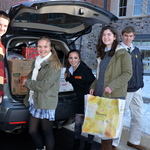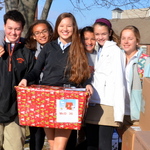 Holiday Project Delivers Joy (Students)
The McDonogh Family came through in a big way to help needy Baltimore families have a happier holiday season. On Wednesday, December 18, students, faculty, parents, and McDonogh staff loaded cars, vans and a box truck filled to the brim with clothes, toys and books especially selected for more than 125 families including 372 children. The gifts will be distributed through St. Gregory the Great Church. The McDonogh Holiday Project, coordinated by John Grega, Director of Religious Studies, Character, and Service has been delivering joy for 23 years.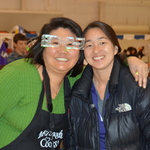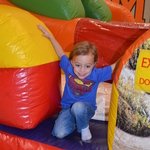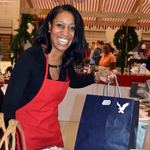 Holiday Bazaar Fun (Students)
The snow held off just long enough for the McDonogh Parents Association sponsored Holiday Bazaar to take place on Saturday, December 14. The Rollins-Luetkemeyer Athletic Center was brimming with good cheer as the crowd enjoyed festive music, shopping, games, and delicious treats!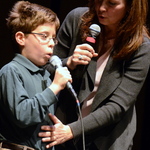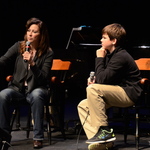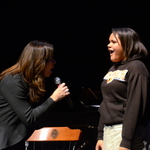 Eder Conducts Vocal Master Classes (Students)
Recording artist and Broadway performer Linda Eder stands on the Ceres M. Horn Theatre stage and yells, "Ki Ya," flinging her arm wide. Sixth grader Jacob R. follows suit. Eder is not teaching a form of martial art, she is helping middle schoolers find their real voices.
At two master classes on Friday, December 8, Eder focused on the importance of breathing technique, engaging the audience, and singing with power.

As Eder said in an interview about the experience with DC Metro Theater Arts, "Singing is what I call a 'musical sport.' It takes time and work to develop the specific muscles used in singing. To be an effective performer takes musicality and honesty and that means learning how to really listen to yourself. Find a way to be yourself. The most interesting person you can be is you. We can only fool people for so long. An audience doesn't want to be 'sung at.' People don't really care how high or how low we sing. What we all want is to be moved emotionally and taken on a journey."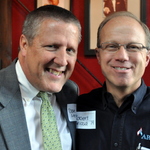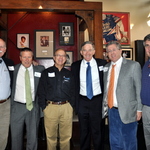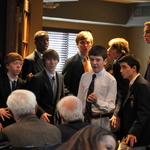 Orange & Black Holiday Luncheon (Students)
Despite a coating of white in the Baltimore area earlier in the week, the Orange & Black Alumni Holiday Luncheon held on Wednesday, December 11 attracted more than 50 guests from the Classes of 1943 to 2003. Students from the Gentlemen Songsters and The Women of Note performed for the crowd at Michael's Café in Timonium; and prior to the luncheon many of the guests attended a session of Estate Planning Tips presented by alumni estate attorneys Maury Garten '85 and Leete Garten '02.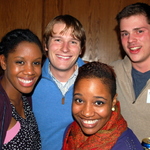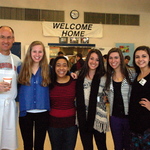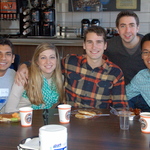 Thanksgiving Weekend Alumni Events (Students)
It wouldn't be Thanksgiving without family, friends, and homecomings, and McDonogh alumni had their fill of each this year. The holiday break began with a happy hour for alumni from the classes of 1999 to 2010 at Mother's Federal Hill Grille on Wednesday, November 27. The following morning, young (and future) alumni from the classes of 2010 to 2014 enjoyed a pancake breakfast served by Headmaster Charlie Britton in Lamborn Hall. In anticipation of the demolition of the dining hall later this school year, the alumni "autographed" the walls; and after breakfast they were treated to tours of The Edward St. John Student Center. On Friday, former girls soccer and boys lacrosse players had a chance to work off their turkey dinners with friendly contests on campus.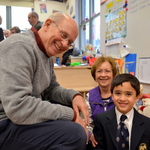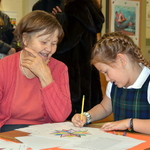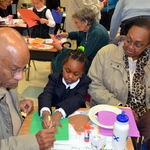 Grandparents Day Warmth (Students)
Despite the cold and rainy weather on Grandparents Day, Tuesday, November 26, the Lower School was filled with bright, sunny smiles and warm hugs. Grandparents and special friends were treated to performances in the Ceres M. Horn Theatre followed by classroom visits—a wonderful way to start the Thanksgiving holiday break.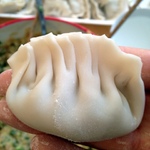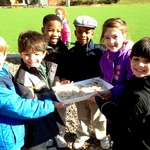 Aid for Typhoon Victims (Students)
When disaster strikes, you can count on the McDonogh community to help. In response to the devastating typhoon that struck the Pacific Islands and the Philippines earlier this month, McDonogh families answered the call for financial assistance. To date, more than $5,550 in cash and checks has been collected and will be sent to the Red Cross for disbursement. The Upper School Chinese and Asian Awareness Clubs raised $420 of the total in a food fundraiser on Wednesday, November 20. More than 50 students from both clubs joined forces to make and sell 700 dumplings and 10 pounds of rice.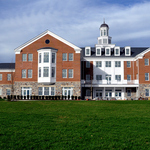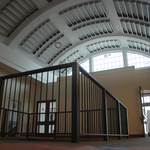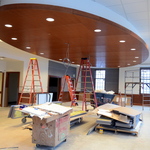 Preview of The Edward St. John Student Center (Students)
While finishing touches are being made to the exterior of The Edward St. John Student Center, construction crews are making great progress on the interior as well. Solid walls now stand where frames once outlined classrooms, studios, gathering spaces, and dining rooms; and concrete floors are being covered with wood, tile, and carpet. The building is humming with the installation of everything from light fixtures and kitchen equipment to shelving in the infirmary and seating in the lyceum. Stay tuned for more photos as work progresses. The student center is expected to open in late February or early March of 2014.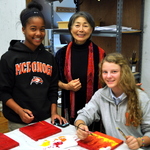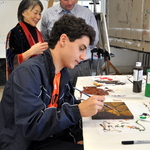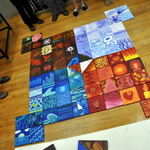 The Power of Art (Students)
Upper School Art I and Art II students recently had the honor of meeting and working with Lily Yeh, founder of Barefoot Artists, an organization that revitalizes struggling communities around the world through art. Yeh explained how art has the power to inspire healing, self-empowerment, and social change, and promote economic development. After hearing Yeh's personal stories about her work in broken communities, one student shared, "I feel so refreshed and inspired to do something positive." The freshmen also spent time in the studio creating two 8x8 foot paintings with the guest artist, one for our campus and one for a school that Barefoot Artists is assisting in China. Read more about Lily Yeh and Barefoot Artists.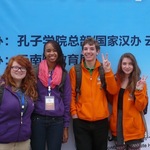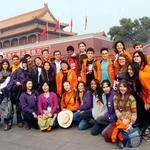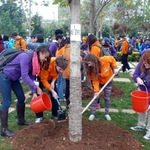 Junior Represents USA at Sixth Chinese Bridge (Students)
Tyler J. '15 was one of six American high school students invited by the Chinese Embassy to represent the USA at the Sixth Chinese Bridge, sponsored by the University of Maryland and the Hanban/Confucius Institute, an affiliate of the Chinese Ministry of Education. The program, held October 24 to November 3 in Beijing and Kunming, is designed to increase awareness of Chinese culture and generate enthusiasm for studying the Chinese language. A total of 300 students from 62 countries took part in the program.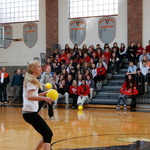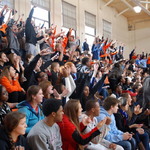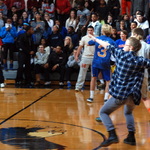 Dodgeball Game Ends Fall Term (Students)
The Upper School took a break between classes on Tuesday, November 19 to play a rousing game of dodgeball during which players from the freshmen and junior classes took on a team of sophomores and seniors. The game was an opportunity for students to "let off steam" before exams. Students also paused in the lobby of Memorial Field House to write holiday letters to members of the military through Operation Gratitude.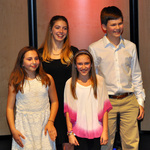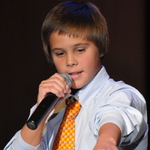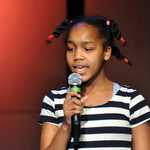 The Middle School Idols Are… (Students)
After two days of performances, McDonogh's Middle School Idols have been selected. The 2013 singing competition, which benefits the upcoming Middle School Choir tour, included both a junior (grades five and six) and senior (grades seven and eight) division allowing experienced and new singers an opportunity to shine on the stage. In addition to the judge's decision, the audience chose a fan favorite. Congratulations to all the contestants and to the 2013 Middle School Idol winners:
Senior Idols - Kevin K. '18 (judges choice) and Rose C. '18 (audience choice)
Junior Idols - Audrey R. '21 (judges choice) and Ellye A. '21 (audience choice)
Click here to see a video from the preliminary auditions.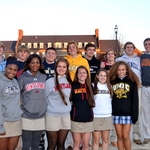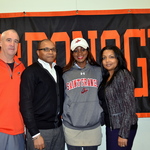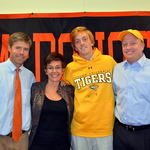 Athletes Sign Official NCAA Letters (Students)
At a ceremony on Wednesday, November 13, fourteen seniors signed their official letters of intent to play Division I sports in college. Many of the coaches shared the qualities, beyond athletic skills, that made the students stand out as a member of McDonogh's teams. Speaking to the seniors, Athletic Director Mickey Deegan said, "This is a significant moment. Signing this letter says, 'I am committed to be the best I can be.'"
Boys Swimming
Kyle B. - Bucknell University
Ian S. - University of Southern California
Girls Basketball
Brianna J. - Central Connecticut State University
Maya W. - St. Francis University (PA)
Boys Golf
Jimmy D - University of Richmond
Girls Lacrosse
Ali B. - University of Michigan
Steffani H. - University of Maryland
Miranda M. - University of Maryland, Baltimore County
Megan W. - University of Maryland
Boys Lacrosse
Alex H. - University of Notre Dame
Calvin L. - Towson University
Trey M. - University of Denver
Grady H. - High Point University
Brinton V. - Johns Hopkins University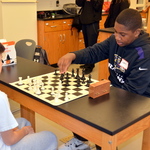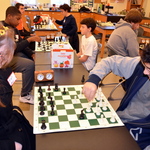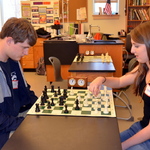 Chess Masters Take on Gilman (Students)
Football wasn't the only game being played against Gilman on Saturday, November 9. The two schools also faced off over chessboards in the first-ever McDonogh vs. Gilman invitational chess match. The chess masters applied their best strategic moves against their opponents before heading outside to watch the 98th annual football game.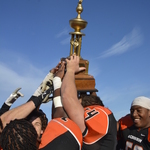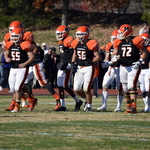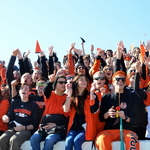 Perfect Day for Football Against Gilman (Students)
The 98th McDonogh vs. Gilman football game attracted a record crowd of families, friends, and football fans on Saturday, November 9 at John McDonogh Stadium. Prior to the campus parade to the field, upper schoolers were treated to a cookout, alumni gathered in a tent near the field, and fans enjoyed lunch from some of Baltimore's most popular food trucks. The perfect day for football ended with McDonogh's victory over the Greyhounds (37-6) and the MIAA Championship. Congratulations to the entire team on an undefeated season.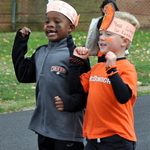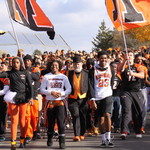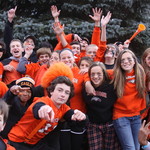 We've Got Spirit! (Students)
McDonogh's annual Spirit Day parade and pep rally in anticipation of the 98th football game against Gilman took place Friday, November 8—a crisp, autumn afternoon. School spirit was at its peak and enthusiasm for the Eagles was soaring. Later, as proof, that boys aren't the only football players at the school, the junior girls took on the seniors in a game of powder puff football.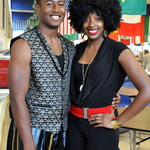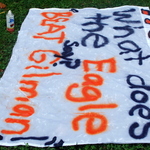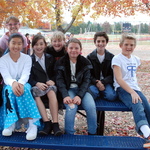 Spirit Week: Day 3 (Students)
It was like a blast from the past on Thursday, November 7 as Middle and Upper School students celebrated Spirit Week with a decades day theme. Middle schoolers were also seen making banners and signs in preparation for Friday afternoon's Spirit Parade and the 98th McDonogh vs. Gilman football game on Saturday.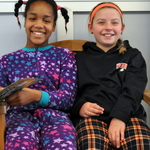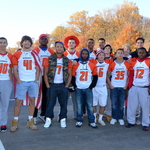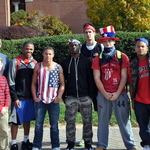 Spirit Week: Day 2 (Students)
On Wednesday, November 6, the second day of Spirit Week, members of the football team greeted students as they disembarked from the bus in the morning. The middle schoolers wore their pajamas to school, while the upper schoolers showed their pride in our country by dressing in red, white, and blue as well as other iconic American outfits.
Spirit Week leads up to the annual football game against Gilman, which will be played at home on Saturday, November 9 at 1:00 p.m. Can't make it to the game? Watch a live stream here.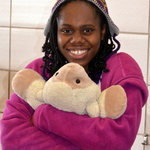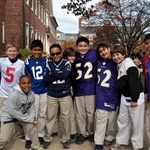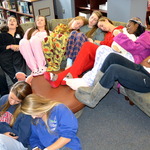 Spirit Week Begins (Students)
Spirit Week, which celebrates the end of the fall sports season and leads up to the big McDonogh vs Gilman Football game on Saturday, kicked-off Tuesday, November 5. The Upper School wore their pajamas to classes, while the middle schoolers were seen sporting the jerseys of their favorite teams.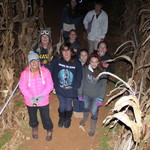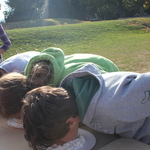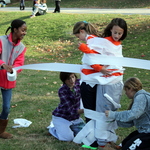 Seventh Grade Evening of Fall Fun (Students)
The seventh grade trip to Maize Quest Fun Park in New Park, PA, sponsored by the MPA on October 25 began with an afternoon on-campus pizza party featuring a variety of seasonal relay races. The kids mummified classmates in toilet paper, carried mini pumpkins in pairs without using their hands, and ate marshmallows dangling from string. After conquering the corn maze in the dark with flashlights, the group ended the night with a bonfire and s'mores.
Photos courtesy of Trish Dahan.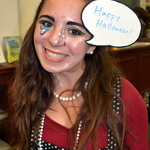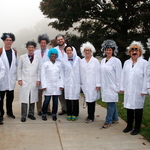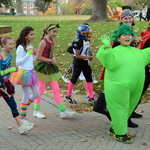 Happy Halloween Fun (Students)
It was a treat to see the many creative costumes on the McDonogh campus from the time students got off the buses on Halloween morning until the end of the day when the lower schoolers paraded through campus. The best Halloween trick was played on retiring Vice President of Administration and Finance Larry Johnston, by faculty and administrators who dressed in the costume he's worn for more than 20 years at McDonogh—a mad scientist.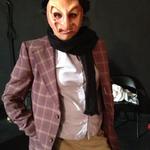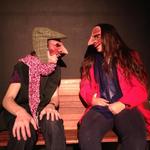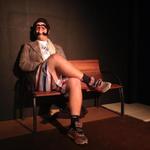 Masks, Movement & Mayhem (Students)
The McDonogh Theatre Lab invites you to attend a production of Masks, Movement & Mayhem on Friday, November 1 and Saturday, November 2 at 7:00 p.m. in the Osborne Black Box Theatre. Admission is free and the public is welcome.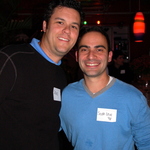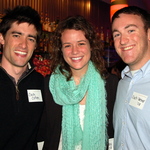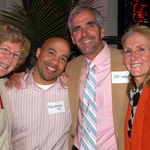 Alumni Event in Philly (Students)
Alumni ranging from the Classes of 1958 through 2008 met in the "City of Brotherly Love" on Thursday, October 24 at Bistro St. Tropez, overlooking Philadelphia's Schuylkill River. Faculty guests Alice Margraff, Libet Ottinger, Jeff Sanborn and Headmaster Charlie Britton exchanged stories with the group and brought them up-to-date on the state of the school.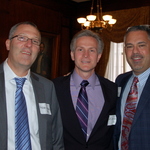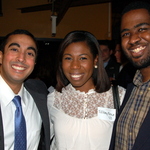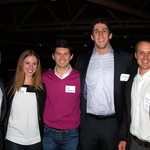 NYC Alumni Events (Students)
Members of McDonogh community living in the New York City area gathered for lunch at The Union League Club on Wednesday, October 23. The intimate gathering, hosted by Curt Cornwell '82 proved to be the perfect opportunity for a question and answer session with Headmaster Charlie Britton.
Later that evening, another group of New York alumni met at the Chelsea Brewing Company to catch up with each other and veteran faculty members Jeff Sanborn and Mina Wender.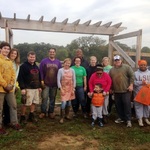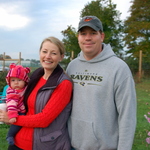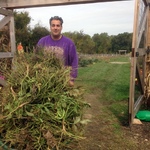 Alumni Day at Roots (Students)
Alumni shared some laughs, worked up a sweat, and got their hands dirty during the Alumni Association's kick-off community service event at McDonogh's Roots Farm on Saturday, October 19. Volunteers harvested and hauled pumpkins, beans, peppers, and more to prepare the garden for the winter months. Remaining pumpkins were donated to Kennedy Krieger, and vegetables were given to McDonogh's dining hall. Throughout the year, Roots provides fresh produce for the dining hall, food for the needy, and educational opportunities for students in all grades.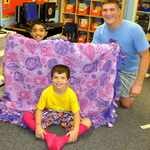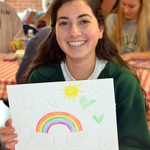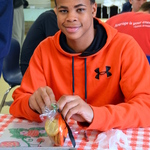 A Day of Hope (Students)
On October 16, third graders and their tenth grade buddies came together for "A Day of Hope." Working side-by-side, they made fleece blankets for The Red Devils, a local breast cancer support organization that will distribute the blankets to patients. The sophomores also spent time baking cookies, creating colorful drawings, and writing inspirational notes for children currently undergoing treatment and staying at the Ronald McDonald House in Baltimore.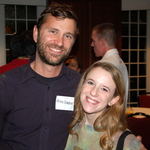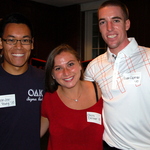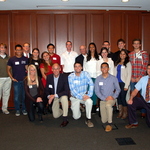 Terps Flock to McDonogh Alumni Event (Students)
A flock of more than 25 Eagle alumni who have spread their wings and are now studying at the University of Maryland, College Park, attended a buffet dinner in the University's Alumni Center on Thursday, October 10. While the young Terps may have traded their orange for red, their enthusiasm at seeing Headmaster Charlie Britton and a handful of faculty members made it clear that McDonogh will always be close to their hearts. Based on the success of this gathering, McDonogh's first event on a college campus, it's likely to become a tradition.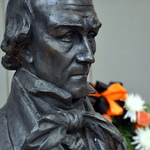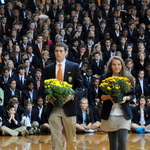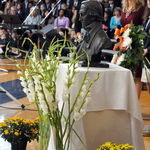 Founder's Day Remembers (Students)
Torrential rains drove the McDonogh community indoors for the annual Founder's Day ceremony on October 11; but the soggy weather did not affect the meaning of the day set aside to honor John McDonogh and members of the community who passed away during the past year. The reverent ceremony included performances by the Lower School Choir, Upper School Concert Choir, and Senior Singers. As each person was remembered, a flower was placed at the base of a makeshift monument and a bell tolled in their memory.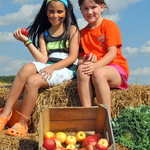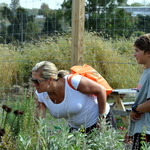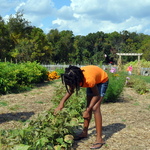 Fall Harvest Festival Fun (Students)
It was a picture perfect afternoon for the McDonogh Parents Association's Fall Harvest Festival with plenty of pumpkins, peppers, and other crops ripe for picking; but October 5 felt like a summer day with temperatures nearing 90 degrees. The unseasonable weather did not stop hundreds of people of all ages from enjoying the bounty of Roots Farm, a petting zoo, face-painting, live music, and more. In the spirit of giving, families "stuffed" a McDonogh bus with non-perishable food items, which were later donated to the Maryland Food Bank.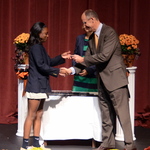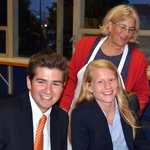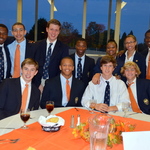 Junior Class Pin Ceremony (Students)
Members of the Class of 2015 officially became upperclassmen on Thursday evening, October 3 at the Junior Pin Ceremony. Prior to being presented with their gold McD lapel pins, the class enjoyed dinner served by faculty and staff in Lamborn Hall. The special meal was even more significant as it was the last Junior Pin dinner to be held in the building before The Edward St. John Student Center opens. After dinner, parents, family, and friends gathered in the Horn Theatre for the ceremony which included a slide show of memories put together by Melissa B. '15 and remarks by Junior Class President Scatt M. who spoke about where the class has been, where they are going, and their new role as upperclassmen.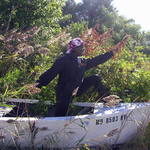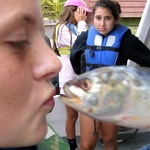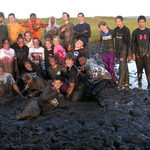 Eighth Graders Immersed in Chesapeake Bay (Students)
A highlight of the eighth grade year is the three-day trip to the shores of the Chesapeake Bay, where students immerse themselves in learning about the watershed's unique ecosystem. Over the course of the trip, which began September 16, students could be found crabbing, canoeing, and participating in two rites of passage: kissing a fish and slogging through the muddy marshes.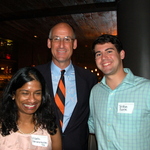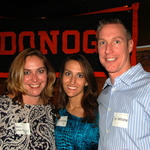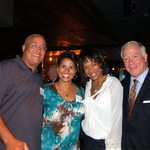 Shutdown Doesn't Stop DC Alumni Event (Alumni)
The government shutdown did not limit the crowd of more than 40 McDonogh alumni who gathered on October 2 at Nick's Riverside Grill along the Potomac in Georgetown. Guests enjoyed catching up with each other as well as Headmaster Charlie Britton, John Grega, and Dave Harley at the reception, hosted by Nick Cibel '82.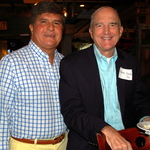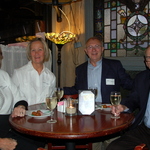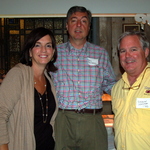 Alumni Gathering in OC (Students)
More than 30 McDonogh alumni, representing six different decades, gathered at Phillips Crab House in Ocean City for a reception and an update from Headmaster Charlie Britton on Thursday, September 26. For alumni who live and vacation on the Eastern Shore, the reception was not only a great opportunity to catch up with their alma mater, but also the beginning of a perfect September weekend at the beach.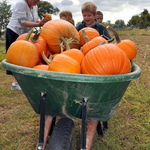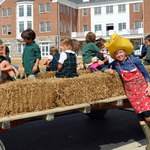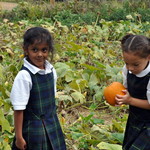 A Great Pumpkin Adventure (Students)
Decked out in boots and big smiles, the kindergartners piled onto the back of a tractor for a hayride to Roots Farm on Friday, September 27. They were taking a trip to harvest pumpkins, which many of them planted earlier in the summer. As the hayride wound its way through campus, older students and administrators emerged from the buildings to wave the students on their way. At Roots, the little Eagles each picked two pumpkins—one to take home and the other for cooking in the classroom. Soon the pumpkins will become delicious pumpkin bread and pies to be shared with the community and on Grandparents' Day.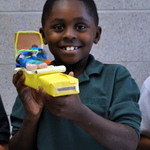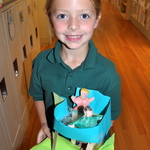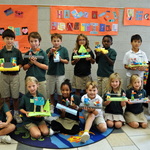 Second Graders Create New McDonogh Monuments (Students)
After learning about the school's founder, second grade students created models of their ideas for a new John McDonogh statue.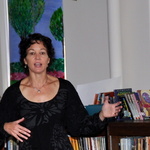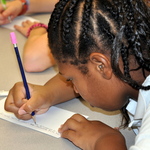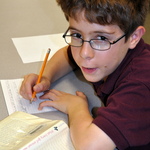 Award Winning Author Shares Tips With Sixth Grade (Students)
During the summer, the sixth graders read the novel Anything But Typical by award-winning author, Nora Raleigh Baskin. For those students, Friday, September 27 was anything but typical, as they were treated to a writing workshop with Baskin, who shared her writing process and offered tips for budding writers in the group. In smaller sessions held throughout the day, Baskin encouraged the sixth graders to try their hand at writing the first line of their own stories and in doing so to consider: the point of view, setting, and the tone. Before the end of the workshop, the author herself put pen to paper and autographed copies of her books for her young admirers.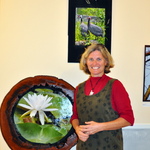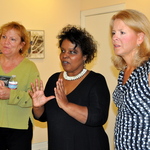 Faculty Art in Tuttle Gallery (Tuttle Gallery)
An exhibit of artwork, featuring a variety of faculty and staff artists and mediums, opened in the Tuttle Gallery on September 25. Guests at the opening reception not only enjoyed seeing the artwork; they also had an opportunity to speak with the artists about their inspiration and the creative process. The exhibit will run through October 15 in the gallery located in Lyle Building.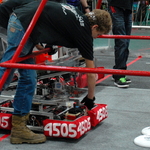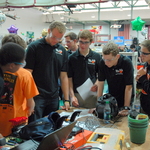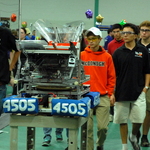 MechDonogh Eagles Soar in Competition (Students)
The MechDonogh Eagles Robotics Team and their entry "Golden Goose," placed twelfth out of thirty teams entered in the Seventh Annual Battle O' Baltimore, a robotics competition held September 21 at Boys' Latin School. The event, one of the premiere off-season competitions on the East Coast, was sponsored by the FIRST Baltimore Area Alliance. FIRST (For Inspiration and Recognition of Science and Technology) competitions have been described as "the Super Bowl of Smarts."
Photos by: Matthew D. '14 and the MechDonogh Eagles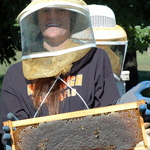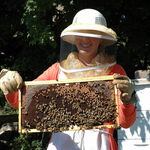 Visit to Beehive is Sweet (Students)
A visit to McDonogh's beehives, a part of the Roots Farm, is a much anticipated outing for the seniors in Cynthia Cox's English elective, In Good Taste: The Literature of Food. On Tuesday, September 24, some students arrived at the hives thrilled by the prospect of handling the honeycombs covered in bees and dripping with golden honey, while others were wary. In the end, students walked away buzzing with awareness after beekeeper David Cromwell explained the role bees play in the production of food.
Photos by: Rebecca Brown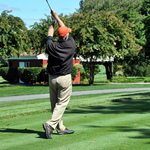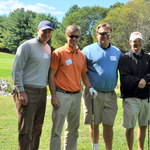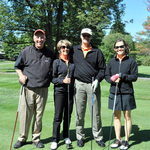 38th Annual Golf Classic (Students)
Close to 100 alumni, parents, grandparents, and friends spent a picture perfect fall day participating in the 38th Annual McDonogh Golf Classic at the Suburban Club in Baltimore on September 23. After playing a modified scramble, the golfers enjoyed a happy hour, during which they participated in a wine grab, a silent auction, and a live auction, led by auctioneer, Brad Dudley '79.
Congratulations to the winning foursome: Barney Aburn, Andy Hilgartner, Greg Mix, and John Webster. The lucky raffle winner was Louise Prusack who can choose to attend one of three professional tournaments in the coming year. Many thanks to the sponsors, players, and volunteers who contributed to the success of the Alumni Association's Annual Golf Outing.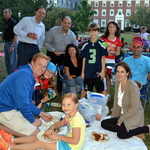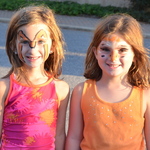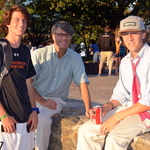 Jam Fest Rocks (Students)
A good time was had by all at the Back-to-School Jam Fest on Friday, September 20. More than 700 members of the McDonogh community enjoyed a picture-perfect evening of friendship, food, games, and music by the Rat Pack.
During the hula hoop contest, seventh grader Ben P. joined the band and jammed on the drums. With quite a talented pool of contestants, Ben's stamina was put to the test! Check out the video.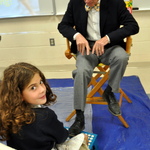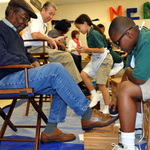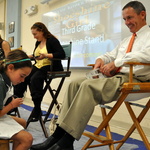 Shoeshine Stand a Success (Students)
Hundreds of pairs of shoes walked into the Kelly Center on September 19 and 20 looking a little scruffy, and walked out looking spiffy and shiny thanks to the shoeshine stand operated by the third graders. Inspired by the book "The Shoeshine Girl" by Clyde Robert Bulla, the students learned the art of polishing shoes, a chore which they quickly mastered. Tips earned by the students will be used to buy fleece fabric for blankets, which they will make and donate to The Red Devils, an organization that supports breast cancer patients.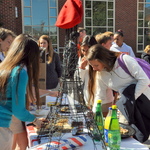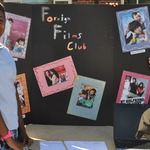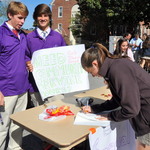 Club Fair Boosts Membership (Students)
An assortment of Upper School clubs appealing to a wide variety of interests were represented at the annual Club Fair held Wednesday, September 18 on the Freshman Quad. Dozens of clubs wooed new members with props, conversation, and treats; and students were eager to join the organizations, which focus on everything from community service and heritage to fun and games.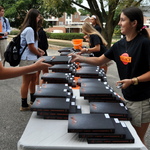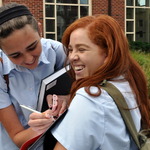 Yearbook Signing Extravaganza (Students)
The yearbook staff debuted and distributed the 95th edition of the McDonogh School Legacy at a Signing Extravaganza for the Upper School during Headmaster's Break on Monday, September 9 in the Freshman Quad.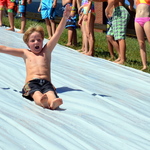 Aquapalooza Afternoon a Splash (Students)
Aquapalooza, the Lower School reward for reading a combined total of more than 3,250 books during the summer break, was an afternoon of slippery, splashy fun for the children in kindergarten through grade four, as well as a few administrators. Noreen Lidston, Head of Lower School, dressed as the one-eyed, green monster, Mike, from the movie Monsters University set the (color) tone for the day. Children enjoyed a perfectly sunny September 4 afternoon, sailing down an inflatable slide, running through sprinklers, and slipping and splashing down McDonogh's slopes on water slides.
Click here to see a video of the fun.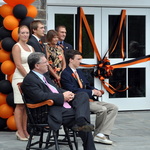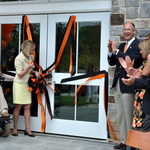 Opening of The Naylor Building (Students)
A highlight of the first day of school on August 28 was the official opening of The Naylor Building, named for Irvin S. Naylor '54, whose lead gift made possible the construction of the state-of-the-art facility for Upper School science, technology, engineering, and math.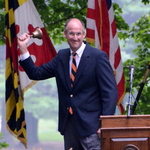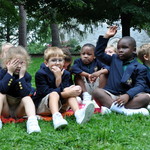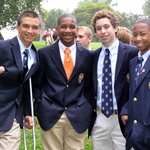 Convocation Starts School Year (Students)
The entire school community gathered at Childs Memorial Terrace for Convocation on Thursday, August 29. After the seniors and their pre-first and first grade friends were seated, Headmaster Charlie Britton encouraged the crowd to take advantage of the many opportunities McDonogh offers. Following wishes of good luck from two pre-first students, Britton rang a school bell officially opening the 2013-2014 school year.
Click here to see a video of the Convocation ceremony.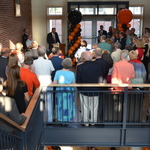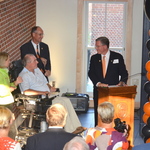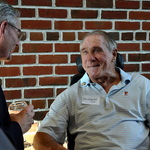 McDonogh Forever Donors Acknowledged (Students)
Donors, faculty, staff, and friends of McDonogh gathered on Tuesday, August 27, the eve of the official opening of The Naylor Building, for a preview of the Upper School space dedicated to science, technology, engineering, and math. Headmaster Charlie Britton and President of the Board of Trustees Arthur Adler expressed their gratitude to those who helped make the vision a reality.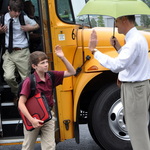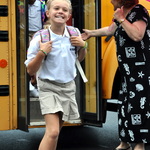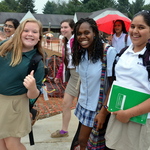 Happy First Day of School (Students)
Despite a few showers, the first day of the school year, Wednesday, August 28, was greeted with lots of smiles, high-fives, and hugs.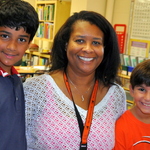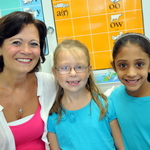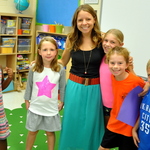 Meacher Teacher (Students)
Returning students in prefirst to fourth grade got a jump on meeting their teachers on Tuesday, August 27, the day before the official first day of school. The optional "Meacher Teacher" event was also a great opportunity for everyone to eliminate back-to-school butterflies and greet their classmates!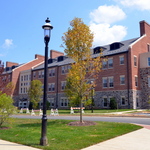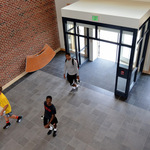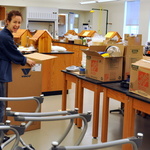 The Naylor Building Move-In (Students)
Construction of The Naylor Building is in the homestretch and Upper School science, technology, engineering, and math teachers are busy moving into their new spaces.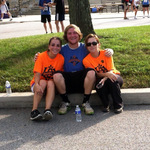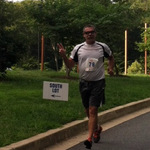 Giddy Up 5K (Students)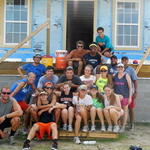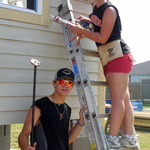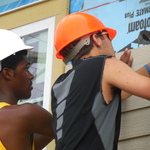 Building Leadership Skills in New Orleans (Students)
A group of fifteen seniors, Rollins-Luetkemeyer (R-L) Leaders and Dorm Prefects, and four chaperones recently traveled to New Orleans to build leadership skills, and houses with Habitat for Humanity.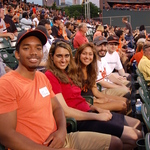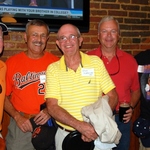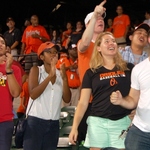 Alumni Cheer Os to Victory (Students)
McDonogh alumni, faculty, and friends gathered on Thursday evening, August 1, to witness an Orioles victory against the Houston Astros. Pratt Street Ale House provided the perfect pre-game setting for fans before they headed across the street to Camden Yards to watch the O's pull off their 60th win of the season.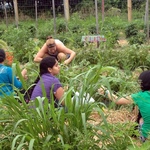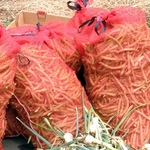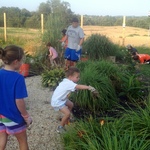 See How Roots is Growing (Students)
This summer things are really growing at Roots Farm. Growing numbers of volunteers have been harvesting crops, including green beans, and have kept the farm tidy by pulling weeds. As more produce is harvested, Roots is able to donate to more places that serve the needy, such as the Maryland Food Bank and Carroll Food Sunday.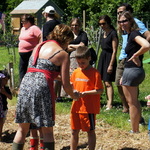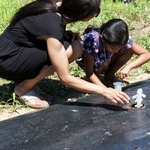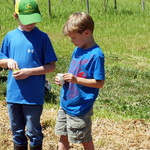 Incoming Eagles Plant Pumpkins (Students)
McDonogh's Roots Garden was buzzing with activity the last weekend of June as incoming kindergartners and their families turned out for the annual pumpkin planting. The Eagles learned how to work as a team to plant popcorn and sunflower seeds and then, along with their parents, planted pumpkin seeds. The sugar pumpkins will be harvested in the fall for cooking in kindergarten and for the Harvest Festival. After the planting was finished, the families picked blueberries and many of the children announced their plans to take them home for a scrumptious treat on their ice cream and cereal.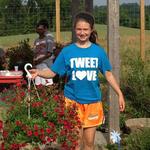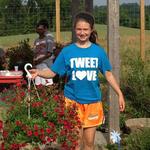 Featured Images (Students)
All the featured images for the 2013-2014 school year.