Parenting Education Events
Upcoming Events at McDonogh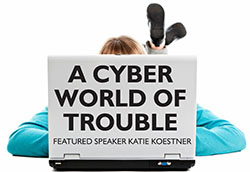 Parenting the Cyber-gerneration
Friday, September 18
12:00 - 1:15 p.m.
Klein Lyceum
Edward St. John Student Center
The MPA invites parents of children in PK-12 to Parenting the Cyber-generation, a parenting education program about cyber dangers and other technology concerns on Friday, September 18 from 12:00-1:15 p.m. in the Klein Lyceum. Katie Koestner, a national expert on student safety and teen relationship culture, will discuss responsible use of the Internet and the potential consequences of poor digital choices.
Koestner is the Director of Educational Programs for Campus Outreach Services and has appeared on the cover of TIME Magazine, The Oprah Winfrey Show, the NBC Nightly News, CNBC Talk Live, CNN and numerous other national news outlets. Her testimony on Capitol Hill was instrumental in the passage of federal student safety legislation. In her presentation, Koestner will cover parent-to-child digital communication, the conversations parents need to have with their kids regarding tech use, sexting, the effect of technology on the brain, and parental technology controls such as those that can turn texting apps off while students are driving.
Materials will be available online for those who cannot attend. For more information, please contact School Counselor Marie Allee, Ph.D. mallee@mcdonogh.org or 443-544-7006.