McDonogh Libraries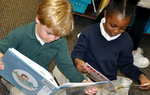 LS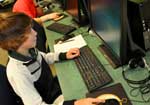 MS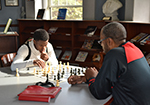 US
McDonogh Libraries
Whether it's a third grade student in a nook with a book, a sixth grader attending a book talk about a great new novel, or a senior discovering primary research for an AP course, every student at McDonogh School finds a warm welcome in the libraries. Directed by caring, knowledgeable professionals who understand the many needs of students, as well as the diverse range of resources available to them, the librarians are prepared to respond to the present and emerging demands on learners, PK-12.
In addition to the traditional resources that have always distinguished McDonogh's libraries, each division has plentiful access to technology and databases, reflecting the current trends in an ever-growing information age. The library faculty are much more than stewards of this technology; they provide access to information and strive to instill in students the critical judgment and intuitive thinking that will allow them to identify and utilize valid, useful resources in responsible and ethical ways. In this way, the libraries partner with the rest of the academic program to help students become astute thinkers and problem solvers in many areas of study.
On any given day one can find children of all ages talking with each other, with librarians, and with their teachers about books, classes, yesterday's game, or where they are heading to college. The library is a place where relationships are formed and nurtured.
To align with curriculum and reading levels, McDonogh maintains one library for each of its three divisions: Lower School Leah Watts Dawson Library, Middle School Krauss Library, and Upper School Kiplinger Library.
Libraries respond to the school's purpose and objectives, based on the school's philosophy and mission statement, by maintaining a comprehensive collection of print and electronic materials.
45,000 volume collection of print books and audio visual materials
print periodicals and newspapers
Many online research databases providing students 24/7 access to articles, journals, e-books, multimedia and web links.

Library catalogs are available to the public and are accessible via the McDonogh website.
Each library maintains a class-sized group of computers for students and faculty to access the library catalogs and online resources.
After Hour Returns - Library materials for any McDonogh library can be returned to the after-hours drop box located in the Kiplinger Library lobby of the Allan Building.