Henry A. Rosenberg, Jr. '48 Campus Green
The centerpiece of the campus master plan, the Henry A. Rosenberg, Jr. '48 Campus Green will become the signature outdoor space. Every student will walk across it daily. The Green will connect the Burck Center for the Performing Arts and the Allan Building to the St. John Student Center, the student center to the Naylor Building. It will also connect middle schoolers to lunch, lower schoolers to physical education, and everyone to the buses.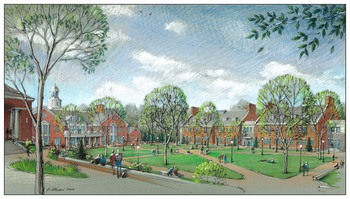 The Green will unite the campus.
It will make students' travel between buildings efficient and safe from vehicular traffic.
It will do for the west side of campus what the majestic main drive does for the east side.
Occupying the area of Lamborn Hall and adjoining parking lot bordering Memorial Court, the expansive grassy area will be elevated 8 to 12 feet above the current landscape. It will level the slopes and drops-offs from the center of campus, allowing students to enter all the main buildings—new and existing—on the same level.