2014-2015 Photo Essays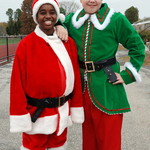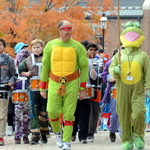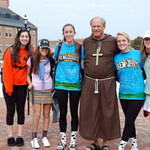 Festive and Frightening Halloween (Students)
McDonogh was filled some scary-good costumes on Friday, October 31, Halloween. From clever to cute and frightening to festive, students, faculty, and staff dressed up for the occasion. The fun began when the busses pulled up and continued through the Lower School costume parade.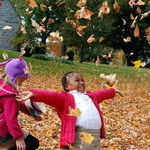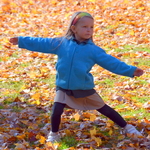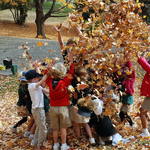 Dancing With The Falling Leaves (Students)
There's nothing like the joy of playing in the autumn leaves. During the last week of October, when the trees around Childs Memorial Terrace were at their peak, the students in kindergarten, prefirst, and first grade spent their Creative Movement class, with teacher Kara Zimmerman, dancing in the colorful leaves. Classical background music was punctuated by giggles and shrieks of delight as the children jumped, twisted, and twirled through piles of leaves they gathered.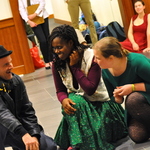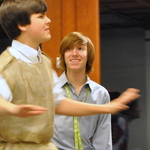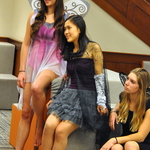 A Midsummer Night's Dream (Students)
Scenes from the traveling production of A Midsummer Night's Dream presented by the Chesapeake Shakespeare Company and the McDonogh Theatre Lab, November 1 and 2.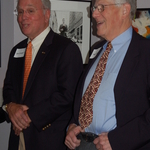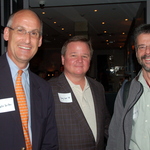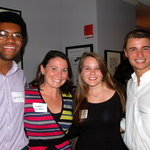 Evening of Camaraderie With Boston Alumni (Students)
Members of the McDonogh community gathered at The Hawthorne in Boston for camaraderie and conversation on Wednesday, October 29. Guests were treated to remarks by Headmaster Charlie Britton, a partial recitation of The McDonogh Uniform by alumnus Dave Livingston '61, an unrehearsed but impeccable rendition of The Dedication Hymn by former Gentleman Songsters Vibav Mouli '12 and Sydney Mukasa '14, and quality time with veteran faculty member Libet Ottinger. Doug Lane '78 officially launched the Boston Regional Chapter of the McDonogh Alumni Association. All those interested in serving on the planning committee should contact Jen Little at jlittle@mcdonogh.org.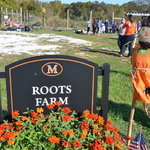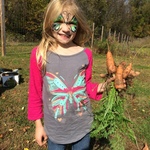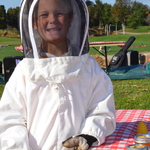 Fun and Fruitful Harvest Day (Students)
A good time was had by all at the Fall Harvest Day at Roots Farm on Saturday, October 18. The event, sponsored by the Roots Farm and the McDonogh Parents Association, included fun games, face painting, pumpkin and potato picking, and live music by the Middle School Rock Shop band. Families sampled Sage Dining's fare featuring sugar pumpkins and McDonogh honey. Best of all, the McDonogh community collected non-perishable goods for the Maryland Food Bank, and proceeds from the sale of McDonogh honey also went to the organization. Families and community members are encouraged to stop by the Roots farm to help plant, weed, and harvest throughout the year.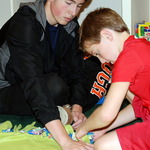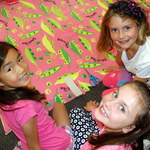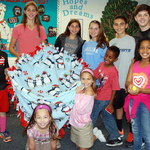 Third and Ninth Graders Show Cooperative Spirit (Students)
A wonderful spirit of cooperation could be felt on campus on Wednesday, October 15 as the third and ninth grades came together to support each grade's service project. Area cancer patients and Baltimore Playworks will benefit from the morning spent making blankets and playing games.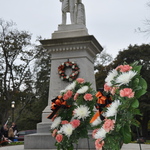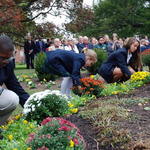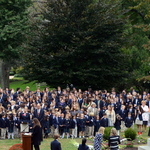 Founder's Day Remembers (Students)
The entire school community gathered at the John McDonogh monument on Friday, October 10 for the annual Founder's Day ceremony. After fulfilling McDonogh's wish that each year children plant flowers around his grave, the school community paused to remember alumni and former faculty and staff who passed away since the previous Founder's Day. As Alumni Association President Michelle Motsko '91 read each name, a bell tolled in the tower of Tagart Memorial Chapel and a flower was placed at the foot of the monument. Throughout the ceremony, meaningful reflections, song, and a flock of geese punctuated the respectful quiet.
Contributing photographers: David Fulton-Howard '04, Chloe Buergenthal '17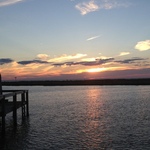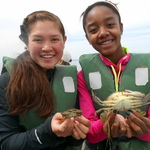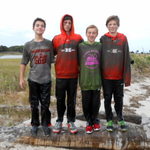 Eighth Grade Immersed in Bay (Students)
What would possess an eighth grader to kiss a fish? Besides being a great photo op, apparently it's good luck to kiss the fish you are using as bait in your crab trap. The students learned this and so much more on their annual three-day trip to the shores of the Chesapeake Bay, which began Monday, September 22. During the trip they immersed themselves in learning about the watershed's unique ecosystem (and in mud and muck). The trip is a highlight of Middle School.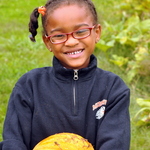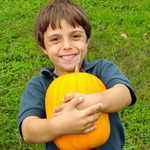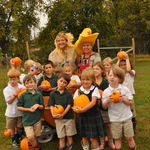 Kindergarten Pumpkin Picking (Students)
Accompanied by Head of Lower School Noreen Lidston dressed as a scarecrow and Roots Farm Chair Sharon Hood decked in her BIG farm hat, the entire kindergarten enjoyed a hayride out to the Roots Farm to pick the pumpkins they planted this summer. Each child chose one pumpkin to take home and another for their creative cooking class where they will roast the seeds and make pumpkin bread for the bus drivers. Watch a video of all the fun here.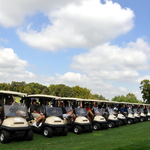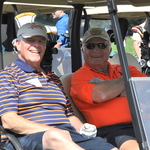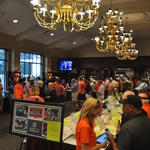 39th Annual McDonogh Classic (Alumni)
Over 100 alumni, parents, grandparents, and friends enjoyed great weather and golfing at Woodholme Country Club in Baltimore on September 30. Golfers and guests participated in a sold-out wine grab, a silent auction, and a happy hour in the evening.

Congratulations to the winning foursomes: Flight 1 was Arthur Adler '78, Abe Adler, John Ginsburg, and Julius Hyatt and Flight 2 was Eddie Ahn '92, Sharon Ahn, Drew D'Anthony, and Lee McChesney. Many thanks to the sponsors, players, and volunteers who contributed to the success of the 39th Annual McDonogh Classic.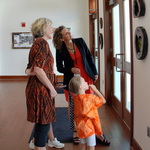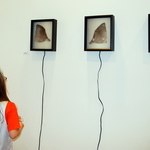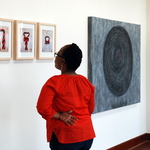 Faculty Art Featured in New Tuttle Gallery (Students)
The work of McDonogh's talented art department is the inaugural exhibit in the "new" Tuttle Gallery now located on the top level of the Edward St. John Student Center. The show, on display in the Tuttle Gallery through Monday, October 13, includes a variety of subjects and some unexpected mediums. Middle School art teacher Jon Detwiler created a trio of guitars using cigar boxes and Upper School art faculty member Match Zimmermann collaborated with his brother on a series of five illuminated fish skins. Other exhibitors who were present at the gallery receptions on Thursday, October 2 include: Camille Gustus, Oletha DeVane, Leslie Portney, and Beckie Lamborn.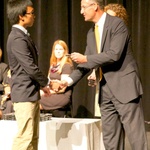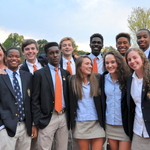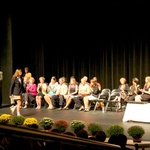 It's Official: Juniors Now Upperclassmen (Students)
McDonogh's Class of 2016 officially became upperclassmen on Sunday, September 28 at the annual Junior Pin Ceremony. The evening began in the Edward St. John Student Center with a casual dinner with advisory groups. Then, family and friends joined the junior class in the Ceres M. Horn Theatre for the more formal ceremony. After a slideshow featuring fond McDonogh memories and remarks given by Class President Alex L., Headmaster Charlie Britton presented each student with their gold McD lapel pin.
Contributing photographer: Don Hoelting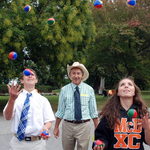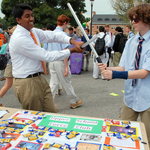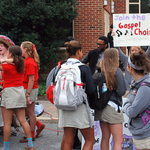 Clubs Attract New Members at Fair (Students)
There was something for everyone at the Upper School Club Fair held Wednesday, September 24 on the Freshman Quad. From service and sports clubs to clubs with an international flavor, plenty of opportunities for student involvement were on display. During the fair, current club members held demonstrations and lured other upper schoolers to their tables with candy and samples of cuisine.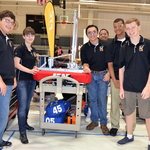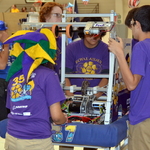 R-L Center Taken Over by Robots (Students)
On September 20, the McDonogh Eagles Robotics Team hosted hundreds of high school students (and their robots) from Maryland and surrounding states for the Eighth Annual Battle O' Baltimore, one of the east coast's premier FIRST® Robotics Competition off-season tournaments. The opening ceremonies included a performance by recent graduates of the Lower School Drum Corps, welcoming remarks by Headmaster Charlie Britton, and the singing of the National Anthem by the Women of Note and Gentleman Songsters. The remainder of the the day was action-packed as teams directed their 120-lb. custom-built robots in a competition that combined close contact, tough defense, dramatic buzzer beaters, strategic assists, and awe-inspiring shots on goal!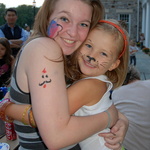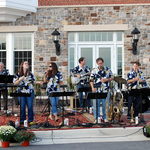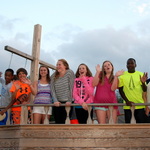 Perfect Evening For Jam Fest Fun (Students)
With the first few weeks of the school year behind us, Friday, September 19 was the perfect evening to chill-out with McDonogh friends and families at the back-to-school Jam Fest. More than 600 people spread out their blankets and chairs on the circle in front of the Edward St. John Student Center for the annual party which featured the sounds of Retrospect, a band including Upper School Director of Instrumental Music Don New and a guest appearance from riding teacher Holly Gizzi. In addition to the live music and picnic supper, students had a blast playing on the Lower School playground, joining in an impromptu football game, having their faces painted, hula-hooping, and taking turns on the bouncy super slide. Get a taste of the Jam Fest fun here.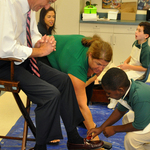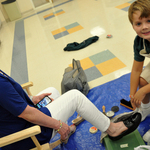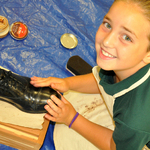 Book Inspires Shoeshine Stand (Students)
After two days of operating a shoeshine stand, the third graders have become skilled at shining, buffing, and polishing shoes and boots of all sizes and shapes. On Tuesday and Wednesday, September 16 and 17, parents, grandparents, faculty, and staff lined up to have their shoes shined by the students who were inspired by the book "The Shoeshine Girl" by Clyde Robert Bulla. The generous tips they collected will be used to purchase fleece fabric for blankets, which they will make and donate to The Red Devils, an organization that supports breast cancer patients. The annual project, coordinated by third grade teacher Margaret Bitz, began in 2009.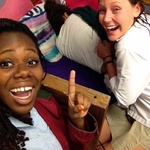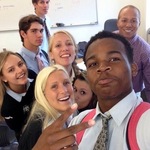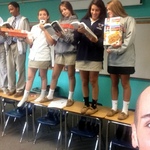 Selfies Show Joy In Upper School (Students)
In preparation for Back-to-School Night, Head of Upper School Merritt Livermore sent students an email with the subject line, "Wanna take a selfie?" She asked them to send selfies throughout their day of themselves "doing school." She received the first picture at 7:15 a.m. and they continued to pour in past the 3:30 p.m. deadline. What did they show? Clearly, the Upper School is place of joyful learning.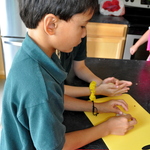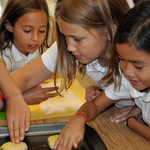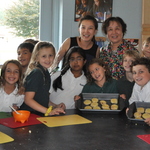 Third Grade Celebrates Chinese Moon Festival (Students)
Lower School Chinese teacher Fangfang Ma shared the Asian tradition of the Moon Festival with her third grade students over several days in early-September. She explained that the Moon Festival or "Mid-Autumn Day" is a time to reunite with family and celebrate the harvest. As she showed the students, who have been learning to speak Chinese, how to make the moon cakes they used their language skills to express how "yummy" the cakes are. In the spirit of family, Miss Ma's mother who was visiting from China, helped demonstrate how to make the cakes -- a pastry filled with red bean paste.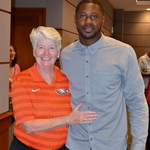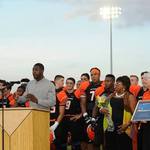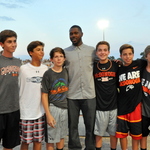 A Festive Night Under the Lights (Students)
Decked out in orange and black and beach attire (planned by the SGA), the McDonogh community came out in full force on September 5 to celebrate the first Friday night football game in John McDonogh Stadium and to thank Darrius Heyward-Bey '05 for his gift of stadium lights. In a brief ceremony prior to kick-off, Headmaster Charlie Britton spoke about Darrius's example of keeping a promise. Then, the guest of honor told the crowd that the lights were his way of thanking the McDonogh community for all that he gained from his experience at the school. Read more about his gift here.
Contributing photographers: Beth Franks, Kathleen LaPore Miller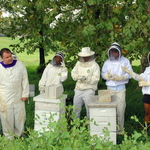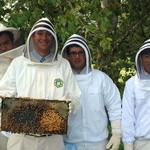 Beehives Teach Valuable Lessons (Students)
A visit to McDonogh's beehives is a much anticipated outing for the seniors taking In Good Taste: The Literature of Food an elective taught by Cynthia Cox and Lucy Dawson. On Thursday, September 4, some students arrived at the hives thrilled by the prospect of handling the honeycombs covered in bees and dripping with golden honey, while others were wary. In the end, students walked away buzzing with awareness after beekeepers Darryl and Courtney Gonzalez explained the role bees play in the production of food.
Photos by: Rebecca Brown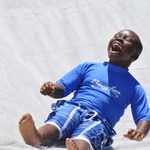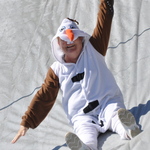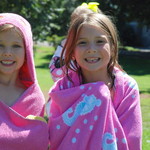 Wet and Wonderful Aquapalooza (Students)
On Friday, August 29, lower schoolers were treated to summer fun on a school day! Olaf, the popular snowman from Disney's hit Frozen (a.k.a. Head of Lower School Noreen Lidston), led students in kindergarten through fourth grade down water slides and through sprinklers as a reward for reading a combined total of 3,108 books over the summer.
View the slipping and sliding here.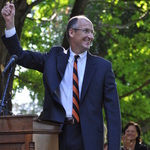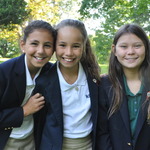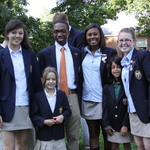 Convocation Kicks Off School Year (Students)
The entire student body gathered on Childs Memorial Terrace for Convocation on Thursday, August 28. After the Class of 2015 and their friends from the Class of 2026 (prefirst and first grade) walked down the hill to their seats, Headmaster Charlie Britton and student representatives from each division shared words of wisdom and welcome. At the conclusion of the program, Mr. Britton rang the school bell to officially open the 2014-2015 school year!
Click here to see a video of the Convocation ceremony.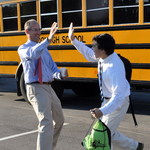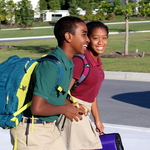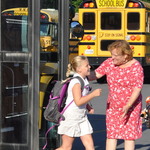 Joyful First Day of School (Students)
A chorus of "welcome back" and "happy new year" greeted students as they disembarked from buses and cars and made their way across campus on August 27, the first day of the 2014-2015 school year. Faculty, administrators, and Upper School leaders welcomed and directed the 1,300 students to the proper buildings and around the construction of the Rosenberg Campus Green. By 8:20 a.m. the new school year was well underway.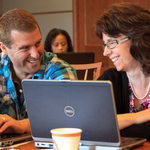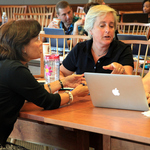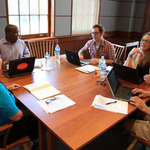 Faculty Get Schooled in PBL (Teachers)
Nearly 30 faculty members from all three divisions spent three days in August attending a Project Based Learning (PBL) workshop presented by Thomas Markum, author of Project Based Learning: Design and Coaching Guide. During the workshop, teachers learned about the benefits of PBL as a means of improving their students' academic performance as well as enhancing their critical thinking, communication, and collaboration skills. Of course, the group was not idle; they put PBL into practice working in groups to solve problems.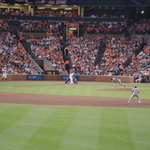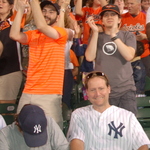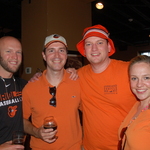 Alumni Night at Camden Yards (Alumni)
Home runs were the name of the game at McDonogh's Alumni Night at Camden Yards on Wednesday, August 13. After a pre-game get together at Pratt Street Ale House, approximately 120 McDonogh alumni, faculty, friends, families - including a few quiet New York Yankees enthusiasts - filled section 94 and watched as the first-place AL East Orioles battled the Yankees, claiming a 5-3 comeback victory thanks to home runs by Jonathan Schoop and Adam Jones. Former Headmaster Bo Dixon and his wife, Ann, also at the game in a different section, stopped by for a visit and high fives. At the top of the ninth inning, after Jones's three-run homer, Adam threw his practice ball into the stands and right into lucky alumnus Ryan Elliott '07's glove. McDonogh's Orioles fans would agree that the night was a grand slam.



Featured Images (Students)