About the Campaign
McDonogh Forever is the largest capital campaign undertaken by an independent school in Maryland. Launched in November 2010, the $75 million campaign will fund priority construction projects in McDonogh's campus master plan: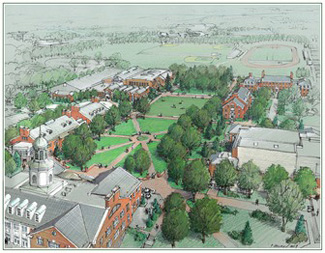 a student life center for students K-12, with a lead gift from local businessman Edward St. John
a science, technology, engineering, and math (STEM) building for grades 9-12, with a lead gift from alumnus Irvin Naylor '54 and his family
an efficient energy plant to serve the entire campus
new campus green space, turf fields, parking areas, and traffic access
In addition, the school will be raising money for the annual fund and endowment.
McDonogh Forever launched with a stunning $30 million challenge grant from the Rollins-Luetkemeyer Foundation. The new gift increases the foundation's total support of the school to $50 million since 2004.
Alumnus and longtime McDonogh trustee Henry A. Rosenberg Jr. '48 will lead the campaign and is one of the major donors. He committed $3.5 million for The Henry A. Rosenberg Jr. Campus Green.