COED SPORTS
The McDonogh Tennis Program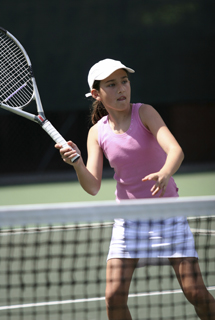 Ages: Boys and Girls 7 to 14
Hours: 9 a.m. to 4 p.m.
Dates: Weekly: June 23 to Aug 1
Tuition:
1 week $325
2 weeks $640
3 weeks $965
4 weeks $1,290
5 weeks $1,615
6 weeks $1,940
Week of June 30 - July 3
(4th of July Week) $260

The McDonogh Tennis Program, directed by long-time Tennis Camp staffer Ben Rabin, is designed for beginners and more experienced players. Conducted on our 20 tennis-court facility, this program teaches players the techniques that have contributed to the McDonogh tennis teams' remarkable success. Group and individual instruction will allow each player to reach his or her potential. Students will be able to set their own goals. Instruction in injury prevention, tennis etiquette, and personal motivation will also be included.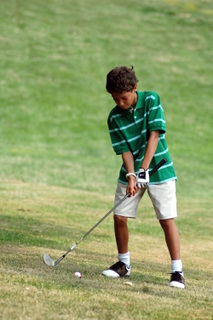 McDonogh Basics and Beyond Golf Camp
Ages: Boys and Girls 8 to 15
Hours: 9 a.m. to 4 p.m.
Dates: Weekly, June 23 to Aug 1
Tuition:
1 week $395
2 weeks $780
3 weeks $1,175
4 weeks $1,570
5 weeks $1,965
6 weeks $2,285
Week of June 30 - July 3
(4th of July Week) $320

The McDonogh Basics and Beyond Golf Camp features off-campus long and short game instruction by Class A PGA Instructors. Campers will play at least two rounds of golf on area courses. Each camper must have his or her own clubs and be seriously interested in learning the golf swing as well as the proper rules and etiquette necessary to be the complete golfer. Come join in the fun!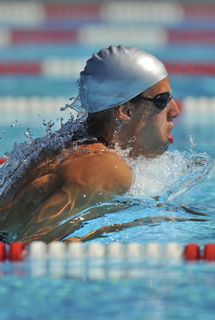 McDonogh Competitive Swim Camp
Ages: Boys and girls 9 to 15
Hours: 9 a.m. to 4 p.m.
Dates: Session 1: June 23 to June 27
Dates: Session 2: July 7 to July 11
Tuition: BOTH SESSIONS SOLD OUT

The McDonogh Competitive Swim Camp will take place in the Henry A. Rosenberg, Jr. Aquatic Center, featuring a brand new Olympic-size pool. The camp is designed for swimmers from either summer league teams or YMCA/USA swim teams. Please note that is not a learn-to-swim camp as the entire camp is run in the deep end of the competition pool.
Directed by McDonogh head varsity swim coach Scott Ward, the camp is designed to teach, drill, and train the individual fundamentals of competitive swimming. Specific drills will be taught to aid skill developments in all four of the competitive strokes along with instruction on starts and turns. Underwater video recording and review will also be utilized in teaching swimmers. Fun games and relays will round out each day.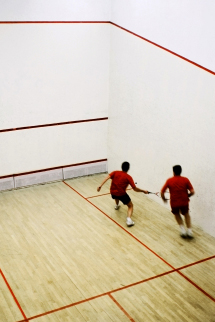 McDonogh Squash and Badminton Camp
Ages:: Boys and Girls 9 to 15
Hours: 9 a.m. to 4 p.m.
Dates: June 23 to June 27
Tuition: $345

The program is designed for all levels of play, beginning with novices up through advanced players. The program will be directed by Lucky Odeh adn Sergio Lopez, both Meadow Mill squash professionals. Both professsionals are level 1 certified squash coaches by US Squash. Group and individual instruction will be incorporated into the camp's activities. Technical skills for all strokes in both sports will be the cornerstone of the instruction for players, in addition to on court movement, fitness, drills, matchplay, learning the rules of the games, developing referee skills and the fostering of a life long passion for squash and badminton. One of the goals of the camp is to prepare players to participate on their middle and high school teams. Daily activities will include round robin match play by skill level supplemented by handicaps, if appropriate, and games with themes to reinforce good basic skills on court.
The McDonogh Squash and Badminton Camp will be held at Meadow Mill Athletic Club, www.meadowmill.com, with 14 singles squash courts and two doubles squash courts for badminton play. Transportation to the facility will be provided from the McDonogh School at no additional charge. Campers must bring their own lunch each day.


Parisi Sports Performance Camp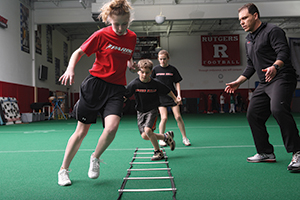 Ages:: Boys and Girls 9 to 16
Hours: 9 a.m. to 4 p.m.
Dates: June 30 to July 3
Tuition: $260

Parisi Speed School is designed for athletes who love sports and strive to be the best. Parisi Speed School Program Director Hakeem Clark and his certified performance coaches will maximize each athlete's ability and technique to improve performance in ALL sports.
While playing different sports each day, coaches will analyze and modify athlete's technique to enhance top speed, explosiveness and change of direction to maximize atletic potential. This increased athleticism will take each camper's game to the next level. For further information contact Parisi at 410-318-6808 or hclark@lifebridgehealth.org.


McDonogh International Soccer School "Kinderkick" Camp
Ages:
Boys and Girls 4 to 6
Hours:
10 a.m. to 11 a.m.
Dates:
July 7 to July 11
Tuition:
$95
(Transportation and lunch are not available)
The Kinderkick Soccer Camp is designed for the beginning soccer player. Through fun and creative activities, this one hour program will introduce basic soccer skills such as dribbling, passing and shooting to the youngest up-and-coming soccer stars.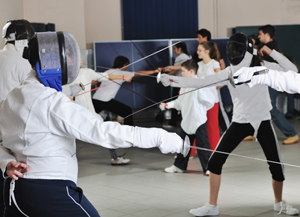 McDonogh Fencing Camp
Ages:: Boys and Girls 8 to 13
Hours: 9 a.m. to 4 p.m.
Dates: Session 1: July 14 to July 18
Dates: Session 2: July 21 to July 25
Tuition: $395

McD Fencing Camp offers instruction in the sport of fencing from beginner through advanced levels. Fencing, an Olympic and NCAA sport, is often described as a combination of boxing and chess. Each day will incorporate periods of fencing-specific instruction, drills, and bouting (sparring), as well as general physical activities, exercises, and games which enhance fencing ability and performance. Participants will learn how to stand, move, attack, and defend, as well as terminology, rules, etiquette, refereeing, and how to keep equipment in good repair. Each week will conclude with a tournament. Instruction will touch on the three fencing events (foil, saber, and epee), but the majority of instruction will be in epee.
Coach Greg Paye has been fencing for 30 years, and is the head coach and owner of Maryland Fencing Club. He is certified Prevot by the US Fencing Coaches Association, a professional member of USA Fencing, and a certified referee. His students have medaled in national tournaments and earned national standings in youth and senior age categories. His professional experience includes Johns Hopkins University, Goucher College, Boston University, DC Fencers' Club, and Boston Fencing Club.